Homemade Granola Recipe
If you're trying to eat more healthy you might want to avoid your usual favourite cereals and granolas that can be full of added sugar. But wait! … It's not all bad news! We have the ultimate homemade granola recipe that means you can make your own delicious healthy cereal!
Here's what you'll need:
Ingredients
2 tbsp Myprotein Coconpure
3-4 tbsp Honey
300 g Rolled oats
100 g Dried fruit
100 g Mixed nuts
1 tbsp Milk or Fruit Juice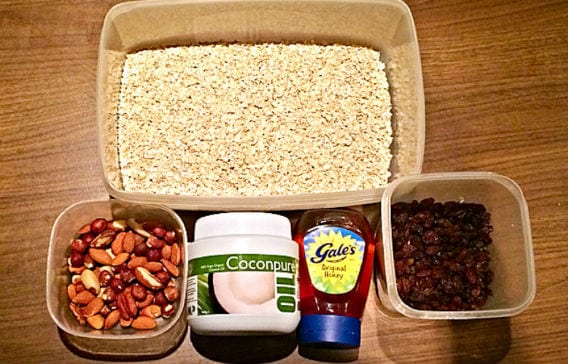 Usually homemade granola recipes are made using vegetable oil, but using Myprotein coconpure coconut oil adds a variety of health benefits to your recipe.
Coconpure is a multi-purpose heat stable coconut oil which is 100% organic and unprocessed. Coconpure is known to be the healthiest dietary oil available, full of healthy fats such as lauric acid and other medium chain triglycerides which have been suggested to present several short term health benefits for weight loss, hair, skin, stress relief, the immune system, whilst also reducing the long term risk of high blood pressure, diabetes and cardiovascular disease.
The Recipe
Step one: Preparation 5-7 minutes
Pre heat your oven to 150 degrees or gas mark 2.
Weight out 300g of rolled oats into a bowl or large container. To the oats add your 3-4 tbsp of honey, tbsp of milk and 2 tbsp of coconpure. With a spoon mix these ingredients together well, making sure to you cover and mash all the oats into the coconpure.
To this mixture add 100g of mixed nuts. This bit is totally up to you and your personal preference; you can add any nuts you love and leave out the ones you're not so keen on! If you're a nut lover, I'd add a variety of nuts to get all the individual nutty nutritional goodness! You can buy a variety of nuts Here.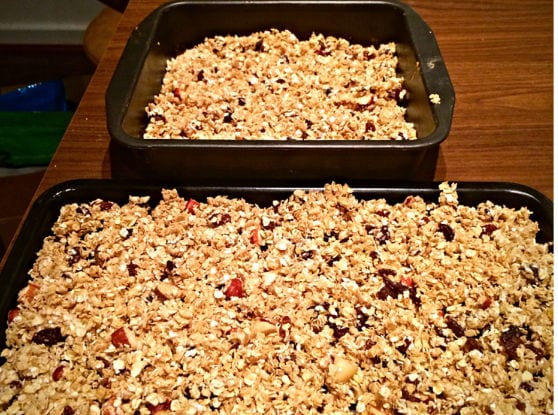 The Cooking: 40 minutes
Once you've mixed in the oats and the nuts, add to a baking tray so the oats are evenly spread across the tray.
Place in the oven and bake for 20 minutes.
After 20 minutes remove your granola and add 100g of dried fruit. This bit you can adapt to your own taste buds and add whatever dried fruit your heart desires! Good suggestions are Myprotein Super berries, dried mango, dried blueberries, dried cranberries and dried coconut pieces! You might even want to add seeds such as the omega seed mix to pack this recipe full of added vitamins, omega 3 and fibre. Mix in the fruit and put back in the oven for a remaining 15-20 minutes.
The Eating!
Remove your granola from the oven! It should have started to go a golden brown. Leave it to cool for 15 minutes or so and then serve!
A good suggestion would be to add a handful of granola to Greek yogurt, quark or cottage cheese mixed with a scoop of your favourite flavoured Impact whey protein. By adding a scoop of whey protein to one of these dairy products you can create the ultimate delicious high protein granola breakfast.
So why not give it a go, try your own at home! We want to see your versions so tweet us or post on our Facebook page.
Enjoy!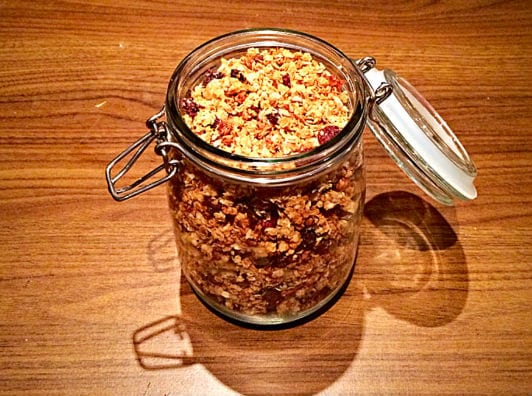 To buy Myprotein Coconpure click the button below.