Dark Chocolate Nut Cookies
Here we have a great afternoon treat without the guilt, these nut cookie are really quick and easy to make and last up to 5 days in an air tight container or can be frozen in a sealed bag. It's a healthier take on a digestive biscuit with great macros too!!
Ingredients
You will need:-
My Protein – Omega Seed Mix, 15 g
My Protein – Almond Butter, 70 g
My Protein – Almonds, 15 g
My Protein – Cashew Nuts, 15 g
My Protein – Kamut Flour, 60 g
Splenda, 2 Tbsp
85% Dark Chocolate – 20 g
1 Medium Egg
Coco Nibs – 8 g
My Protein coconut pure oil – 10 g
Method:-
Step One –
Add Kamut Flour and Splenda to a mixing bowl
Chop all nuts into similar size pieces and put to one side
Put the Almond butter and coconut oil into the dry mix and rub ingredients together with your fingertips until it looks like breadcrumbs.
Step Two –
Next add the chopped nuts, seeds mix and Cocoa Nibs stir together whisk the egg and pour over the mix if it's too dry add a little water to the mix until it all comes together to make a dough.
Split the mix into 12 and roll into balls then press them into a baking cupcake tray
Cook on a medium heat for 12-15 minutes until golden brown
Allow to cook then melt the chocolate in the microwave and drizzle over the cookies evenly.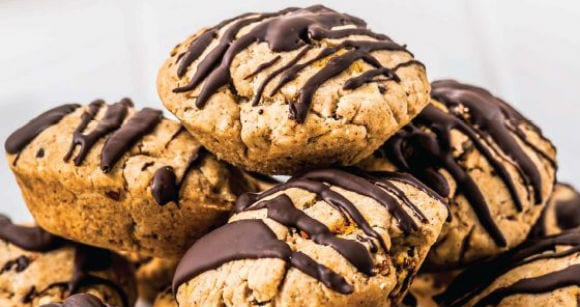 Macros –
Calories – 98  Carbs – 8    Fat – 7    Protein – 4    Sugar – 1
To buy Kamut flour click below!