---
We all now how many goodies fly around the living room at Christmas, the temptation becomes too much! In fact, I am actually salivating now! Treats for the kids also become treats for the golden oldies, the dog and sometimes even Santa. So, with Christmas round the corner, surely we should prepare to indulge.
What's better than one cookie?
TWO!!
Follow the instructions carefully, we have made these delicious cookies even more tempting. Replacing some measures with healthy alternatives. Who'd have thought a chocolate cookie would become healthy? Be extra naughty and heat them up and top with clotted cream… Thank me later!
---
Double Chocolate Cookie
---
---
Rich, sweet and utterly scrumptious- Just like the perfect man!
---
Ingredients
---
?30 g of Nut Butter
?1.5 scoop of Impact Whey (Chocolate)
?75 ml of Almond Milk
?30 g of Cacao Powder
?1 tbsp of Coconut Flour
?15 g of Dark Chocolate 85-100%
---
Method
---
1) In a bowl, mix all the ingredients together with a spatula until smooth.
2) Divide for the desired number of cookies. Arrange them on a tray covered with parchment paper or a nonstick baking sheet.
3) Cook in the oven at 160 ° C for about 25 minutes, or until biscuits are cooked.
4) Put cookies on a plate and enjoy with a glass of milk after they have cooled or immediately if you can not wait!
5) Your Christmas cookies are ready!
---
MACROS FOR DOUBLE CHOCOLATE COOKIES
Calories: 580         Protein: 45 g          Fat: 34 g          Carbs: 25 g               
---
Gingerbread Nut Cookies
---
---
You can't beat a bit of spice at Christmas. Go nuts and follow this amazing recipe to share with all the family!
---
Ingredients
---
? 125 g Ground Hazelnuts/Almonds
? 3 Whole Eggs
? 100 g of Dates
? 1.5 scoop of vanilla protein powder of your choice (Impact Whey, Impact Whey Isolate or Protein Rice Pudding)
? 1 teaspoon of ginger
? 1 teaspoon of cinnamon
---
Method
---
1) Using a stand mixer or a blender, mix all the ingredients together and shape the dough to create a dozen small cookies.
2) Place them on a parchment paper covered plate or in some molds silicone (or make a big gingerbread!).
3) Once shaped, cook at 180 ° C for 15 minutes or until the cakes are golden brown
4) Your Christmas cookies are ready!
---
MACROS FOR DOUBLE CHOCOLATE COOKIES
Calories: 107         Protein: 6.25 g          Fat: 6.25 g          Carbs: 6.66 g               
---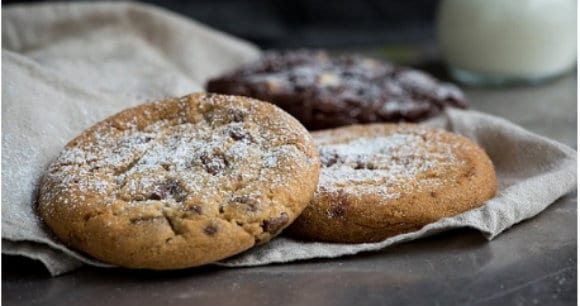 ---
---