These soy protein bars are the perfect sweet treat to satisfy your post-workout sweet-tooth cravings, or any time of the day. Plus, all you'll need are 4 simple ingredients.
The secret ingredient to make these bars a beautiful pink colour is beetroot – but trust us, these bars taste just like strawberries and cream!
Click to jump straight to the nutritionals.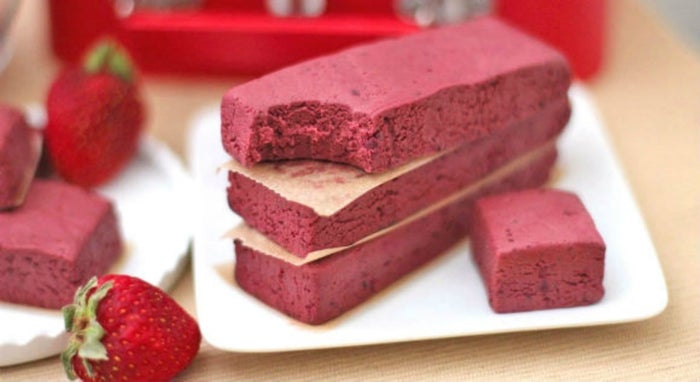 Makes: 12 bars
Ingredients
Method
1. First, blend the beetroot in a food processor until smooth.
2. Next, add in 6 scoops of your Strawberry Cream Soy Protein Isolate, Instant Oats and Flavdrops*.
3. After a lot of elbow grease, you should be left with a super-thick pink dough. Put the dough in the freezer for 5 minutes or in the fridge for 10 minutes.
4. Once chilled, using your hands, shape the dough into protein bars and put back in the fridge/freezer.
5. Once the soy protein protein bars are all firm, store in the fridge and enjoy. This mixture makes around 12 soy protein bars.
*Note: The soy protein can be substituted for casein or milk protein smooth but not whey protein. This is because these proteins form a thicker consistency.
Enjoy making these soy protein bars?
NUTRITIONAL INFORMATION
PER BAR
Nutritional info per serving:
| | |
| --- | --- |
| Calories | 189 |
| Total Fat | 5g |
| Total Carbohydrates | 17g |
| Protein | 16g |