Make this fiery five bean chilli in 15 minutes flat for a delicious weeknight dinner.
The perfect protein-rich ingredient for your 15-minute fiery five bean chilli is simply beans! Not only are kidney beans packed with protein, they're also a great source of vitamin B1, iron, potassium and magnesium — to name just a few.
Don't forget to check out the rest of our 15-minute vegan dinner recipes, like our Bangin' BBQ Beetroot Burgers and Avocado-Toast Pizza.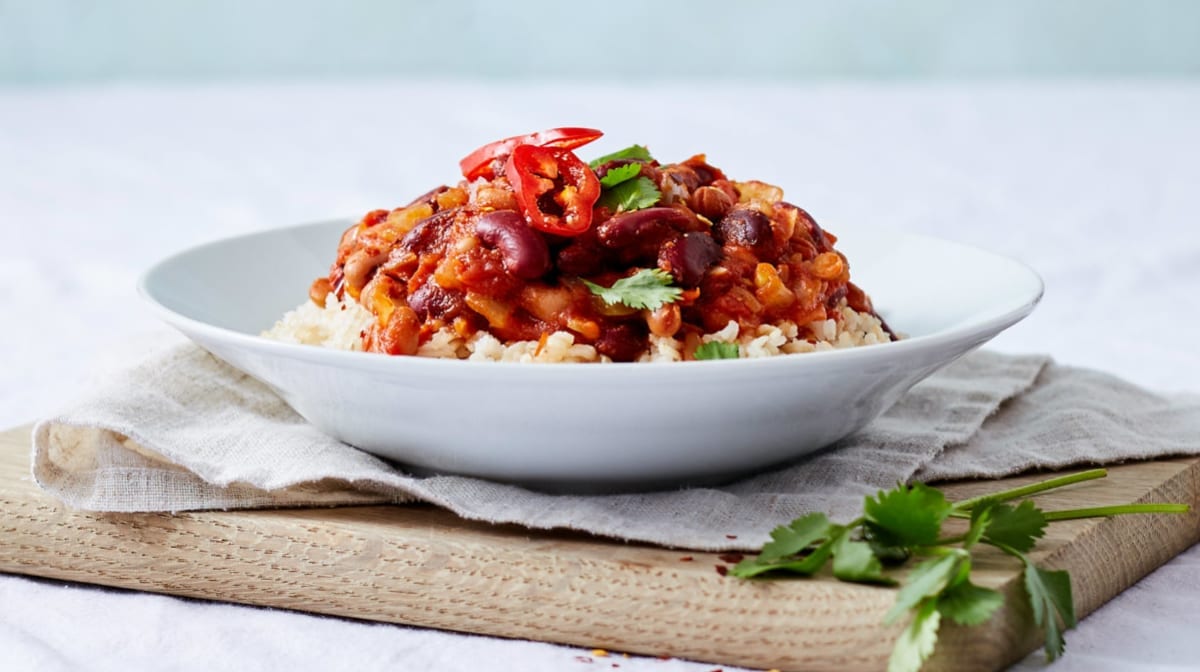 Ingredients For Our Five Bean Chilli
Serves: 4
1 tbsp. Coconut Oil or rapeseed oil
1 white onion (chopped)
3 cloves garlic (peeled and finely chopped)
Spices: 2 tsp. hot chilli powder, 1 tbsp. ground cumin, 1 tsp. paprika
Beans: 400g tin mixed bean salad, 400g tin kidney beans, 2 tbsp. refried beans (optional)
200ml vegetable stock
400g chopped tomatoes
2 tbsp. tomato puree
300g brown rice (cooked)
1 lime
Method
1. Place a large saucepan on a medium heat and add coconut oil. Once melted, add onions and cook for 5 minutes, stirring occasionally. Add the garlic and spices then cook for a further 2 minutes while stirring.
2. Add the beans, chopped tomatoes, vegetable stock and tomato puree. Bring the mixture to the boil and then cover the pan with a lid and leave to simmer for 10 minutes on a medium to high heat, stirring occasionally.
3. Once cooked, serve with cooked brown rice and a squeeze of lime juice. Perfection.
---
To store, cover the chilli and allow to cool completely. Once cooled, transfer to the refrigerator and store for up to 3 days.