HEALTHY LIFESTYLE |
The Power of Omega 3 Fish Oils
By Myprotein Writer Chris Tack
Clinical Specialist Physiotherapist and Manager Guys & St Thomas' Private Physiotherapy Service (London, UK)
Owner & Lead Clinician of All Powers Rehabilitation & Conditioning
In the United States approximately 52% of the population report that they take some form of dietary supplement (1). In the UK this is slightly lower at 40% but still consists of a UK market over £300 million per year (2).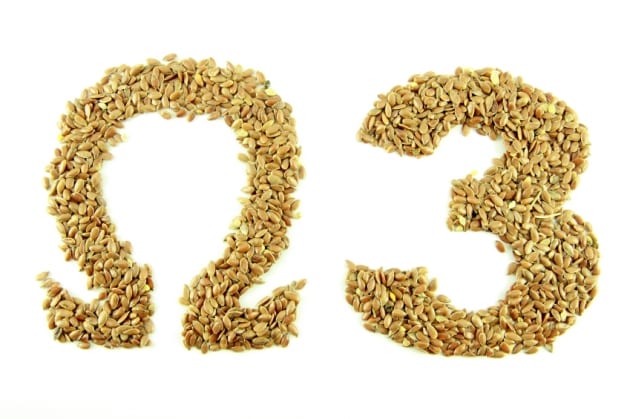 Omega-3 (?3) fatty acids have been all the rage since the early 2000s when large scale epidemiology studies demonstrated that certain populations of people in the world who eat large amounts of sea food (e.g. the Greenland Eskimos, Alaskan Natives and Japanese fishing village populations), show reduced rates of a number of health outcomes (3-7).
These benefits have been attributed to the presence of ?3 fatty acids, particularly eicosapentaenoic acid (EPA) and docosahexaenoic acid (DHA) (10).
Fatty acids are essential for our body's cells to function. There are three main fatty acids which have an influence in our body. These are:
– ?-linolenic acid (ALA),
– eicosapentaenoic acid (EPA) and
– docosahexaenoic acid (DHA).
EPA and DHA are found within marine products such as oily fish (mackerel, anchovies or sardines) and crustaceans like krill. They are long chain molecules which the body does not easily produce.
ALA is more abundant in our body and is a short chain molecule. It is found in plant products, such as chia seeds, kiwi fruit seeds or walnuts. They are "essential" fats meaning that, due to our body's inability to produce them, we have to consume them in our diets.
This type of fat molecule is an integral component of the membranes of the cells in all our tissues and they work to ensure the receptors in our cells remaining functioning appropriately and efficiently. They have key molecular influences on various cell properties such as hormone regulation, blood clotting, muscle contraction, artery wall pliability and, importantly, inflammation.
The function of omega-3 fatty acids, more commonly known as Omega 3 fish oils, is predominantly as a "precursor" to the production of other molecules which have beneficial effects in our body. This means that they stimulate a reaction to produce specific chemicals called eicosanoids.
Eicosanoids are described as "signalling molecules" and they are involved in control over lots of cellular reactions. You could consider them as the conductors of an orchestra, asking specific reactions to occur at the right time in relation to other reactions with our cells.
The eicosanoids which are stimulated by omega-3 fatty acids are prostoglandins, thromboxanes and leukotrienes (8). These molecules are beneficial as each has a specific function which is either:
– Anti-inflammatory
– Anti-thrombotic (prevents clotting)
– Anti-arrhythmic (prevents heart beat abnormalities) or
– Vasodilatory (dilates blood vessels).
This can help explain the varied and vast benefits attributed to these supplements!
Another effect of having greater amounts of EPA and DHA in our body is that the longer chain form of linolenic acid (ALA) is a precursor to a different set of molecules which increase clotting and inflammation.
Within our cells ALA and DHA/ EPA will compete for the correct enzymes to stimulate their specific reactions. With low concentrations of DHA/ EPA unfortunately ALA rules the roost, and an inflammatory environment can be maintained (8).
Benefits of ?3FA:
The Cardiovascular System
The most recognised and publicised benefit of ?3 fatty acid supplementation is in managing and reducing cardiovascular disease, e.g:
– Atherosclerosis
– Heart attack
– Coronary heart disease
– Stroke, etc.
Whilst to date studies have not demonstrated an effective role in prevention of these disease in healthy individuals, there is a large base of evidence which shows that in the presence of cardiovascular disease taking these supplements can prevent worsening of the symptoms.
For example, it has been found that taking 1g of ?3 fatty acids per day for a year can stop disease progression in the heart and can reduce the chance of sudden death or myocardial infarction (heart attack) (9).
Additionally, it has been found that EPA leads to a reduction in the cellular inflammation which can cause atherosclerosis (narrowing of the blood vessels) (10).
As such it assists in the efficient functioning of the heart and blood vessels. This is down to the key role of EPA in assisting the chemical reaction which creates prostaglandin-3 a lipid compound which assists dilation of blood vessels and prevention of platelet cells sticking together within blood vessels.
— Benefits of Omega 3 —
The Musculoskeletal System
Interestingly for me, as a physiotherapist, Omega 3 fatty acids also have been found to have benefits for our muscles, joints and bones. Well, I say "our" but what I mean is that in a model of animals which are "similar" to humans, supplementation with ?3 fatty acids shows some benefits.
For example, in a study which compared guinea pigs who had a resistance to arthritis with guinea pigs who were prone to arthritis, it was found that taking these supplements altered certain parameters of those prone to arthritis towards appearances of those who were resistant to the disease.
These changes included alterations to their cartilage and subchondral (beneath bone) bone quality (11). It was also found to modify their calcium: phosphate ratios and increase bone density.
For us that could indicate that taking Omega 3 fatty acids may make changes to reduce our susceptibility to arthritis, as well as reducing our risk of fracture.
This work is supported further by a study examining chickens (seriously, hear me out…)
It has been found that in a population of hens who have higher rates of egg shell breakages, the use of a diet supplemented with ?3 fatty acids significantly increased the bone mineral content and density of their eggs (e.g. the strength of the egg shells) (12). This resulted in a 40-60% reduction in the amount of eggs with breakages. This again indicates that supplementation of this form may improve bone density in those with osteoporosis (a condition causing reduced bone density and greater chance of fracture).
In addition to this some small studies have found that 3g of omega-3 fatty acids per day reduces the morning joint stiffness and number of painful joints in patients suffering with rheumatoid arthritis (13-16). This is even to the extent where they can reduce their intake of anti-inflammatory medications (17-18).
The scientific studies also indicate that taking Omega 3 fatty acids are not only beneficial for bone quality but also our bodies' soft tissues (e.g. muscle and tendon).
A review from 2009 (19) indicated that supplementation with these products has beneficial effects on tendons (such as the Achilles tendon in the he
el or the rotator cuff in the shoulder).
It was hypothesized that during chronic tendon injury whilst the entire process is not caused by acute inflammation, injured tendons do contain larger amounts of pro inflammatory chemicals (such as cytokines). They also contain higher concentrations of free-radical oxidants, which are groups of very reactive cellular atoms. This combination of substances in tendon cells is suggested as a cause of cellular destruction and degeneration in injured tissues.
Diet rich in Omega 3
Preliminary evidence suggests that a diet rich in Omega 3 fatty acids will reduce the release of COX-2 into the tissues. COX-2 is an enzyme which causes pain and the release of inflammatory chemicals (19). It has been shown that 99% of athletes with tendon injury who take an ?3 fatty acids supplement report a reduction of 50% on a pain scale after one month of use (20). Omega-3 fatty acids essentially reduce cellular inflammation by blocking the pathways which cause the inflammatory cascade.
Another study published in 2014 (21) examined the effect of a 12 week course of ?3 fatty acids on the action of mitochondria in skeletal muscle.
Mitochondria are sub units of our bodies' cells which work as power houses to create the majority of our adenosine triphosphate (ATP) which is used to create energy. This study demonstrated that taking an Omega 3 fatty acid supplement increases the efficiency of our cells to create energy. This is particularly so when a creatine supplement is also being consumed.
The presence of greater EPA/ DHA from the omega-3 supplement increases the sensitivity of enzymes to create ATP.
This greater cellular efficiency may lead to better and stronger muscle contractions (22); greater oxygen consumption during steady state cardio exercise (23); and a potential shift towards increased fat oxidation (burning) during exercise (24).
Another benefit of taking Omega 3 fatty acids is its beneficial effect on healing of injured tissue.
The presence of EPA applied to a healing ligament wound has been shown to increase the production and development of new tissue (collagen) over a 72 hour period (25).
As such it can be suggested that if you take an Omega 3 fatty acid supplement to ensure your body's cells consist of higher concentrations of EPA, then you may have more proficient wound healing should you find yourself injured.
— Benefits of Omega 3 —
Immune System
In order to continue to emphasise the benefit of these supplements it is interesting to also review other potential areas it may assist with.
For example, a study from 2010 (26) simulated (sadly with rabbits) a lethal injury. In essence they took a group of rabbits and fractured the femur and caused muscular lacerations to the extent that the injuries were potentially lethal. They found that an infusion of ?3 fatty acids increased the rate of survival by 43%, suggesting immune system changes which improved chance of recovery.
This is attributed to improving the bodies' ability to fight against invading bacteria, and/ or modifying the inflammatory reaction to the injury.
Also it has been suggested that the presence of the fatty acid DHA in the blood, may be protective against physiological
changes in the brain and nervous system linked to cognitive decline (through diseases such as dementia or Alzheimer's) (27).
This is supported by the findings that those with major depression have reductions in fatty acids (particularly DHA) (28) and that DHA promotes the health and survival of nerves by counteracting the presence of inflammatory arachidonic acid in the brain (29).
These authors (29) also found that following acute severe brain trauma treatment with ?3 fatty acids can provide a basis for optimal healing.
The guidelines published by the American Heart Association (30) suggest that through diet or supplementation 0.9g of EPA should be consumed daily. Th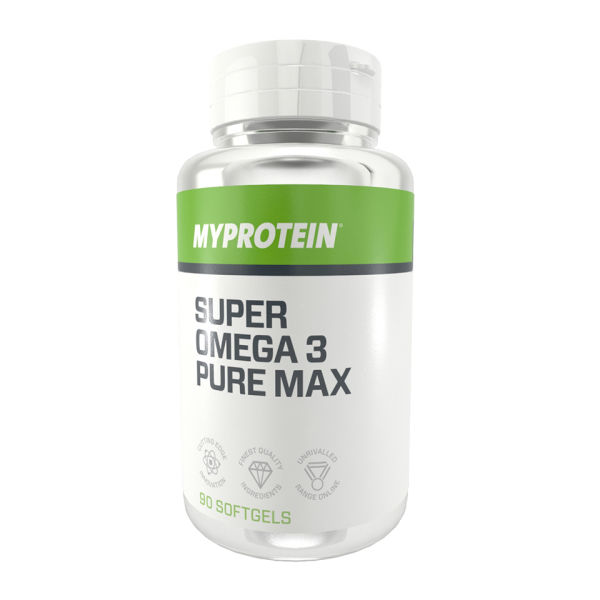 is is achievable by eating oily or fatty fish but easier to measure with appropriate supplementation.
For example, each soft gel capsule of Myprotein Omega 3 would provide 180mg of EPA and 120mg of DHA. As such taking 5 tablets per day with food would meet these guidelines for effective benefits on the heart and blood vessels.
Alternately, the Super Omega 3 Pure Max from MyProtein has an amazing 530g of EPA (90g of DHA) which would meet these guidelines with only 2 capsules per day.
A lot of the studies regarding joint, soft tissue and neural health will use higher doses of EPA (such as up to 3g per day) which has been shown to be effective and safe. For that the Super Omega 3 Pure Max would be the best option financially and for greatest efficiency.
So there you have it… Omega-3 (?3) fatty acid supplementation can provide benefits in cardiovascular function and that of your muscles, ligaments and bones. It can assist against the degeneration of the nervous system, and can increase your survival rate from injury.
The usual amount to consume daily to ensure appropriate levels of key fatty acids is 900mg, which is easily achievable with a good fish oil product. In fact you can exceed the amount significantly to show even greater benefits by eating a range of omega-3 rich foods – just limit yourself to 3g per day max!
Our articles should be used for informational and educational purposes only and are not intended to be taken as medical advice. If you're concerned, consult a health professional before taking dietary supplements or introducing any major changes to your diet.