In case you haven't been on Twitter in the last 24 hours, The Met Gala took place on Monday and it did not disappoint with the usual top-tier memes coming in thick and fast. One thing that did disappoint, apparently, was some of the food. 
Actress Keke Palmer gave us a coveted peak into what goes on at the Gala once the celebs get off the red carpet, and it appears the food wasn't as extravagant as the clothes… A ticket for one of the most talked-about (and meme-able) events in fashion reportedly runs at $30,000, so we'd be expecting big things when it came to dinner time.
Instead of lobster enrobed in gold or truffle covered caviar however, Keke tucked into a plate that looked remarkably similar to what we had left over from a family BBQ this summer.
Because we're always thinking about nutrition, we've crunched the numbers and figured the rough nutritional value of what was on Keke's plate.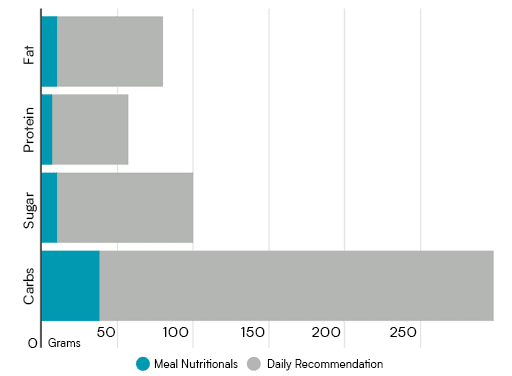 By our calculations, this particular plate had about 1 ½ servings of a medium salad tomato, a quarter of a can of sweetcorn, one mushroom (yes, mushroom), a couple of slices of courgette, 30g arborio rice, 15mls of white wine and 10g of butter for what we think is risotto. Oh, and let's not forget that solitary leaf of lettuce. 
This concoction adds up to about 304 calories, 10g of fat, 38g of carbs, and a measly 7g of protein. Definitely not enough to push you through an event like The Met Gala. 
It's not just us at Myprotein who were shocked at the "menu" either…
With a lot of debate as to what this particular component of the meal was, we decided the most likely culprit was a mushroom. But a fancy one at that, we're thinking shitake.
We'd be tempted too… do you need us to send you a protein shake Keke?
Ok, we're really hoping we're right with our mushroom guess. 
All in all, we really hope more was on offer to guests after they completed their triathlon of wardrobe, makeup and red carpet.
Take home message
Your body needs fuel, whatever the activity. We'd recommend that Keke pick up a protein bar on her way home from the Gala, as what was visible on that plate could not be considered a meal fit for an active lifestyle.