Written by Sarah Curran
---
Healthy Dinner Ideas
---
Meal prep doesn't have to be boring with these great ideas that can be made ahead of time and frozen for another day! Mix up your sides, sauces and meals, you won't look back!
---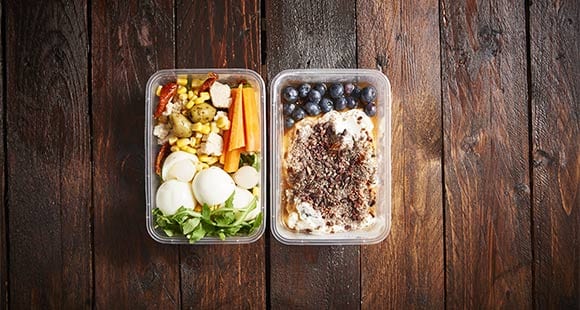 ---
Mashed Cauliflower With Roasted Garlic And Herbs (makes 4 servings)
This is a great low carb alternative to having mashed potato if you are low on spare carbs for the day. It is packed with flavour and you may find you even prefer it to run of the mill mash!
Ingredients
?  1 head of cauliflower (approx 700g)
? ¼ head of garlic
? 5g oil
? 10g thyme
? Pinch of salt
? Pinch of pepper
Begin by preheating your oven to 200 degrees.  Take about ¼ of the head of garlic and peel the cloves. Sprinkle the cloves with oil and wrap them in foil before roasting in the oven for about forty minutes. Take them out of the oven and allow them to cool. Cut the head of cauliflower up and steam it either in a pot or the microwave. Steaming is better than traditional boiling as the vegetable will retain more of its nutrients this way. When it is soft, place it into a food processer and pulse it until it is totally smooth without any lumps left inside it. Squeeze the cloves of garlic into the mixture and pulse further until it is combined in. Add the salt and pepper then serve. This can be frozen and eaten at a later stage.
Macros:
Kcal:  70
Protein: 4g
Fat: 2g
Carbs: 9g
---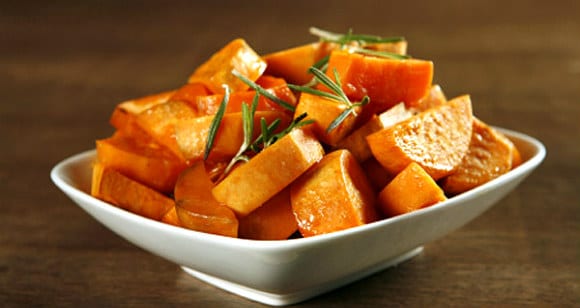 ---
Honey Glazed Roast Sweet Potatoes (serves 4)
Ingredients:
? 1.5 kg sweet potatoes
? 40g coconut oil
? Pinch of salt
? Pinch of pepper
? 65 g honey
? 10g thyme
Chop the sweet potatoes into as evenly sized rounds as possible. Line a baking tray with tinfoil and spray it with a low calorie cooking spray. Melt the coconut oil in a pot and add in the salt and pepper. Toss the sweet potato rounds in the oil mixture. Roast the potatoes in an oven at 200 degrees for about 30- 40 minutes and cover with an additional sheet of foil. In a bowl, mix together the honey and thyme. Remove the potatoes from the oven on the tray, and take the sheet of foil off the top of them before returning them to the oven for a further 15-20 minutes so that they begin to turn a golden brown around the edges.  Remove them for the oven again and using a pastry brush, coat the top of the potatoes in the glaze. Return them to the oven for 15 minutes, then remove them again and flip them repeating the process with the opposite side. After they are baked with the glaze on both sides, remove them and serve.
Macros:
Kcal: 370
Protein: 4g
Fat: 10g
Carbs: 66g
---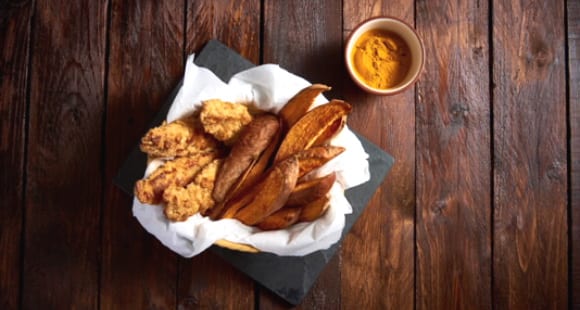 ---
Baked Chicken Nuggets (serves 4)
Ingredients:
? 500g chicken fillets
? Pinch of salt
? 10g coconut oil
? 80g panko breadcrumbs
? 15g parmesan cheese
? Low calorie cooking spray
Preheat the oven to 200 degrees. Line a baking tray with foil and spray with the low calorie cooking spray. Melt the coconut oil and place it in a bowl. In a separate bowl, place the panko breadcrumbs and cheese. Sprinkle the chicken with the salt and pepper, and then coat it in the coconut oil. Stir the chicken around the bowl well with the oil to ensure that it is evenly covered.  Dip the pieces of chicken individually into the breadcrumbs and ensure that they are evenly coated. Place them on the foil and bake for about ten minutes, before turning them over and baking them for another five minutes or so until the chicken is fully cooked through. Serve and enjoy!
Macros:
Kcal: 282
Protein: 42g
Fat: 6g
Carbs: 15g
---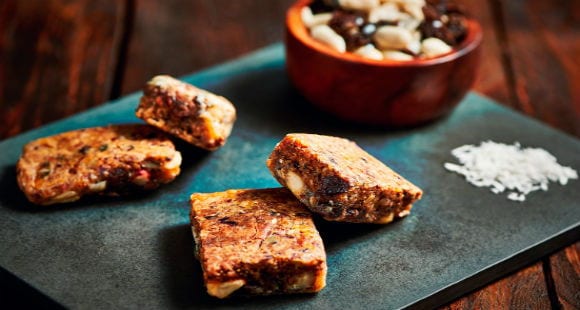 ---
Fruit And Nut Granola Bars (serves 5)
? 220g dates
? 90g honey
? 130g oats
? 70g almonds
? 70g omega seed mix
? 20g dried blueberries
Line a baking tray with greaseproof paper. I like to leave the paper slightly too big so that I can hold the edges when I'm removing the bars from the fridge. Place the dates and honey in a food processer, and pulse until they form a smooth paste. In a mixing bowl, stir the oats, almonds, omega seed mix and blueberries together. Add the date mixture to this and combine well. Pour the mixture into the baking tray with the help of a spatula and press hard so that it forms an even layer across the tray. Place in the freezer for twenty minutes to allow the bars to become firm before cutting them into five slices. Store in the fridge until you want to eat them as this will help ensure they do not break into pieces before they get eaten.
Macros:
Kcal: 479
Protein: 11g
Fat: 15g
Carbs: 75g
---
Our articles should be used for informational and educational purposes only and are not intended to be taken as medical advice. If you're concerned, consult a health professional before taking dietary supplements or introducing any major changes to your diet.