Imagine being faced with 50ft waves, 40-degree heat and gale force winds in the best of times, never-mind with when you're sleep deprived and covered head-to-toe in blisters and bruises! Sounds outrageous, right? Not for four adventurous school friends who have committed their time to prepare for a 60-day Transatlantic Row potentially known as "the worlds toughest race."
Not only are these gents courageous, enthusiastic and incredibly inspirational in terms of aesthetics – but they're actually completing the challenge to raise money for two charities: Teenage Cancer Trust and Cystic Fibrosis.
---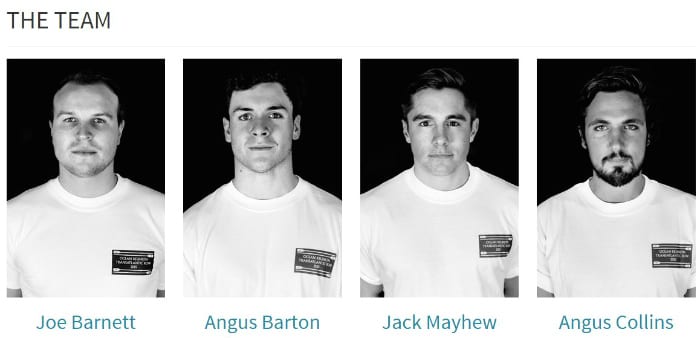 Image belongs to The Ocean Reunion Team.
All four members of the Ocean Reunion team sport heavily active lifestyles, proving them to be more than your average group of school friends.
Joe Barnett has captained Cricket, Gus Barton is a Rugby-lover turned Personal Trainer, Jack Mayhew is an experienced Sailor and passionate triathlete and Angus Collins – well, let's just say one of his achievements include a non-stop 350km run through North Scotland, and is currently spending all of his time building the vessel for the crossing of the big adventure!
PT and Strength and Conditioning Coach Gus Barton has kindly stepped in to use his knowledge to create the entire training plan to prepare this athletic group for a challenge of a lifetime. Their gruelling training routine has kindly been shared for the interest of Myprotein readers. So, if you're interested in rowing the Atlantic…
---
Warm-Up Routine
Foam Rolling
? Glutes, quads, top of Hamstring, lateral muscles and traps.
10-minute easy paced row
? Focusing on technique – Fixing lower abdominals, flattening back, externally rotating shoulder and hip joint.
Warm-up exercises
? 3 x 10 Shoulder Dislocations – Band or Stick.
? 3 x 10 Press up rotations.
? 3 x 10 Press up position, Step outside hand, rotate through back and shoulder.
---
Training Phase 1: Mobility/Core Stability/Technique
Foam Rolling: Quads, Hamstrings, Glutes, Hip Flexors and Back.
Upper/Lower Stretching: Hamstrings, Hip Flexors, Throracic Rotation.
---
Training Phase 2, Months 2-4: STRENGTH
Weight will increase week on week, with a minimum of 5kg increase during lowering of rep range.
Weeks 1-3: 4 x 6  Weeks 3-7: 5 x 5
Weeks 7-10: 6 x 4     Weeks 10-12: 7 x 3.
SESSION 1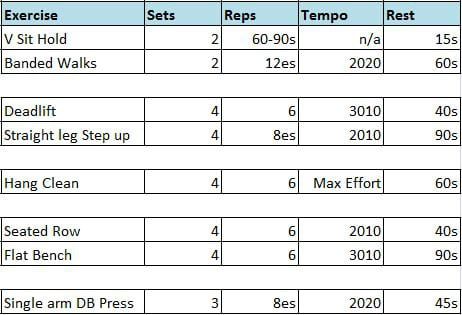 SESSION 2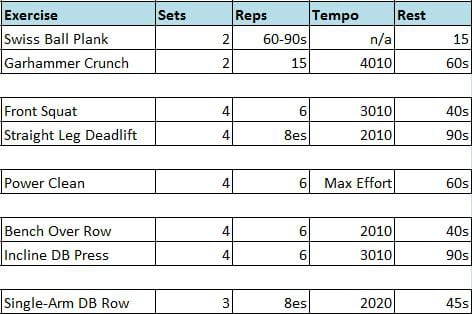 ---
Training Phase 3: Hypertrophy, designed to increase size
The key focus is Time Under Tension: using this technique to stress the muscles to create maximum adaptation! Make sure the weight is increased by minimum of 2.5kg per week.
At the end of this phase, you should be at your heaviest.
SESSION 1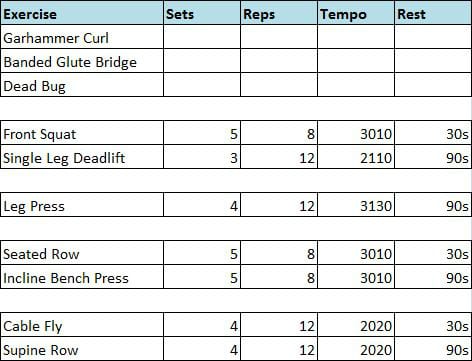 SESSION 2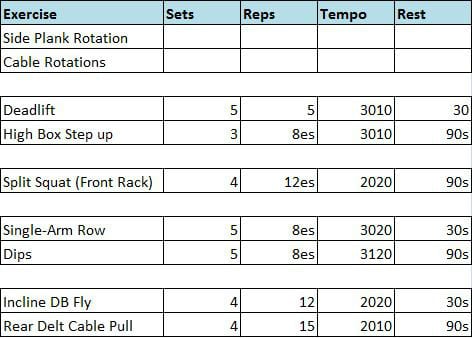 ---
Top 5 Rowing Training Tips | PT Gus Barton
#1: Don't pull with your arms
This is a very common mistake that can actually promote quicker fatigue. Get the most of your training sessions by performing strokes by driving through your legs, rather than fatiguing your forearms and biceps.
The sequence should be: legs – hips – arms, arms – hips – legs for maximum effectiveness.
#2: Tailor your training to your goals 
Rowing can deliver a range of benefits, depending on how it is used. It is a great full-body workout and effective aerobic exercise, it can help prevent upper-body imbalances and even burn up to 600 calories per hour. However, to achieve your desired results it's important to utilise your training time.
For example, introducing short intervals into your training can help burn fat and improve anaerobic performance.
#3: Relax during the recovery phase 
After completing the pull phase, both your hips and knees will be fully extended – at this point it's important to avoid any pauses. Instead, use the momentum to push your hands away towards your feet and slide back to starting position.
Making this small tweak will avoid loading your hamstrings and calves.
#4: Take long, powerful strokes
Performing short, messy strokes will promote quick fatigue, make you miss out on a huge amount of power and even increase any risks of injury.
Smooth movements are incredibly beneficial – just visualise being on the water.
#5: Connect through the feet 
Ensure to feel the foot plate connected to your feet throughout the entire movement. Additionally, prevent your toes from coming away whilst extended to avoid loading your hip flexors.
Can't keep your heels pinned down? You may have a lack of mobility through the ankle and hip.
---
Take Home Message
Look out for part two on Nutrition: meal plan, macros and tips!
"Motivating ourselves has never been difficult. Every day that goes by takes us a day closer to being sat on the start line. The last thing you want in your mind then is 'what if I had done this or that better' – Gus Barton
Our articles should be used for informational and educational purposes only and are not intended to be taken as medical advice. If you're concerned, consult a health professional before taking dietary supplements or introducing any major changes to your diet.