We're delighted to announce that Max Whitlock is remaining with #teammyp for the next three years. With seven gold, six silver and four bronze medals to his name, Max recently made an explosive return to action at the World Championships, Montreal. Max rose to the occasion during his return to all-around competition, becoming the first British gymnast to retain a world title last month, leaving his Olympic heroics in the shade.
Max's Journey
Whitlock grew up in Hemel Hempstead, Hertfordshire and trained at the Sapphire School of gymnastics from the age of six after his school mate persuaded him to ditch the pool for the pommel horse. After moving to the South Essex Gymnastics Club, Max met his first coach Scott Hann and the rest is history.
Max first announced himself on the world stage when he won his first Olympic medal in the men's pommel horse final in London 2012. The fresh-faced 19-year-old surprised everyone, becoming a major threat worldwide. It didn't end there – Whitlock later helped the men's team claim a historic bronze in the team final.
It's safe to say Max lived up to the hype at the Commonwealth games in 2014, picking up three golds in the team as well as taking silver in the pommel. He then made history in the same city 12 months later, triumphing in the pommel.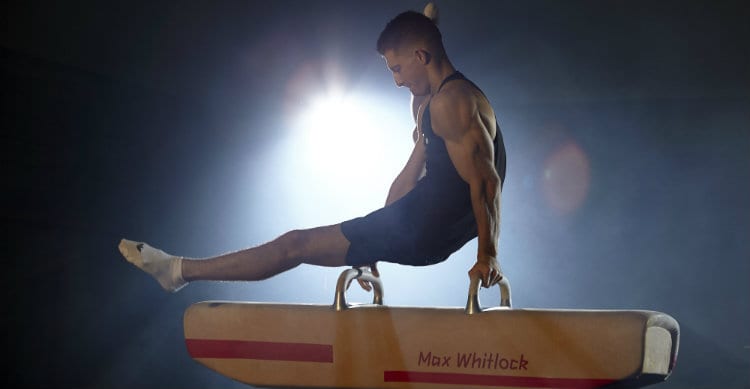 Going for gold
There's no stopping the twice-nominated BBC Sports Personality of the Year 24-year-old, winning back-to-back gold medals on the floor and the pommel horse in Rio 2016, Max followed up his double gold Olympic triumph getting his hands on a different kind of ring. Max left the tumbling mats behind and walked down the aisle back in July after his 6-month break. Besides a brief break to get married, Whitlock spent months shut away in his Basildon gym upgrading his winning performances in order to keep his rivals at bay.
Fresh from success at the Montreal 2017 World Championships, newly-crowned Myprotein ambassador Max Whitlock talks to us about what makes his training tick.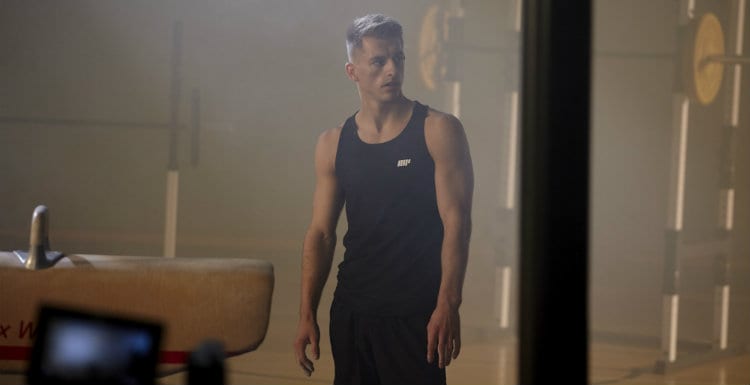 Training
Contrary to what you think when your strutting by the pool on holiday, few men can successfully pull off wearing a vest – unless your name is Max Whitlock.
"We're in the gym six days a week, and during the weekdays I train approximately 6 hours"
You may now be asking – what does Max do for six hours? Well, the skills typically require many years to master, but in regards to flexibility, agility and strength – athletes must train rigorously all year round.
Upper body, core and muscle strength is critical in the pommel horse and rings events. Although the majority of male gymnastics weigh less than 70kg and look "small" in a t-shirt when compared to the bodybuilder, their explosive bodyweight movements and isometric holds offer a lean body and results you've always dreamt for.
Thanks to the popularity of HIIT workouts and calisthenics training, more and more gyms are dangling rings from the rafters so there's no excuses – if you want those strong, sculpted shoulders, get swinging.
Fancy a double gold medallist to inspire your next workout? Follow Max's quick yet no-so-easy workout plan below.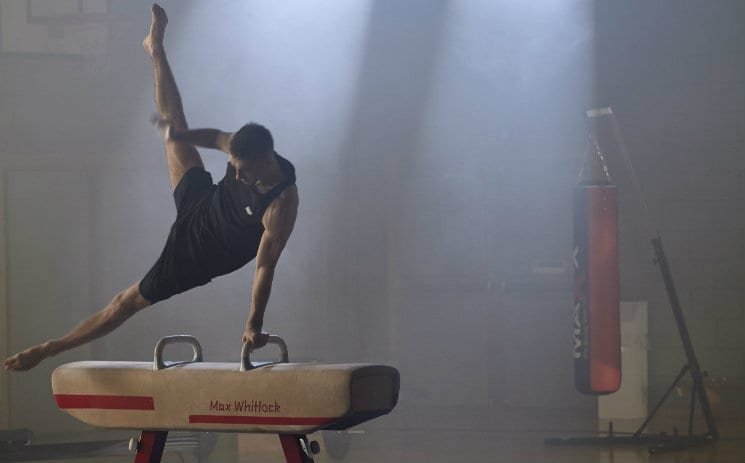 Try This:
Circuit 1 (repeat 3 times)

Squat walks
30 seconds
30 seconds rest
Heel raises
30 seconds
30 seconds rest
Straight jump to stick
30 seconds
30 seconds rest
Circuit 2 (repeat 3 times)

V-sits
30 seconds
30 seconds rest
Dish rocks
30 seconds
30 seconds rest
Tension bridge
30 seconds
30 seconds rest
Circuit 3 (repeat 3 times)

Shoulder shrugs in press-up shape
30 seconds
30 seconds rest
Squat throughs
30 seconds
30 seconds rest
Forearm press-ups
30 seconds
30 seconds rest
Think you've got what it takes? This full-body workout is bound to get you working up a sweat, targeting those all-important muscles, including your glutes, hamstrings, abs and upper-body. Don't forget, if it was easy – we'd all be Olympic champions.