Getting your daily micronutrients way down on your priority list? Here's why this particular vitamin shouldn't be.
Protein? Check. Carbs? Check. Fats? Check. Vitamins? Perhaps. We get it – sometimes, monitoring your vitamin intake can be a little further down on your to-do list than it should be. But when your diet is devoid of animal protein, the mighty vitamin B12 is a supp you shouldn't miss out on. In fact, B12 deficiency brings about major health consequences – not to mention a slump in your workout performance, too.
B12 is a vitamin that can't be made in the body, so it's essential to get it into your system through your diet. It's found naturally in meat, fish, seafood, eggs, dairy, and some fortified products like plant milks and cereal. Key in all manners of healthy living and essential for muscle strength and energy-level retention, vitamin B12 is should be a high-priority supp – especially for vegans – as it's incredibly scarce in plant-based food.
If you're not quite in-the-know of how exactly Vitamin B12 benefits you, here it is in a nutshell:
Essential for energy by metabolising protein, carbohydrates and fats into usable energy for the body – that's the reason people with a deficiency feel run down.


---

Vital for the nervous system as it aids in brain signalling for muscle contraction.


---

Key for red blood cell formation, which carry oxygen to muscles.


---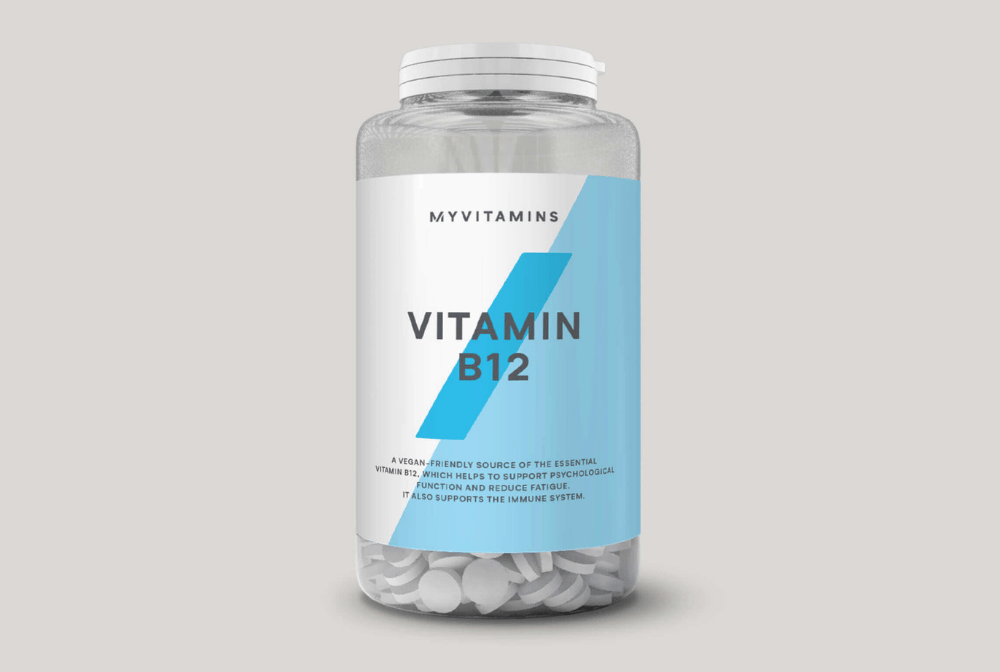 Vitamin B12 Deficiency
A Vitamin B12 deficiency isn't just a concern for athletes. It can have an effect on your day-to-day health that can become apparent through a whole host of symptoms. Plus, even for non-vegans, your body's ability to absorb vitamin B12 from food slows down with age. So, what are the side effects and how can you tell if your B12 levels are low?
You may feel more sluggish and weaker than you have before, despite eating well and getting your fluids (as well as a good night's sleep).
You may experience odd sensations, feel wobbly or dizzy.
Your skin may appear paler. With a B12 deficiency, the red blood cells that you do have are very fragile and easily broken, causing a release of bilirubin pigment that gives skin a yellow complexion.
Very low levels of B12 can cause anaemia and damage to your nervous system.
Symptoms of deficiency can take five years or more to develop in adults, though some people experience problems in much less time. Often the symptoms of pain, tiredness or hallucinations develop gradually over several months to a year before being recognised as being due to B12 deficiency.
How Much Do I Need?
B12 is required in smaller amounts than other vitamins. Just 10 micrograms (?g) of B12 per day supplies as much as your body needs. In fact, symptoms of deficiency are usually reversed from two weeks after taking B12 supplements.