If you're new to the workout scene, you might be surprised to see everyone walking out with their blender bottle after their workout or posting their morning smoothies on Instagram. Everyone seems to be using protein powder, but what's the best way?
With so many protein powders on the market, once you finally choose one you like, what's the best way to use it? Although many powders can be made into a recovery shake by just adding water, there are lots of ways to bump up the nutrition and make a variety of tasty snacks or even meal replacements.
In This Article: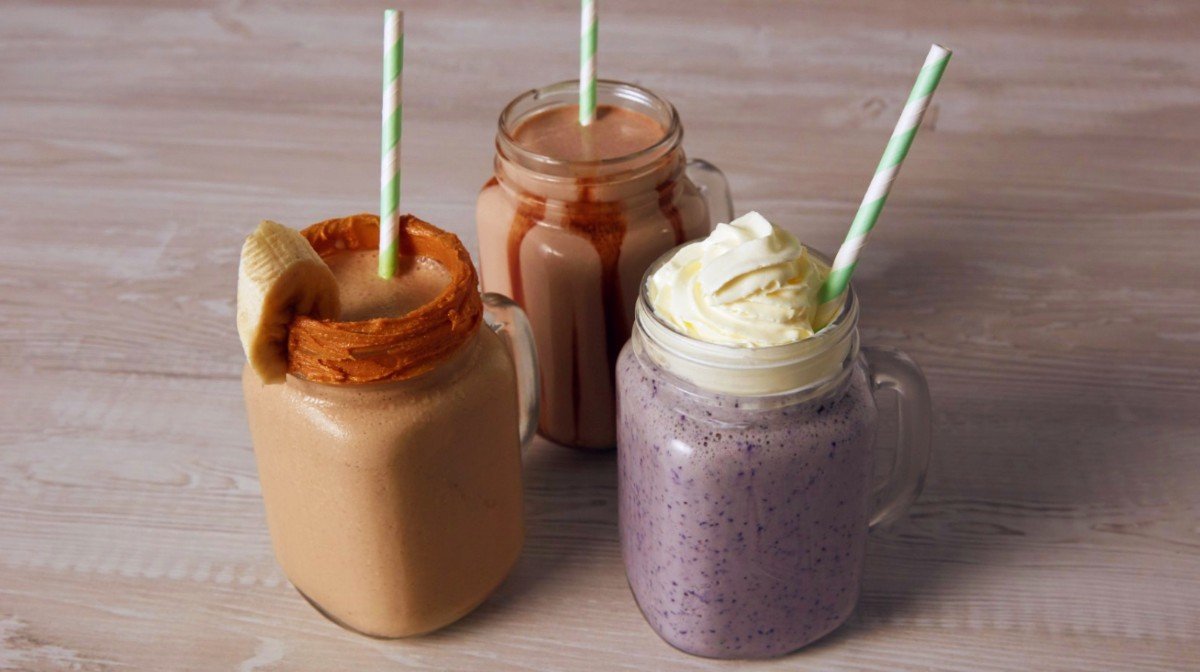 What is a protein shake?
A protein shake is made from a protein supplement (typically a powder) that's mixed with a liquid (like water) and sometimes other ingredients to make a drink like a smoothie or milkshake. They can be made simply in a shaker bottle or blended in a blender if you're adding other ingredients. Protein shakes are usually taken after exercise to help repair and build muscle, but they can also be used as a meal replacement or a healthy snack any time of day.
How do you make a protein shake?
While protein is key to helping muscles build and recover, you can add other nutrients to your protein shakes too — like carbs, healthy fats, and fibre — by adding more ingredients. The liquid component of the shake is required — whether its water, milk, coffee, etc. — you need something to dissolve the protein powder in. 
If you just want to boost the protein content, mix your protein powder with milk in a blender bottle instead of water. If you want to get more complex, you can use a combination of frozen ingredients (like frozen fruit or ice cubes), fresh ingredients like spinach or yogurt, or sources of fat like nuts or nut butters, and liquify it all in a blender. It's easy to experiment with different flavours. For even more protein, you can add yogurt to your shakes too. 
What are the benefits of protein shakes?
Protein shakes provide extra protein to help build and repair your muscles after your strength training workout.1 Adequate protein in your diet, like you get in protein shakes, can actually help prevent muscle damage and promote faster recovery during endurance exercise too — like running, swimming, or cycling.1
High-protein diets have been popular for years for good reasons. Having adequate protein in your diet can also help with weight loss — protein makes you feel fuller and more satisfied, which can help prevent over-eating. A diet high in protein also protects your lean body mass when you're trying to lose weight by creating a calorie deficit.1
---
What are good protein shake recipes?
The following list of recipes can be modified based on your goals and range from basic to complex in terms of ingredients. Play around with frozen and fresh fruits and vegetables for different textures. The recipes below are all best mixed in a high-powered blender.
How to Make Weight Loss and Meal Replacement Shakes
When trying to lose weight, it's important to still obtain balance with your nutrition. Try these recipes to obtain a good mix of protein, healthy carbohydrates, and heart healthy fats. Unsweetened or low-fat milk options are the best choice to manage calorie intake. Using Impact Whey Protein is a low-carb, high-protein choice that fits perfectly here.
Very Berry Green Shake
Adding a few handfuls of fresh spinach might make your shake green, but we promise you won't taste it. The extra fibre and nutrients you get from the greens is a great natural boost.
1 scoop Strawberry Cream Impact Whey Protein
1 cup skim or unsweetened almond or soy milk
1 small frozen banana
1 cup fresh spinach
1 tbsp. almond butter