We're excited to announce the launch of two brand new, tantalising flavours of your favourite low-sugar snack — plus, a truly delicious plant-based version for our vegan customers.
Check them out here.
What Is a Carb Crusher?
Did you know that the average supermarket bar of chocolate contains around 25g of sugar? Chock-full of empty calories, that's 100% of your daily sugar allowance in one single snack. If you find yourself constantly searching for something that can simultaneously satisfy your sweet tooth without breaking your diet, our newest innovation is your ultimate solution.
Carb Crusher is an unrivalled high-protein, low-sugar snack – simply made for snackers with a sweet tooth. Each delicious bar delivers a hefty 21g of protein and an average of 100% of your recommended daily allowance of 20 different essential vitamins and minerals – all with no more than 2.7g of impact carbohydrates (that's the sugar that sends your blood glucose out of control). So, whether you're dashing from the office or from the gym, you can snack on-the-go, minus the guilt.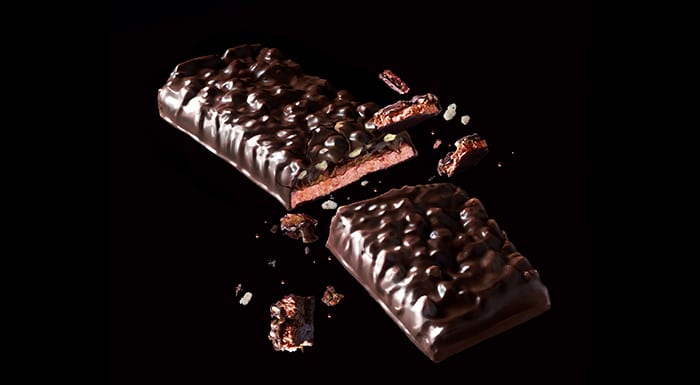 Ingredients
Packed with 21g of high-quality protein, THE Carb Crusher gives your diet a muscle-building boost to fuel your workouts and keep you at the top of your fitness game. A crucial ingredient for both building and maintaining muscle mass, protein provides the body with the essential amino acids that it requires to take your training to the next level and make sure you're recovering right – while keeping your snacking in check.
Fortified with an average of 100% of your recommended daily allowance of 20 different essential vitamins and minerals, whatever your goal, rest assured that THE Carb Crusher delivers healthy ingredients that your body needs for everyday life, too.
The greatest virtue of THE Carb Crusher is that it contains no more than 2.7g of impact carbohydrates – that's the sugar that sends your blood glucose levels soaring, causing unwanted fat storage and halting your body's capacity to torch fat to a grinding standstill. All while boasting flavours so delicious, you'll want to substitute our Carb Crusher in for dessert.
What Are Impact Carbs?
Impact carbohydrates, or simply 'impact carbs', are a term used to describe simple carbohydrates that cause a sharp rise in the amount of glucose in the bloodstream. The reason that impact carbs cause a sugar-level spike is that they're made up of only one or two units of sugar saccharides. That means that the body doesn't need to break them down to digest them, so they're made available very quickly after eating. They occur naturally in lots of foods like fruit and vegetables, but the ones we need to avoid are added sugars that are found in sweets and confectionary.
If you're about to do an endurance workout, eating simple carbohydrates isn't a bad thing, but any other time, eating foods with a lot of added sugar sets you up for a killer energy crash with tough-to-control cravings to top it off.
When sugar is naturally released into the bloodstream after eating, the storage hormone, insulin, is secreted by the pancreas. Insulin collects the sugar to use as energy, and also to store the excess as glycogen (carbohydrate stores) and fat stores. The higher your blood sugar levels, the more likely you are to store the excess energy as fat, and whilst insulin is being secreted, your fat burning potential is put on hold.
When To Enjoy Carb Crusher?
Anytime those sweet-tooth cravings strike – at home, the office, or straight after that big gym session. And, being low-sugar means it won't derail your diet.
Now Available In 5 Delicious Flavours
Finding a snack that stands out from the crowd in terms of both flavour and nutritionals can be tough, but THE Carb Crusher delivers and then some. Now coming in five mouth-watering flavours for you to choose from, you'll want a stash in your gym bag, ready for when the sweet cravings strike.
Fudge Brownie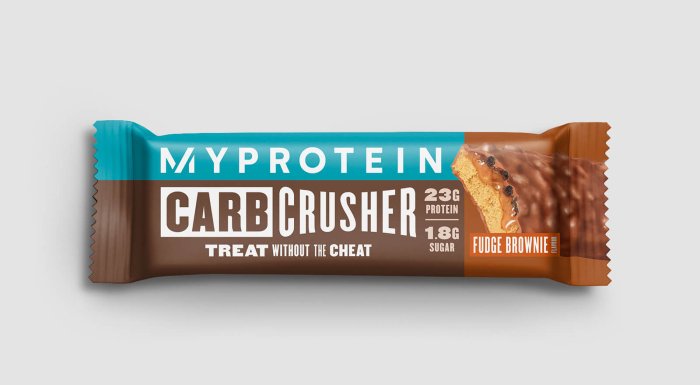 Our latest addition to the Carb Crusher family, this heavenly bar tastes every bit as delicious and indulgent as a fudge brownie — just with a fraction of the sugar content.
Peanut Butter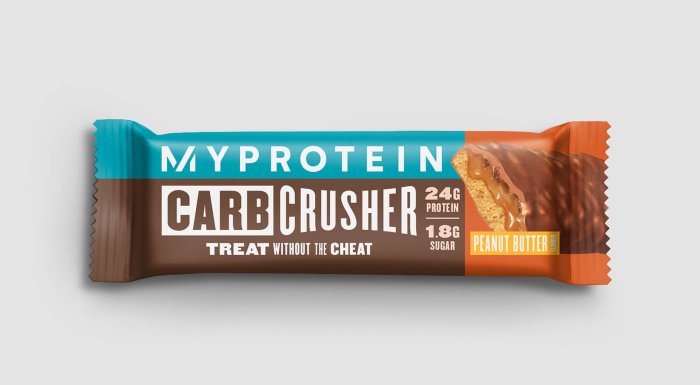 Not to be dramatic, but a bite of this will make you think you've died and gone to peanut butter heaven. Seriously, when it comes to satisfying cravings — this is the one to go nuts over.
Caramel Nut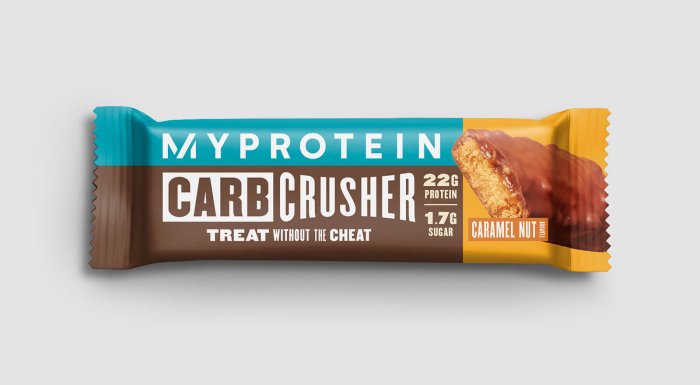 An irresistibly nutty-flavoured soft base, layered with smooth caramel to give a rich, melt-in-the-mouth finish – and a milk chocolate outer coating.
Something big is landing — something that's going to shake up plant-based snacking forever.
Our Carb Crushers went down such a treat that we thought we really should make it our mission for everyone to have the chance to become as obsessed with them as we are. That's why we created a completely dairy-free version for our vegan community — yep, you're worth it guys.
These sensational, low-sugar snacks pack in 15g of protein from a combination of pea and brown rice protein — topped off with crispy soy protein nuggets. Then they're layered with vegan caramel and covered in a rich dark chocolate flavoured coating.
Choose from three incredible flavours — classic Chocolate Orange, indulgent Chocolate Sea Salt, or irresistible Peanut Butter — and consider cravings crushed… the plant-based way.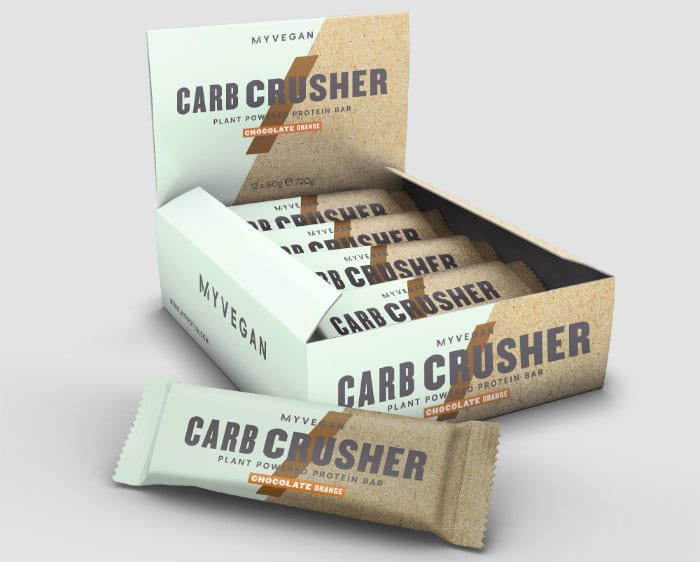 Our verdict on Carb Crusher? Dodge the impulse grab on junk food and stash one in your bag for next time the cravings set in.