There's a common misconception that snacking is a bad thing, but it can actually be super beneficial for a healthy diet. Not my words — this is according to nutritionist Elle Kelly (@ellekellynutrition), who explained why she's such a big fan of snacking in an Instagram post.
On top of satisfying a sweet tooth, Elle says snacking can play an important role in our nutrient and energy needs — especially important for active people — and can bring much-needed variety to our diets.
Snacking can also help regulate blood sugar levels, which is good for feeling energised and avoiding cravings, and can help prevent overeating later in the day.
As if she hadn't been generous enough, Elle also shared one of her favourite snack recipes. She says she loves these granola bars, as they're easy to make, store well (for emergencies), and are super-filling. Sounds like the perfect snack to me.
Instructions
1.
First, add all the ingredients to a bowl and stir to combine. 
2.
Then, pour the mixture into a deep baking tray lined with baking paper. 
3.
Using the back of a spoon, flatten the mixture into the tray. 
4.
Bake in the oven until golden brown. 
5.
Enjoy at your favourite time of day for a snack.  
Nutritional info per serving:
| | |
| --- | --- |
| Calories | 261 |
| Total Fat | 14g |
| Total Carbohydrates | 21g |
| Protein | 10g |
Want more recipe inspo?
TRY THESE NEXT: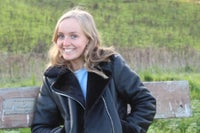 Emily is studying Business Management & Marketing at the University of Birmingham and is currently on her intern year. She has a keen interest in both writing and fitness, so is happy she can now combine the two. She likes to spend time with her friends, both in & out of the gym.