Congratulations, you've just discovered the most Instagram-able and tasty breakfast topper ever — with bonus health benefits. Liquid Omega is a sweet and creamy omega-3 liquid that can be drizzled all over your favourite desserts and breakfasts, or sipped straight off the spoon.
We know what you're thinking — the thought of a fishy omega-3 all over your breakfast probably has you recoiling a bit. However, the nano-encapsulation technology means that there's no nasty fish taste, just the deliciousness of zesty lime or fruity peach and mango oozing into your favourite morning smoothie bowl.
Put simply, Liquid Omega has all the benefits of this essential fatty acid, just without that eye-watering aftertaste. Like other omega-3 supplements, it's rich in EPA and DHA which supports cardiovascular health, as well as normal brain function and vision.
The cherry on top of all this? Pouring this colourful cream all over your breakfast is enough to brighten up the rainiest of days (something you'll be able to fully appreciate with healthy eyes).
Keen to get started?  Here's a recipe you can get going with to put Liquid Omega to the test for yourself.
Click to jump straight to the nutritionals.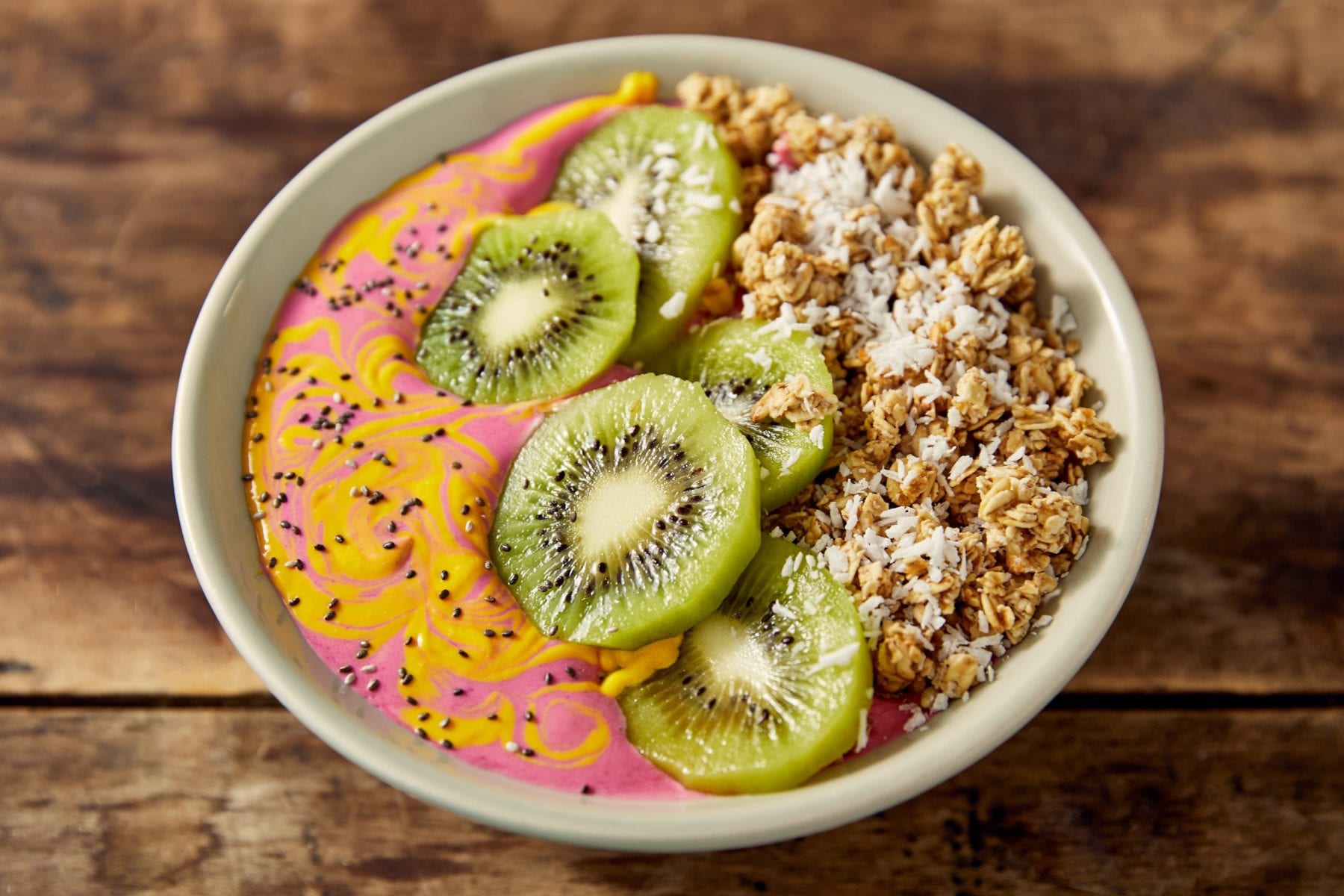 Makes: 1
Ingredients
1 banana (chopped and frozen)
165g mango (chopped and frozen)
165g dragon fruit (chopped and frozen)
60g full-fat canned coconut milk
Toppings:
Coconut (fresh or dried)
Seasonal fresh fruit (of choice)
Your favourite nut butter
Your favourite granola, cereal or oat blend
Liquid Omega in Peach Mango
Directions
Add the frozen fruit to a food processor. Allow to sit at room temperature for about 5 minutes to gently thaw before beginning to process.
Add coconut milk, and then process until very smooth and the mixture begins to fluff up.
Use a spoon to check that the fruit is completely blended and push down any chunks of fruit that aren't processing.
This works the best in the food processor if you fill it to about half-full. Any less or too full, and some of the fruit doesn't get blended well.
Pour the blended fruit into a bowl to serve, leaving plenty of room for your chosen toppings.
Add your chosen toppings – be creative and try different fruits or cereals.
Finally, drizzle over the Liquid Omega in a zig-zag so that the yellow colour is very distinctive against the pink.
Recipe Notes
---
*Fruit needs to be fully frozen to use for this recipe (if you want it thick like ice cream). Freeze the fruit overnight to be sure it's ready to use.