These 4-ingredient banana protein pancakes are foolproof (even for a rookie cook).
Banana protein pancakes are a staple breakfast item for any fitness enthusiast's cupboard, but hands up who's pancakes have turned out like soggy, misshapen blobs that tear at the mere sight of a spatula?
This ridiculously easy, foolproof recipe will be your go-to banana protein pancakes recipe for breakfast (and maybe even lunch and dinner).
Don't forget to check out more tasty fitness recipes.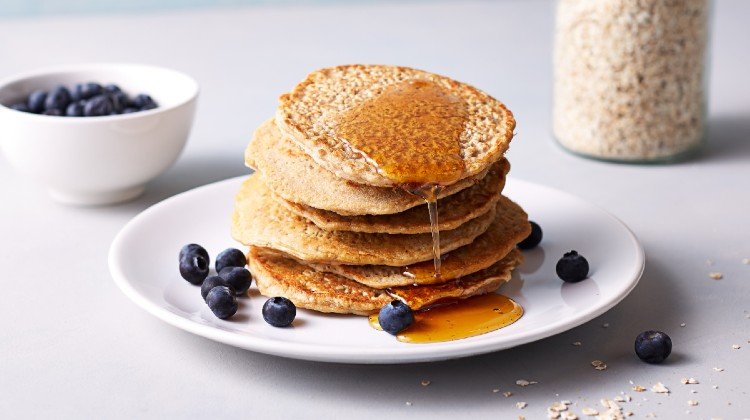 Method
First, pop a non-stick frying pan on a medium heat and leave it to heat up. Medium heat is key here – if it begins to smoke, it's too hot.

Next, add your banana and eggs to a blender or food processor. Blend until smooth.

Add the protein powder and rolled oats to the blender and process until smooth. Ensure you add these after the bananas and eggs to prevent the powder from getting stuck at the bottom of the blender (no one likes a crusty blender).

Pour a quarter of the batter into your preheated frying pan, into a pancake around 5″ wide. If you like, you can make the pancakes a little thicker – just wait 20 seconds from pouring the batter in and pour a dribble more batter on top.

Wait around 30 seconds (or until golden on the bottom), then use a spatula to flip the pancake and cook for a further 30 seconds. Repeat until you have no batter left.

Top with your favourite toppings (we think blueberries + Maple Sugar-Free Syrup = the best protein pancakes in the world).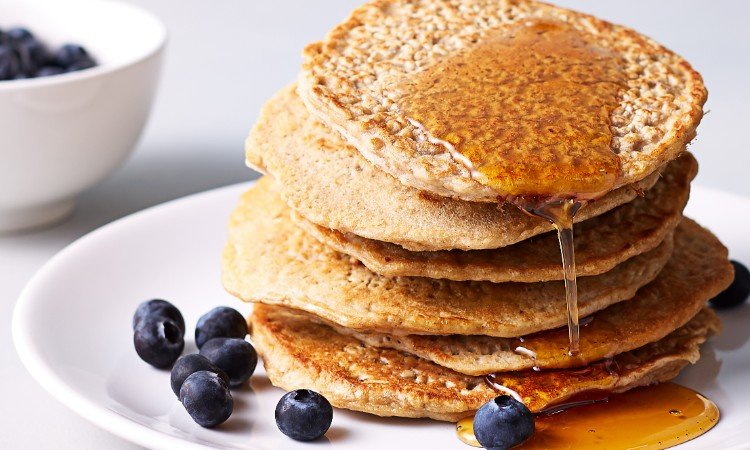 Keep scrolling for more tasty protein pancake recipes…