Want some science to supplement your weekly read? We've put together two of our favourite recent studies to keep you up to date on the latest in health and fitness research. From what to eat to how to train, we love to stay ahead of the curve on the latest fitness trends and studies. 
This week, we're focusing on staying fit in a world that keeps you sitting around all day and how to test your heart strength by simply climbing some stairs. Let's get stuck in…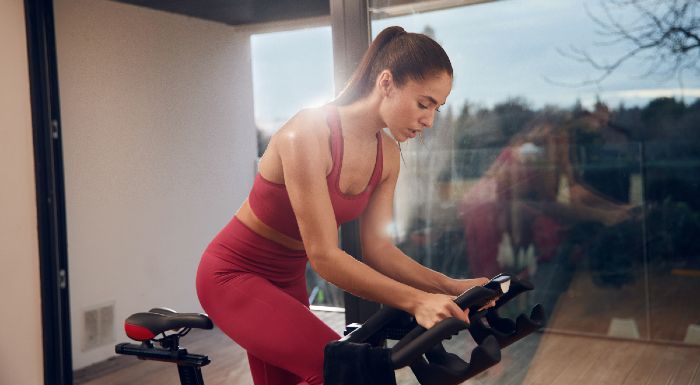 Offset time sitting with exercise
Plenty of us spend far too much time sitting around — especially right now. With lots of us working from the sofa and restrictions on time outside, it's more than likely that a few of us aren't getting in the physical activity we need right now. In light of this, the World Health Organisation (WHO) have worked out what your physical activity levels need to be in order to offset long periods of sitting or sedentary days which could be linked to long-term health issues.1
The research involved 44,000 individuals wearing activity trackers which measured both sedentary periods and physical activity. The researchers found that 10 or more hours of sitting per day was linked to ill health but if participants took on 30-40 minutes of vigorous activity per day, this brought the risk right down to the level of those who spent only small amount of time sedentary. 
As expected, it emphasised that any amount of physical activity is better than none. Whether that's just taking the stairs or going for a quick walk on your lunch break, it all adds up over the week to reduce health risks.  
So, don't feel overwhelmed by the need to get creative with your home workouts while you can't get to the gym. Remember that every little bit helps and keeping moving is the main thing, whatever that looks like for you. 
Test your heart health by climbing the stairs
When most people think of fitness, they think of cardiovascular health — that basically means how strong the heart is. We all know that the better you can pump blood (and oxygen) around your body, the better your performance. So, how do you feel about climbing 4 flights of stairs? 
According to this latest study, being able to tackle 4 flights of stairs in less than a minute means you've got a pretty healthy heart.2 Researchers determined this by comparing participants' performance on a treadmill where they walked or ran at an increased pace to exhaustion with those who could make it up the 4 flights in under a minute without running up them.  
The researchers determined that if it took over this time or 1 and a half minutes, then participants were generally found to be more at risk from illness. They believe it's a cheap and efficient way for people to work out their heart health without the use of a lab — and after a minute on the stair climber, we have to agree it's a pretty tough measurement of fitness too! 
Take home message
Whether you're feeling like your fitness has taken a back seat through this lockdown or want to picki it up, staying on top of the latest training trends is a great way to find new ways to boost your performance and see results. It's also a great way to kickstart your fitness regime with new ideas for keeping fit.