Written by Charlotte Campbell
 Feel More Confident 
After a break (or a lifetime absence) from the gym, it can be a daunting place. It seems as though everyone there is already very fit and knows exactly what they're doing. Often, just the thought of gym pressures can put potential workouts on hold. But that needn't be the case! Here are some easy ways you can slay away while you're working out.
Plan Your Workout
The first hurdle when you arrive at the gym is the awkward moment where you're deciding what to do first. What stretches should you do? Which machine are you going to commit to today? Planning beforehand can eliminate a lot of the little voice in your head saying you don't belong here! Write down your routine on your phone if that helps.
Dress the Part
If you've been wearing the same old joggers and a t-shirt that you use part time for pyjamas, it might be time to shake it up. Pick gym attire specific to your workout plans. Whether it be running, cycling or weights, if you feel like you look better, you'll certainly feel more confident at the gym.
Do Your Research
If you're not sure that you're working out correctly, check! This is not only important for your own health and safety (pulled muscle, anyone?) but for your gym confidence too.
Knowing that your squats are on point takes away any fears that you're making a fool of yourself. And remember – those mirrors aren't just for checking yourself out in. They're there so you can make sure your posture and stance are exactly as they should be. They wouldn't be there if everyone could do a full workout perfectly – even pro's need reassurance they're lifting properly.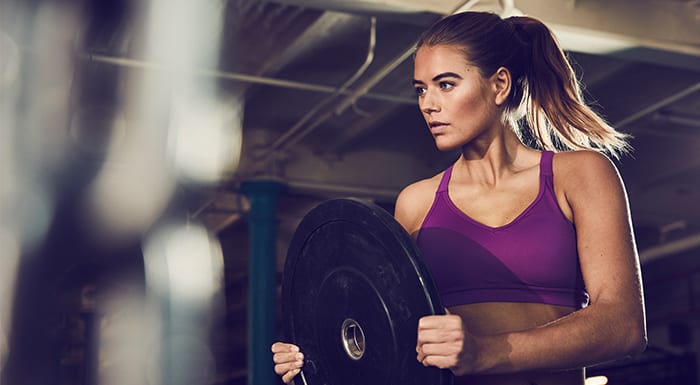 Accept Your Journey
Sometimes, striding through the gym with ultimate confidence can actually be like walking off the cliff edge of expectation. If it's been a while since you last exercised, you aren't going to step straight back into the same level of fitness. But that's okay, and it happens to everyone at some point.
Having realistic goals for each step of your journey will keep up your confidence as you track your progression. Consider your first workout under your new regime a tester session, working out your current boundaries. Then, the only way is up!
Consider a Trainer
If confidence at the gym is causing you to cancel the fitness plans you make with yourself, it might be worth investing in a personal trainer. This will blast you through your tester stage and push you to your full potential. Trainers may be intimidatingly fit, but it's their job to help people work out, so there's no judgement to worry about.
Group Therapy
Getting lost in a crowd can be a great way to build your workout confidence. Everyone in a class is focused on a) the instructor and (b) themselves. So, there's no panic that anyone notices what you're doing. Try out all the classes your gym has to offer until you find one that you think is fun and rewarding.