With just two weeks to go until we'll all be reunited with our squat racks and gym crushes, it's easy to get lost in all the excitement and anticipation. And whilst we can be pretty certain we'll be returning to gyms on the 12th of April, when can we expect the rest of the restrictions effecting the fitness world to be lifted?
All of the different rules and dates for relaxation can be a little confusing, so we've collated all of your need-to-know info into one place to make sure you're in the loop. So, here's what the roadmap out of lockdown looks like for fitness lovers across England.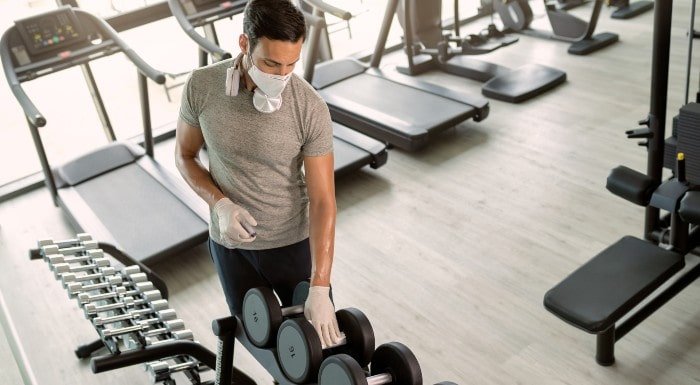 March 29
th
:
The Rule Of 6
& Outdoor Sports Return
At the moment, we're only allowed to meet with one other person outside of our household, for outdoor exercise or for a catch up in the park. But as of March 29th, the government roadmap expects to allow groups of up to 6 people from 6 different households to meet outdoors, this includes for exercise. So, whilst you won't be able to go to the gym with your gym buddy yet, you could organise a workout sesh in the park with up to 6 of your mates. 
There's also good news for anyone who plays any outdoor team sports, with organised sports like football, netball and tennis being allowed to return from this date. 
Outdoor pools are expected to open on this date too if you get warm enough weather for an outdoor swim… 
April 12
th:
Gyms Open
The big one. April 12th sees gyms across England re-open (woo!) so you can start returning to your usual gym routine. You can expect to find all of the same social distancing and Covid-safe measures in your local gym that were in effect upon the last re-opening – prepare to have a mask on hand, have your temperature checked upon arrival, wipe down all machines and equipment before and after use, and keep to all of the usual social distancing guidelines. 
Indoor pools are also expected to open from April 12th; however, any indoor gym classes will remain out of action. 
From the 12th of April the stay-at-home order will also be relaxed, allowing people to travel further afield for exercise in their household or bubble. 
Remember to check your local gym's guidelines before setting off for your first session back, and the rules can vary from gym to gym.
Here are the guidance pages from some of the most popular UK gyms:
May 17
th:
Indoor Sports
As of May 17th, gym classes are scheduled to make a comeback, along with indoor sports.
The government's roadmap also sets out that two households and groups of up to 6 should be able to mix indoors from this date – so you can even set up a home workout sesh with your mates. 
Fans will also be allowed to return to watching sports like football in the stadiums. The rules around this say that up to 10,000 fans or a quarter of the stadium capacity (whichever is smaller) will be able to watch matches in the bigger stadiums such as Wembley. 
Smaller stadiums will have slightly fewer fans, allowing 4000 or half capacity, whichever is smaller. 
June 21
st:
Normality Returns
According to the government's roadmap, as of June 21st we can hopefully expect normal life to return. This means all of the social distancing measures we've been used to for the last year will be relaxed, and all limits on social contact will be lifted. 
If the plans for June 21st go ahead, not only will nightclubs, festivals and everything else outside of fitness be able to return, we should also be able to drop all of the social distancing measures in the gym too. So finally, gyms will look and feel normal again. 
From this date sports fans should also be able to return to watching their games, and fill stadiums to full capacity.
Take Home Message
After such a crazy year for the world, the anticipation of getting back to normality can be easy to get carried away with. But it's important to remember that these dates are all "at the earliest" and subject to review from the government. But one thing that's certain is normal life is definitely on the horizon. 
So, get excited for swiping into your gym once more, kicking a football about with your mates, and dancing in your Zumba class again, because all of it is on the way. 
Be sure to stay up to date on your local government's guidelines so that you don't miss any changes.