There's nothing like a rugby player's workout regimen to realise peak physical performance. Scottish Rugby is no exception to this rule, with players such as Alex Dunbar and Huw Jones showing that a rugby training schedule means serious strength, endurance and power.
Since the Scots teamed up with Myprotein, we decided to catch up with their Lead Performance Nutritionist, Ed Tooley, and Head Strength and Conditioning Coach, Stuart Yule to see how they get the team to their physical peak.
Yule, having represented Scotland as a weightlifter at the 1998 and 2002 Commonwealth Games, clearly knows his stuff when it comes to training tough for that competitive edge. He was also Scotland's strongest man for his weight category in 2011 and 2012, so he's the man to listen to if you're looking to lift heavy and reach your training peak, whatever your sport.
Tooley has been a nutritionist for various pro football and rugby teams for nearly a decade. Having worked with Wigan Warriors, Crystal Palace F.C. and the England Rugby League squad, he can tell you a thing or two about the importance of diet and lifestyle when reaching for those physical goals.
Here's how they get the Scottish Rugby Team ready for their many international matches, along with a few takeaway tips for your own training programme.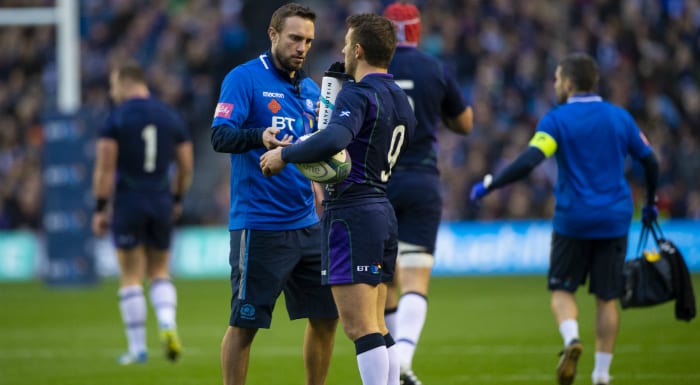 Does each player have their own individual training plan?
Yes. Every individual has varying needs based on their position, training history, injury history and their physical profile and current status. There's a requirement for every player to retain basic strength qualities, however to improve the transfer to rugby, individual physical characteristics must be developed which are related to performance determinants.
How do you ensure that these training plans are in line with other teammates so that everyone is in sync by the start of the season?
The strength and conditioning programme increases the physical capacity to perform rugby at the required intensity and volume. It's through the manipulation and distribution of all training variables that we ensure there is alignment at the start of the season.
There may however be some players that continue with higher volumes of preparatory work into the season, due to their individual needs. This may be the case for international players who have been on a summer tour and start preseason later than the rest of the squad.
How do you ensure that the team doesn't peak too early or late? When do you need them to be at their peak fitness?
'Peaking' for rugby is extremely challenging and complex process. In international rugby there are 3 distinct periods of the year when the team must perform – Autumn, 6 Nations, Summer tour and every 4 years there is a world cup.
The peaking process in rugby is very different to a sport where the physiology is a closer determinant to performance e.g. swimming or rowing. It could be argued there's no true peak in a seasonal sport such as rugby, as after a peak there's a trough. When there are games to win every week, a team cannot afford to have a trough.
Therefore, the management of players and planned recovery of players is vital. Management of players comes through the manipulation of training and recovery. We use GPS technology to give some insight into some of this loading in conjunction with analysis. GPS data can be used to understand loadings, which can then be manipulated to ensure a player has the potential to perform when required.
Identifying windows to de-load is vital to ensure a player can adapt to the 'load' of the game. Also windows for players to increase the volume of strength training through the season will also ensure there is a vital retention of underlying physical ability.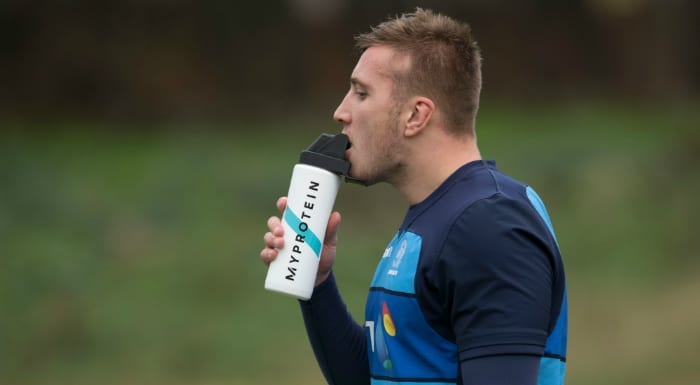 What's the ratio of skills to endurance and strength training? How does this change from off- to pre- to mid-season?
There is no one ratio that fits all. As discussed previously, there are many training variables which interact and are manipulated at various times of the season. Typically, in season there are 2-3 strength sessions, up to 5 rugby or skills sessions and a game. This will vary depending on the turnaround between game and the requirements of the player.
Preseason will include 5-7 weights sessions, 4 skills sessions and 4 rugby conditioning sessions per week. 'Endurance' is generally expressed through the rugby training sessions through conditioning games or scenario based training.
In preseason too, the endurance qualities for players are achieved through appropriately designed games and skills, rather than performing just running based activities. The endurance qualities a player requires is not just running alone, the contact and positional demands are massive and need to be trained specifically.
How do you make the plan before training starts and does this plan change frequently before the start of the season? What main factors do you need to consider?
There is significant planning that occurs. Planning will start at the macro level – the season, this gives and overview of the season. Considerations are given to areas such as: where games occur, what periods are heavy and where are the opportunities to recover.
The next stage is at a meso level, where the above period of training, playing and recovery can then be planned in more detail.
The next stage is a micro level – at this stage consideration is given to the week – heavy days, light days, recovery days. At each stage of planning needs analysis of the player is considered to ensure training and loading is designed appropriately.
What do you do if a player gets injured to ensure that they can get back to playing as soon as possible? How do you avoid injuries in the first place?
There are many variables that must be planned for to reduce the potential for injury. At a basic principle level, we look to have strong and fit players. There is good evidence that stronger and fitter players recover quicker.
Injury history is a big predictor of injury, therefore strength and conditioning coaches and physios work together to identify these players at risk and put programmes in place to strengthen identified risk factors.
If a player gets injured, the coaches and physio's work very closely to ensure a rehab plan and programme is in place, areas of non-injury are worked on and players are progressed through the stages required to perform.
 
What makes your training regime superior/unique to other squads in terms of planning and getting players to their physical peak?
Our programmes aim to ensure the players physical peak is aligned to their rugby performance. Increasing physical capacity in isolation is unproductive to the performance process. We work very closely with the coaches to ensure that there is a transfer of the physical characteristics to the specifics of the game. Through the technical and tactical expertise of our coaches the physical potential of the players is realised through mastery of rugby skills and training.
Do supplements play a part in the impact of the training regime? How does their use change over the training period?
At Scottish Rugby we have a food-first approach ensuring that players have the knowledge and skills to fuel and recover to meet the physical demands placed on them through training and games. We are realistic though, that in certain instances nutritional supplements and ergogenic aids can support our approach and enhance performance and recovery.
Take Home Message
Hopefully you've taken away from key insights from this pro team's training techniques and ethos. It's all about planning, prevention and tons of hard work, so that we can cheer at tries on our TV screens. Taking on board their balance of endurance and strength training, as well as remembering to tailor workouts to the needs of your body will leave you reaching the peak physical fitness that every sportsman and woman aspires to.