This summer, we're asking you to break out of your comfort zone and take on #MyChallenge. Summer's about so much more than how you look in your swimwear — it's time to learn a new skill and find a new fitness passion.
To show you how it's done, four of the Myprotein team are starting their own fitness journey to learn a new skill and challenge themselves like never before.
This time, we're meeting Kiran, a brand marketing executive for our clothing department. She's 22 and originally from Peterborough, now living in Manchester. She loves festivals, travelling, singing, and all things fashion, but her fitness motivation has slipped since starting a full-time job.
#MyChallenge is Kiran's opportunity to spark her fire for fitness again — she'll be taking on rock climbing with the help of a dedicated coach. Let's find out a little more…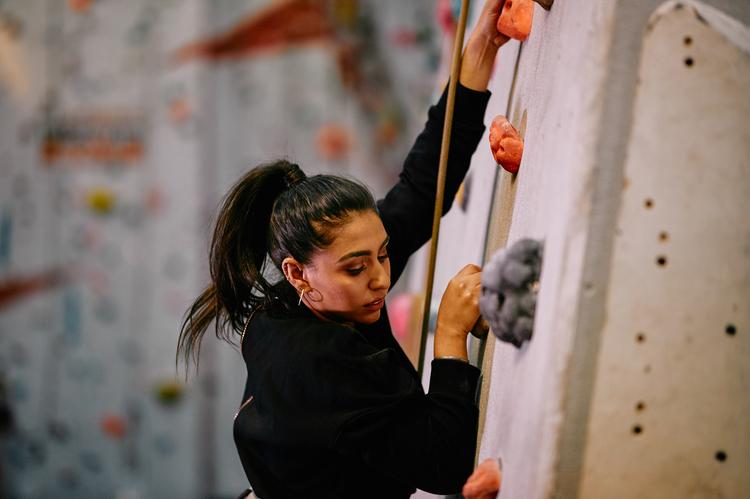 What's your relationship with fitness like?
In school I was in the lower ability group in sports — I was always one of the last to finish cross country and absolutely hated all things P.E! I thought I wasn't good enough and never had the confidence to excel in fitness.
Moving in to sixth form I discovered the gym and never looked back. My love for fitness developed in university where I really got into weight training. The motivations behind my fitness journey have varied across the years, but for me it's now much less about how I look and more about wellness, inner happiness and confidence.
I love hot yoga, the park run, fitness classes, and meditation — I still make time for weight training as well. However, my fitness has dropped this year as I've been juggling a full time job with still trying to see my friends and family — as well as all the crazy life admin! Consistency is something I struggle with a lot, so I'd really like to build on that.
Do you keep track of what you eat, or follow a specific diet?
At university I did used to track macros — this definitely did not include the alcohol from the nights out though!
Now, I focus a lot more on balance. I love food and really enjoy finding new healthy recipes to cook. My diet's generally fairly balanced, however, I definitely fluctuate in terms of consistency. Some weeks I'm completely fine with letting go and don't worry about being too healthy.
However, in a typical on-plan week, I avoid bread and heavy dairy foods and don't really eat meat. Snacking for me isn't really a problem, but I do have a massive sweet tooth, so something I just can't resist a good dessert.
Why did you put yourself forward for this challenge?
I really LOVE the idea of promoting wellness and new challenges like #MyChallenge. We're seeing people focus so much more on this as opposed to physical changes and I really wanted to be a part of this and promote this ethos. Additionally, I really wanted to push myself to do something completely out of my comfort zone and work on building a consistent fitness and wellness plan.
What do you hope to achieve from this challenge?
I definitely to squash my fear of heights, falling, and climbing in general! A big aim is to feel healthier and happier and have a consistent fitness plan.
What do you think you'll find hardest about this challenge?
I think out of everything, building the upper body strength in order to even start climbing in the first place will be tough — I'm more of a leg day kind of girl! Also, I think sticking to a consistent fitness plan will really be a challenge.
You can find out more about #MyChallenge and how you can get involved here. Discover more about rock climbing and the kind of challenges Kiran could be facing here. If you want to know about what it takes to be a pro climber, then check out our interview with Chi Cheng.
Want to see the action as it happens? Make sure to follow @myprotein to stay up to date.