Looking to test your strength and agility, as well as your mind? Rock climbing could be the sport for you. Whether you're looking for an adventure to take you to dizzying new heights, or a new way to keep fit, there's such a broad range of climbing disciplines that you're sure to find the right one for you.
Ready to get stuck in, but not sure where to start? Here's what you need to know about rock climbing before you hit the wall.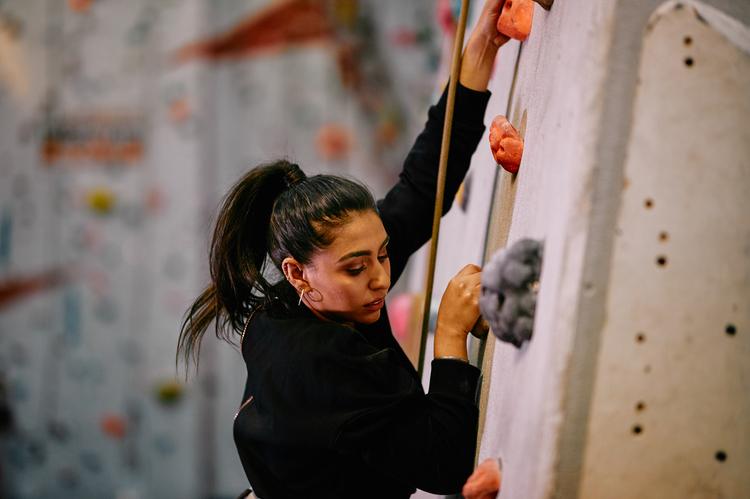 History
Although there's evidence that humans have been climbing for thousands of years — many settlements and burial sites have been found halfway up a cliff face — climbing for sport really came about in the 1800s. Kicking off in the Lake District, as well as in Germany and Italy, by the beginning of the 1900s, new climbers were experimenting with new kit to take them higher than ever before.
Nowadays, climbing has diversified into different types such as free climbing, bouldering, sport climbing, and free solo, to name a few. Let's find out a bit more about each of these.
Free Climbing
Although this sounds like you might be throwing yourself up a wall without any gear, that's certainly not the case. This type of climbing is classified not by the kit used (known as protection), but the fact that you're climbing without using devices, such as pegs in the rock — you generally still use ropes and belays.
Sport Climbing
This type of climbing relies on permanent anchors placed into the rock for you to use. As you climb, you clip your rope into these anchors so that you can't fall. With sport climbing, the goal is to get to the top of the climb without falling and to keep practising the same route until you can do it perfectly. This kind of climbing is a great step up from free climbing to push your skills and perfect your style.
Traditional Climbing
This was the only kind of climbing that existed until the 1980s. You simply walk up to the climb you want to do and start upwards, without a rappel or toprope inspection, or overhead rope protection. You'll quite often place your own protection as you go, rather than clipping into pre-placed bolts. This kind of climbing requires quite a bit more thinking too, as you'll have to plot your route up the climb, rather than following the bolts up like in sport climbing. You'll also need a little more technical knowledge for placing and making your climbing anchors.
Free Solo
This is probably the most extreme of all the climbing disciplines — and probably not one to start out in. Free soloing means climbing without any protective equipment, rope, or harnesses. You're relying completely on your strength and skill, but that doesn't stop them scaling some pretty impressive climbs. Some of the most experienced have climbed El Capitan in the Yosemite Valley (a 1,000-metre climb) completely free solo.
Speed Climbing
Speed climbing is generally done indoors, where climbers compete for the fastest time to the top of a wall. Climbers use the same route for consistency. Generally, auto-belays are used on this route, meaning that no one now has to belay (feed and hold the rope) for the climber. International competitions for speed climbing are held on a 15-metre wall, for which the current world record is 5.6 seconds for men and 7.53 seconds for women.
Bouldering
This is a great way to perfect your strength and skill before moving onto walls with equipment. Bouldering tends to be on much smaller walls and can be as short as 5 feet. You don't use any ropes or equipment and usually have a crash mat underneath for falling safely. This is one of the most difficult and gymnastic type of climbing where you can spend a long time working out a very hard route up a few feet. However, it also requires no previous knowledge and without forking out for tons of equipment. Bouldering can be done in climbing gyms to which usually means you can rent some shoes and borrow some chalk — all you need to get going.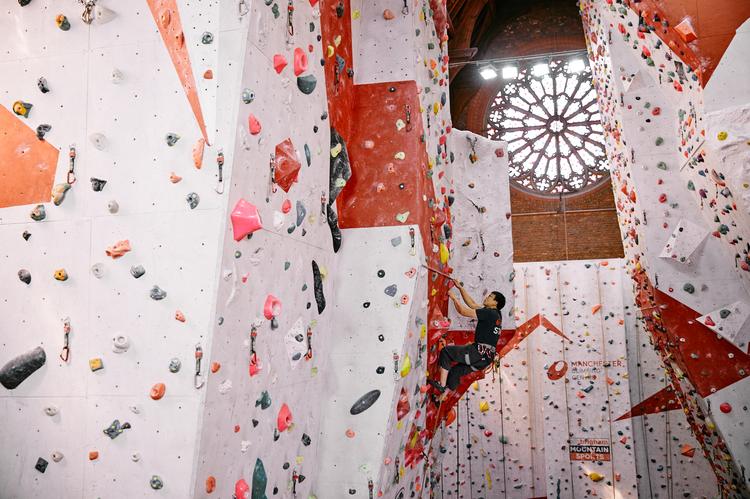 How can I start climbing?
The best way to start out and get some good advice (or even lessons) is at your local climbing centre. Give bouldering a go as you can usually do this with very little instruction, then is you enjoy it, you can move onto higher climbs with more equipment, as well as tackling walls outside too.
Competitive climbing — The Olympics
For the first time, in 2020, climbing will be a part of the Olympic Games hosted in Tokyo. As it's become so much more accessible in recent years, thanks to climbing gyms popping up all over the place, it should come as no surprise that climbing will now be an Olympic sport. Next year, 40 athletes from around the world will compete in three disciplines to win one combined set of medals per gender. The three disciplines will be bouldering, sport climbing, and speed climbing.
Take home message
Climbing is such a diverse sport, with disciplines for everyone. Whether you're after the thrill of scaling great heights, or prefer the skill of short and technical routes, you're sure to find one that works for you. A sport for upper body strength, endurance, and problem solving, it will certainly help you climb to your mental and physical peak.
Want to see the action as it happens? Make sure to follow @myprotein to stay up to date.