Written by David Kingsbury
---
Hollywood Workout
---
I'm not ashamed to say that I'm obsessed with health and fitness. It's something I've always been involved with throughout my adult life and I hope I always will be. It's not just my own health and fitness that keeps me busy though, but yours too and some of Hollywood's biggest stars.
As a PT, my CV reads like a who's who of action cinema. I've been incredibly fortunate to call Pinewood Studios my home for many years now. I get to work some of the best A-List stars Hollywood has to offer. For example, Michael Fassbender's killer physique in blockbuster murder-romp Assassin's Creed was a product of my gym. I've also trained the likes of the herculean Chris Hemsworth and Ryan Reynolds, who played the 'ultimate anti-hero' in which we all fell in love with in the big-screen version of Deadpool.
---
---
I'm perhaps most well-known for my work with Hugh Jackman in the incredibly popular and record breaking X-Men/Wolverine film series. I'm sure you've all seen the vein-popping, T-shirt tearing icon he became when the "The Wolverine" hit the silver screen and stole the show.
When the 5th X-Men film; Days of Future Past, was released, internet searches from people trying to replicate Jackman's incredible physique almost broke the internet. Even today, it's still one of the most sought after fitness topics on the web. High praise indeed for all the work we did to get him there.
I'm proud to say that, what you saw in the film, remains a testament to Hugh's commitment and my own knowledge and hard work working in harmony. Hugh's ripped, muscular physique couldn't have happened without us all working as a team to achieve those amazing results.
Hugh Jackman himself refers to me as "the best trainer he has have ever worked with" and I'm immensely proud of that statement. I'm also proud of the work we put in behind the scenes that hardly anyone saw, but the results of which were enjoyed by millions of people on screen. Let's not forget that, at the time, Hugh was 47 years old.
---
---
I have been a Hollywood trainer for about 6 years, in this time I have worked with over 50 actors and actresses on a huge range of productions from sci-fi to musicals.
In this time I have learned two main things about being a Hollywood Trainer:
#1 You rarely go to Hollywood (there are more big films made in the UK than Hollywood)
#2 There isn't a typical job or training format to fit the requirements
When it comes to writing a training plan we all know that specificity is the most important factor. What is perfect for one person's goals can be horrible for another's.
The work I have done on Hollywood films has varied from building the body of Wolverine to having people look like they are about to die of starvation. Needless to say this will be two distinctively different styles of training and nutritional plans.
---
Two Key Considerations
---
#1 Maximum Results With Minimum Risk.
Injury avoidance is the most important thing for me. i am well insured but if an injury occurred under my watch whilst filming it would be an expensive incident. Obviously with any physical training there is an element of risk but I have systems in place to help reduce this. The initial assessment is thorough covering all previous injuries and issues.  I then also do a daily check in covering any issues pre training to help reduce the chance of any problems. I am also very selective of rep ranges and movement selection based on ability, goals and training and injury history.
#2 Job Specific Training
Like I have said previously the training we go through varies completely based on the demands of the film. I have trained people for improved stunt performance, aesthetics and extreme weight loss. Plus just about everything in between.
---
---
How Can Hollywood Training Help You?
---
By looking at how actors train in Hollywood you can implement some of the ideas and systems to boost your own training.
| | |
| --- | --- |
| THEY DO THIS | WE DO THIS |
| Hire a trainer to make sure every session is spot on. | Get a custom plan created, train with a friend or get support online. |
| Get to work an hour early so training can be done before the day starts. | Get up an hour early and go to the gym. |
| In between shooting, they get some cardio in. If the schedule allows it. | Go for a power walk in your lunch break if you have one, or in the evening after dinner instead of watching TV. |
| Get seriously motivated by the pressure to get in shape for the film, which will be viewed and judged by millions of people. Boost confidence to perform better and increase energy and positivity for a hardcore work schedule. | Get motivated by our friends and family, seek support from everyone you know to encourage you. We can get motivated at the thought of boosting confidence to perform better and increase energy and positivity for a hardcore work schedule. |
| Hire a nutritionist and chef. A lot of films get a chef to cook for the cast, but even some of the biggest films don't. Under these circumstances organisation and discipline are key. Even on X-Men we had a chef Monday to Friday, but weekends Hugh Jackman did his own food prep; Tupperware, cooler bags and all. | Get a custom food plan, learn how to prepare food. Don't scrimp on flavour, herbs and spices, etc. to make your food chef quality. |
Try this sample session to get a feel for the Hollywood workout. Short, intense and results driven!
---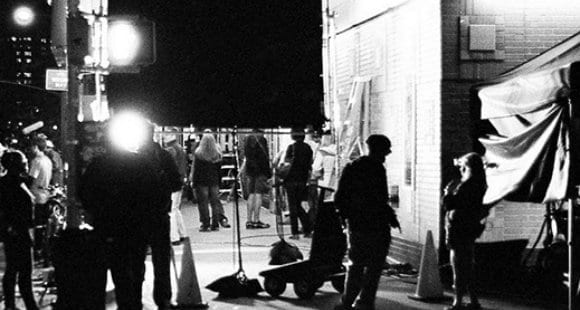 ---
50 Club
---
This is a session I have done with actors from Hugh Jackman to Ryan Reynold. The format favours partner training, so rope in a mate and get cracking!
First up let's look at the rules
50 Club Rules.
#1 Don't talk about 50 club
#2 Don't talk about 50 club
#3 Ignore rules 1 and 2
#4 Get an awesome training partner of similar ability. (or don't)
#5 You pick a weight you can lift 12 times for the first set.
#6 You take it in turns to reach 50 reps in as many sets as it takes
#7 Your rest is while your partner works, and absolutely no more!! (or 35 second if you are training by yourself)
#8 You have to do your maximum number of reps on each set.
#9 If you reach more than 12 on the first set, it only counts as 12 and you have to increase the weight.
#10 If you don't reach 12 on the first set you can make slightly lighter of the next set.
#11 The weight should never be decreased (apart from if set one doesn't reach 12) even if towards the end you are down to threes and fours.
#12 No spotting allowed
---
Exercises
» Trap bar deadlifts
» Pull ups
» Dips
» Barbell upright row and press
» EZ bar curls
» Hanging knee raises.
---
Check out the video to see how it all works…
---
Our articles should be used for informational and educational purposes only and are not intended to be taken as medical advice. If you're concerned, consult a health professional before taking dietary supplements or introducing any major changes to your diet.