---
Find Your Fuel
---
With pre-season in full swing, it's time to get your nutrition in check and make sure you're match-fit when the first whistle comes around.
All those hours spent building strength and stamina can end up being wasted if you fail to give your body the nutrients it needs. Not only must a footballer's diet meet the demands of training, but it also needs to be geared for recovery ahead of your next session.
So, when it comes to eating right, we've got some great advice to help keep you on top form – from starting out this pre-season to getting ready for the final run-in…
---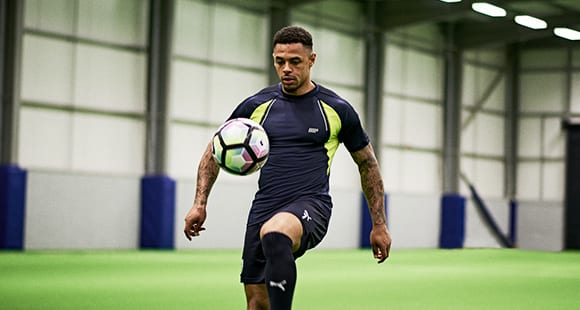 ---
Hitting your daily requirements
First of all, let's start with the basics. You might be putting in the hard work at the gym or on the pitch but research shows that what you eat before, after, and in-between workouts may be the difference between reaching your goals and failing to hit the mark.
Protein intake is an important part of this, whatever level you play at because protein contributes to the growth and maintenance of muscle mass – supporting all training aims. This is especially true of a footballer, with a sport that requires prolonged physical activity, and frequent bursts of power. However, sometimes getting the large amount protein you need into your diet can be tricky.
Our Impact Whey Protein provides 21g of high-quality protein per serving, which to support recovery and enhance performance – making it ideal for consuming throughout the day to guarantee your protein intake is what it should be. It also comes in lots of delicious flavours, making sure this part of your regime is never a chore.
This is certainly one nutrition step not to be missed. Consuming protein regularly throughout pre-season will help your muscles recover and grow – a must for getting back into great shape. So while steak on-the-go just isn't realistic, a quick shake helps hit those daily requirements with ease.
---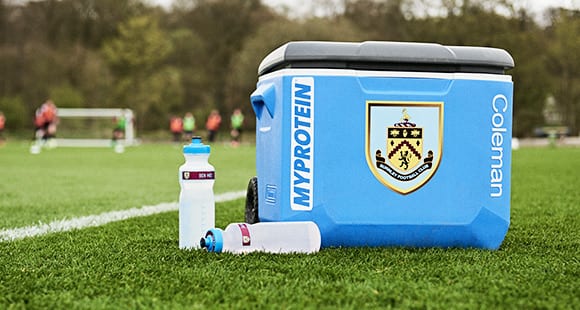 ---
Timing your pre-training nutrition
Before any exercise, whether it be weights, resistance training, or cardio, it's important to feel great and full of energy for a productive workout. Pre-season is a time when training is especially tough and nutritional demands are high, so be sure to kick-start your session with a well-rounded meal 2-3 hours beforehand.
Elite footballers cover approximately 10km per game, but no matter what level you're playing it, it's still important to keep your energy levels topped up to deliver your best. Always help enhance your performance and reduce the likelihood of fatigue with a well-balanced meal of protein, carbohydrates and fats.
But, eating aside, how else can you build up that essential energy, ready for when you need it most?
Creatine is ideal for this purpose – it's one of the most widely researched supplements, and scientifically proven to be highly effective. Our Creatine Monohydrate powder is conveniently on hand to deliver bursts of power for those explosive moments of action, providing the extra push you need to make that last-ditch tackle or beat the last man. And starting to integrate this key supplement into your diet during pre-season can help give you an edge from the very first touch.
---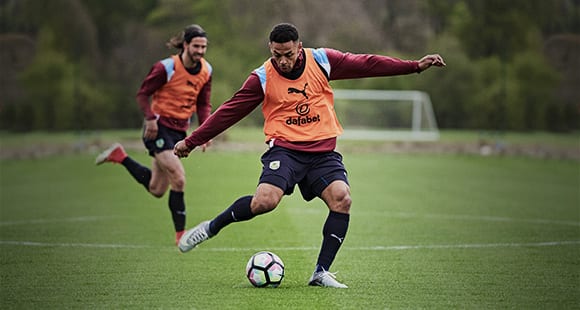 ---
The importance of post-training nutrition
Following a gruelling session, whether it's been a heavy weight workout or some difficult endurance training, this is arguably the most important stage of your nutrition. It's all about helping rebuild damaged muscle fibres and allowing your body to properly recover after a high level of performance.
Once again, regular protein intake is key, so make sure your post-workout meals include high-protein sources, including steak, broccoli, chicken, turkey or kale. But as we said earlier, getting the amount you need through food alone can be difficult.
We suggest Micellar Casein – an on-the-go formula packed with protein, offering 26g per serving. And because it's slow release, it even continues your recovery while you sleep. That's a massive boost to your post-training recovery in just a few scoops and one easy-to-drink shake – removing the need for additional meal prep, and even better, avoid you falling behind on your nutrient requirements.
Remember! Following high-intensity training, it's important to stay hydrated. Water will help you rehydrate and recover, ready to go again – and we've a whole range of accessories including our Gallon Hydrator so you never neglect this everyday must.
---
And that's it!
You've now got some key nutritional know-how to make this year's pre-season training a hit. So work hard on fuelling your body the right way, and there's no doubt you'll be in great shape come kick-off.
---
Our articles should be used for informational and educational purposes only and are not intended to be taken as medical advice. If you're concerned, consult a health professional before taking dietary supplements or introducing any major changes to your diet.