Keeping your motivation to workout can be tough in winter. It's darker, colder, and for many people, the winter blues are very real. But exercise has been proven to help with feelings of well-being and happiness.
So, in essence, the more you continue to exercise, the more you will be able to beat off winter blues and find further motivation. So, to get started, here are our top exercises and workout ideas to help beat your winter blues and keep you in tip-top shape.
Walk Or Run In the Day
Taking a brisk walk on your lunch break is a good start towards your winter well-being. Getting fresh air and sunlight may seem very rudimentary, but it can make a big difference to your vitamin D and serotonin levels. Even better, running during daylight hours will increase your heart rate and boost your endorphin levels while providing your vitamin D.
If you have more time, hiking can be just as rewarding in winter as in summer. Ensure you give yourself plenty of time to get back before dark, and you can work your muscles with varied terrain.
For running, plan out a route that is likely to be well travelled and maintained to reduce your risk of encountering frosty ground that could put a halt to your stride.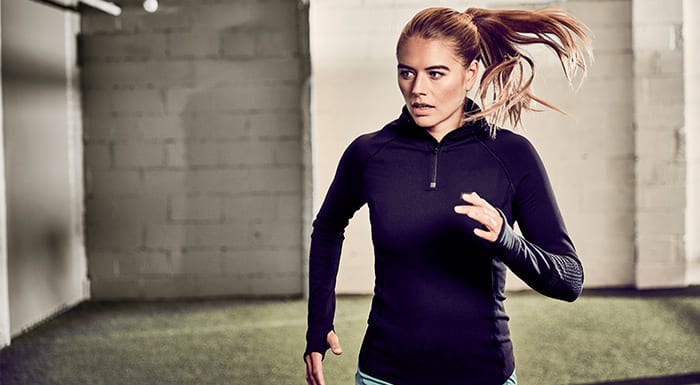 Create A Cosy Yoga Studio
Even staying indoors can leave opportunities to work out. One great way to work out stiff muscles that can be exacerbated by the cold is through yoga.
Shift your furniture and create space for your yoga mat. Dim the lights and light some incense and candles to create a warm and inviting atmosphere. If you are experienced, follow your own yoga flow. If you'd prefer guidance, you can download a yoga instructional podcast or find a class online.
Yoga is a fantastic way to expel negative emotions to help you feel relaxed and positive throughout the winter. By holding poses that are biologically associated with preparing to run away or to fight, you retrain your brain to panic less and process perceived threats in a logical calm manner. Thus, you will find that you find it easier to maintain a consistent level of calm throughout the day.
HIIT Workout
The quick nature of HIIT workouts makes them very appealing to those that are keen to get home when the nights are cold. Not only are they fantastic fat burners, but they also deliver a great punch of endorphins that will leave you with a positive boost for the rest of the day.
Alternate between running at full capacity for 30 seconds and running at a manageable capacity for 1 minute for 15 minutes to reap the benefits. This workout should leave you thoroughly tired. If you feel you have the energy for more, up your maximum speed or length your workout time. Do not exceed 30 minutes for a HIIT session.
Skiing/Snowboarding
Skiing and snowboarding are classic winter sports and conjure images of mountains and wooden chalets. Snowy peaks are also fantastic places to up your vitamin D intake, as the snow reflects the sun, giving you a double dose of goodness. If a ski holiday is not on the cards, don't fret. Visiting your nearest indoor ski slope is a convenient and affordable way to work your muscles and embrace the winter.
Skiing and snowboarding are good core workouts, requiring you to remain balanced as you navigate your descent. The recommended bent knee posture also ensures that you give your glutes a thorough strength training session. The quicker you manoeuvre down the slope, the greater the cardio workout will be.
Boxing
Boxing or martial arts are not typically associated with any seasons. However, they are ideal to keep you making great progress during the more lacklustre winter months. Sparring, or joining a class, force you to put your all into each session, whether it's cold outside or not. Boxing training is serious cardio, which will release a nice dose of endorphins to keep your feeling good.
If you don't want to commit to a boxing class, try and incorporate training into your workouts. Time 1-minute rounds of jabbing, then uppercuts, then hooks with 1-minute break in between. You'll soon feel your arms ache as well as the cardio element making your breathless.
To add an extra level of exercise, do continuous squat reps during your minute break.
Swimming
While frost may not make you instantly think of your swimsuit, hitting the pool can work wonders on your chilly muscles. Swimming is a whole body fat burning workout. It is easy on your joints which is great news for anyone who has difficulties in the colder weather. Smash those laps to get a cardio buzz and leave the winter blues in your wake.