Born on a Military base in Cyprus, raised in Britain and fighting to retain his UFC middleweight title in New York, Michael Bisping prepares for the most anticipated bout of the year.
Bisping's Journey
Mike began training Jujutsu at eight years old and at the age of 15, competed as an amateur in Britain's first no-holds-barred competition – a modern day MMA.
Three years later, Mike abandoned MMA and began training in boxing, kickboxing and karate. And during a short but successful kickboxing career, Bisping won the North West Area title and later the Pro British light heavyweight kickboxing title.
Fast forward, Mike has since become one of the most dominant middleweights in UFC history, winning the Ultimate Fighter TV show, beating Eric Schafer at UFC 66 and Luck Rockhold at UFC 199 last June. The middleweight champion still holds that belt after a successful defence against Dan Henderson but hasn't fought for over a year. Mike's record stands at 30-7, with 16 of those wins by knockout – but will this winning streak continue?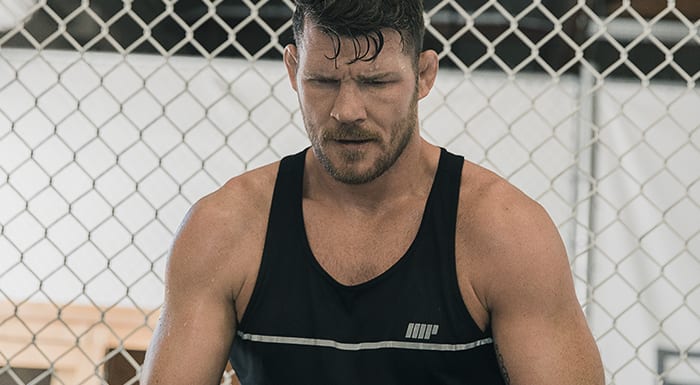 Train Like A Champ
Middleweight UFC champion is not a title you earn by taking it easy in the gym. MMA demands the ability to work at high intensity for short bursts, with a focus on boosting speed and strength in the run-up to a fight – but that's not all. The tough-talking middleweight explains this is the fight he wants to be remembered for and is confident his tailored training plan will do him justice.
"I typically do strength and conditioning for every training camp, but my opponent this time round has a varied skill set so I've been working on my technique recently, including light wrestling and grappling – I also run 4 miles up-hill to maintain my fitness."
Plenty of UFC stars boast impressive bench press and squat numbers, but a huge one-rep max doesn't help much in a sport where you're operating an all-out effort for five minutes straight. Mike Bisping let us in on his latest moves he's currently using to prepare for this bout this Saturday – which we saw during the Lancashire lad's latest training camp.
"I enjoy sparring, the high you get from it is great and definitely valuable this time round. Monotony makes things go stale, but what separates the men from the boys is the ability to push through – which Is what I aim to do"
Mixing it up in the gym is one of the most effective ways to optimise performance and sculpt a great physique. Freshen up your workout by not focusing on the same muscles week in, week out. Also, making sure your heart rate is high will always keep you on your toes. Try circuit training, it's a great way to improve mobility, strength and stamina.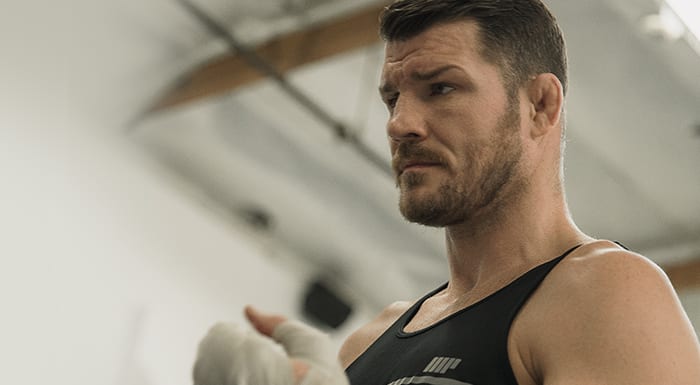 Eat Like A Pro
Mike goes into the octagon as the 1/1 favourite over GSP – but he's not alone. Mike's team provides world-class talent, including lead nutritionist, Dean Amasinger. Being a UFC fighter, Bisping clearly trains rigorously, but diet and nutrition is the key to success.
"I have a varied team, my nutrition guru, Dean ensures I am fully prepared for all occasions. Getting to 84kg from my normal weight can be difficult so I try to eliminate carbs on the run up to a fight. I start the day with a protein shake and half a banana – sometimes banana protein pancakes. At lunch I have 170g protein and a cup of veg and for dinner, the same!"
You don't need to know the full roster to know that Mike Bisping's body is a temple. Maintaining a healthy lifestyle is essential for world-class fighters alongside optimising performance. Training plans and nutrition regimes aren't the only strategies which take place in the top-level sport, supplementation is a daily routine for numerous athletes, including Mike.
"Due to my rigorous training plan in the up-run to a fight, staying fit and healthy is a must. Although my nutrition plan is fairly balanced, I do take supplements including Alpha Men, Omega-3, Chlorella and a protein shake post-workout"
Supplements are the cherry on the top to your training regime. If your workouts are polished, and your diet is waxed – supplementation will give you that extra shine. Supplement plans should ideally be personalised, click here to find the best supplements to help you reach your individual fitness goals.
One place where Bisping seems to hold an undeniable advantage, however, is in the mental warfare. Training for a top-level fight is strenuous on both the mind and body, many athletes perform rituals prior to and after competitions, including deep breathing, cheat meals or a good night's sleep. Staying fresh and on-form is imperative.
"There's nothing better than coming home to your wife and kids, lie on the couch and watch television after a hard days training. I love spending time with my family, we've taken some incredible trips this year, which has helped me keep on track – Thailand and Hawaii were amazing! I'm not a superstitious person, I always go to an Italian restaurant after my weigh-in and top up on the carbs. Post-training or fight I love a steak – plus it helps me recover from a hard session"
From a kick-about in the park to an intense weights session in the gym, a tactical rest day isn't such a bad idea. Yesterday's overworked muscles may have a negative impact on tomorrow's targeted muscles. Make sure you map your workout week and leave time for social events, a cheat meal or even a cheat day. Try our top rest and recovery techniques here.
Will Mike's run of good fortune continue? The most successful British fighter in UFC prepares for the biggest fight of his career in New York this Saturday against Georges St-Pierre and we'll be rooting for the Myprotein sponsored athlete.