Skiing is a fun way to keep fit in the winter months. But what is skiing? And how can you physically prepare for a skiing trip?
What Is Skiing?
Skiing is the practice of moving across snow using long and thin boards on your feet (skis). Mostly when people are going on a ski holiday or to an indoor ski slope they are enjoying alpine skiing, which is downhill.
The other type of skiing is Nordic, which mostly encompasses cross-country skiing although some jumping is classed as Nordic skiing.
The word "ski" is from the Old Norse word meaning "snowshoe". Skiing is believed to have originated in Scandinavia, although some historians have found ancient paintings in China depicting the sport. Before automated transport, skiing would have been an easier way of getting across snowy terrain than travelling on foot.
In modern times, it is now an Olympic sport and a very popular pastime.
Skiing is often cited as a great leg workout – which it is. However, it is also a very good core workout as you work to remain well balanced as you move through the slopes. This is particularly true when you tackle slalom courses. In addition, using ski poles will ensure you are also working your arms.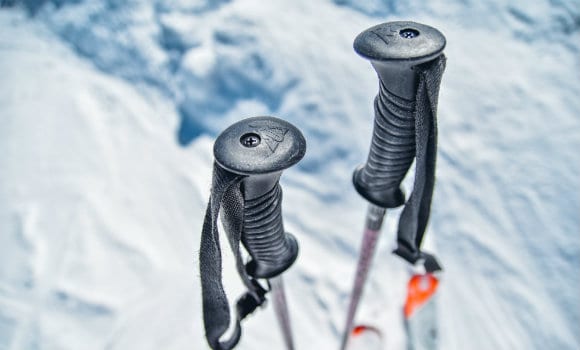 Benefits of Training at Home
Training to go skiing at home is very beneficial. Firstly, it saves you plenty of time when you reach your ski destination. Your muscles will be primed for the movement and effort required of them, so you should jump start your "warming up" period and progress much more quickly on to your personal best slopes or manoeuvres.
Secondly, the training you can do at home will be great for building muscle and for fat loss. You can incorporate your training to meet your fitness goals – two birds with one stone!
An important benefit of training at home is that you will reduce your risk of injury while skiing. This winter sport has got its dangers, but the better prepared you are the more likely you are to have a fun and safe experience.
Strengthening your core will improve your balance, making you less likely to fall over. Increasing the strength in your legs will make it easier to keep the correct skiing stance throughout the day.
Lastly, training at home before you embark on a ski day or holiday will make the experience more enjoyable! You'll be prepared and your muscles will be ready to take on the challenge. So all you'll have to think about are which slopes to hit and where you'll be getting your next hot chocolate.
Ski Exercises for Strength
There are plenty of ski exercises you can do that will build up the muscles essential to the sport. Many are simple enough to do at home and can be maximised with weights and equipment at the gym depending on your capabilities.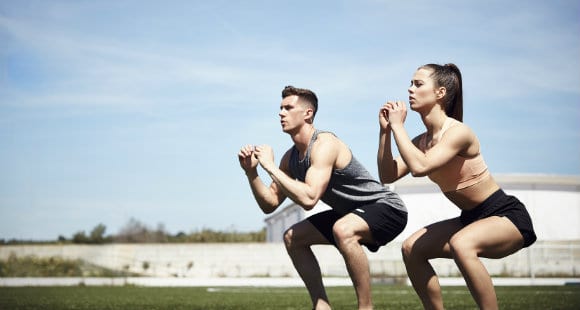 Squats
This is the most commonly associated exercise with skiing. The ski position is similar to a squat, and as you can imagine this means your quads get a real workout while you are on the slopes. Mix up your squats to include sumo squats, to ensure your inner thighs also strengthen. You can also add in wall squats to maximise your glutes' workout.
Plank
Your core is key to keeping balanced as you race through the snow. Ensure you plank for at least a minute on your front and both sides each training session.
Lunges
Packing in plenty of lunges in your workout is great for ski preparation. You'll be working your quads, which, as you know, get plenty of action while you are skiing. Maximise them by adding in barbells to your workout. Do a basic weighted lunge, and while holding the lunge, lift your arms above your head to work your arms and core.
Calf Raises
As well as your core, your calves are key to balance while you are skiing. Calf raises (or weighted raises if you want to maximise your workout) will give you great foundations to stay upright all day.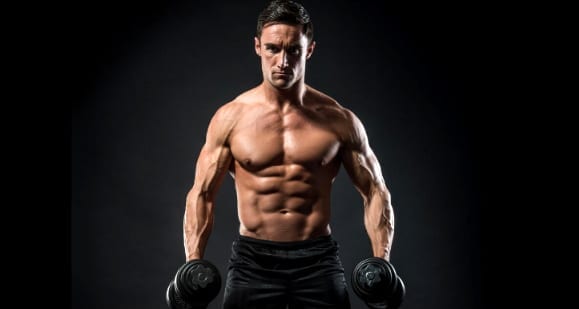 Lateral Jumps
This is a great workout for your legs and core and is also good practice if you plan on tackling any jumps while skiing. Hold a kettlebell by the horns and include it in your jumps if you want to challenge yourself.
Bicycle Crunches
Incorporate these crunches into your workout to ensure your core is strong. As well as helping your balance, this will also help to keep your back in the correct position as you ski. This will help to prevent aching as your skiing goes on, and helps to prevent injury.
Solid preparation with these exercises will ensure that you are in great shape for the slopes, and beyond your ski trip!