Here at Myprotein we were glued to the Meridian Regionals this past weekend, watching the incredible athletes snatch, handstand, muscle-up and sprint their way to glory. As well as cheering our amazing athlete Laura Faulkner on we also had one eye on Icelandic athlete Anna Hulda Ólafsdóttir, who we are proud to announce is our newest ambassador.
Find out more about Anna and join us in warmly welcoming her to #TEAMMYP!
---
Meet Anna
How long have you been doing weightlifting?
I've been doing weightlifting for 5 years now (since 2011). I actually started when my daughter was 1 years old and I felt like I needed a sport that could get me back in shape again and then I found Weightlifting.
Did you do any sports before?
Yes, I was in the national team in Iceland in gymnastics when I was younger.
What was sport like in your school – is it a big focus for teens in Iceland?
There was actually no focus on sports in my school. I quit gymnastics partly because I felt that I needed more time to fully focus on school at the time.
What's your biggest sporting achievement to date?
Oh gosh, I don't know. I guess just being competitive at a top level in weightlifting while also being a mom and a full time Post-doctorate and a teacher at the University, all at the same time!
Other than that I'm going to name the 4 top achievements that pop in my mind:
? Placing 9th at the European Regionals as an individual in 2014, which would have placed me on the podium in most other regions at that time.
? Becoming the first Icelandic female to become a Nordic champion in weightlifting in senior division.
? Scoring the highest Sinclair points in Iceland 3 years in a row in weightlifting earning me the title "Female Weightlifter of the Year".
? Competing with my team at the Games (twice!) and making it to the finals.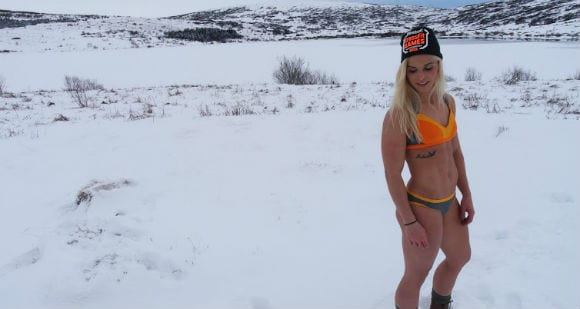 ---
Icelandic Women
Why do you think it is so popular in the Nordics?
I guess a big part of it comes from genetics. The Vikings had to put up with rough conditions and weak people didn't survive.
And what makes Icelandic women so incredible?!
I think that the female site is particularly strong here partly because it's simply considered "cool" to be muscular by more people here as to other places. I wouldn't be surprised if that is also linked to the high level of female rights here.
Also the fact that we are only a nation of roughly 300 thousand people and it's easy to set trends here – everyone knows everybody or is related and when Annie [Thorisdottir] became a world champ for the first time she started this huge weightlifting trend among Icelanders and especially Icelandic women!
Find Anna over on Instagram to follow her training in weightlifting!
Our articles should be used for informational and educational purposes only and are not intended to be taken as medical advice. If you're concerned, consult a health professional before taking dietary supplements or introducing any major changes to your diet.