---
An Interview With Scott Overall
---
At the age of 14, Scott made his first steps into the competitive world of athletics. From winning cross country races at school, Scott later began a running scholarship based in the USA in 2004. He attended Butler GB University from 2004-2007 and during his education here he gained his first GB vest in 2005, finishing 6th in the 5000m at the European U23 Championships in 2005.
During Scott's time at Butler University, he won multiple All-American titles and finished 6th in the NCAA Championships at the Indoor Mile in 2007- his final race for Butler. After graduating, Scott joined TIE (Team Indiana Elite) to continue his training in the USA. Scott's marathon debut was at the Berlin Marathon 2011 running a time of 2:10:55, finishing in 5th place. Later that year, Scott was officially named to the GB 2012 Olympic team having achieved the "A-Standard" at the Berlin marathon.
---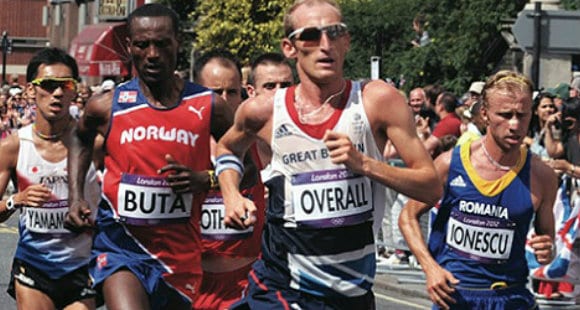 ---
The following year Scott finished 61st position at the London 2012 Olympics and wasn't too happy with the result. He then aimed to improve his running ability under a new coach, Alan Storey. Next stop, London Marathon 2016. Due to illness, Scott did not finish the race. Subsequent blood tests diagnosed Scott with Glandular fever meaning he was not selected for Team GB. Despite being ranked second in the country, the Rio dream ended.
The journey continues, jetting between London and the USA, Scott trains in pursuit of the perfect marathon. Luckily we had time to catch up with him:
Scott, your track record over the past 15 years across all distances is very impressive. Now you class yourself almost as an out and out marathon runner, trying to run between 2 and 3 marathons per year with only "build up races" in between. But we wanted to know, what's your favourite race and which specific training session helps boost your confidence and lets you know you're on track to run a PB?
---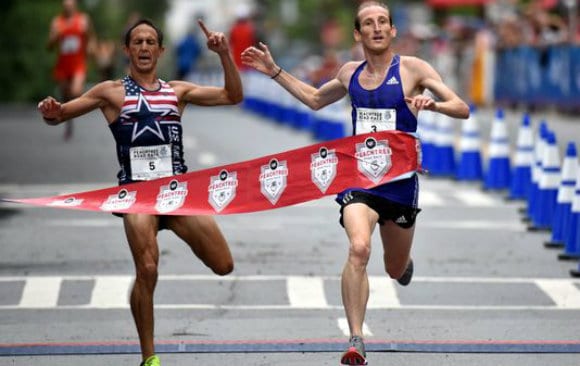 ---
"My favourite event is probably the shorter distances of 10km or half marathon as I get to race these more frequently, then I would do my main event of the marathon. It is always more fun to do the shorter faster races and it is a chance to test out where my fitness is and gives me an idea of things I need to work on, depending on how the race goes. One session that I do like to do before a half marathon (or sometimes even a marathon) is 4 x 2 miles, getting quicker on each one.
The recovery is usually quite generous to allow time to recover to hit the next rep quite hard. I say generous, more so than what I usually do – so, in this case, it would be 3-4 minutes. I know I am in shape when I can start off at around 9:40 for the first one and work down to 9:10 for the last one. That is basically going from 4:50 per mile on the first 2-mile rep down to 4:35 or so for the last rep.
The whole session would be quicker than my marathon race pace, but somewhere in the middle of my half marathon pace. Depending on how the session feels would give me an indication of where my fitness is at. If for example, I was finding the 3rd rep very hard and knowing that I had to run even quicker on the next rep it would tell me that I have not done enough work at 4:40/4:35 mile pace.
---
Our articles should be used for informational and educational purposes only and are not intended to be taken as medical advice. If you're concerned, consult a health professional before taking dietary supplements or introducing any major changes to your diet.