By Tommy Cole 
www.techealthandfitness.com
"I can't lose fat, I have a slow metabolism."
This is something I hear all the time and although a "slow metabolism" may make fat loss more difficult, it's probably not for the reasons you think.
But before I get in to that, here's a quick background on metabolism.
---
Metabolism
Metabolism is essentially all the chemical reactions in the cells of your body that sustain bodily processes like breathing, breaking down food and movement.
These metabolic processes require energy and if you consume less energy than is needed for these processes, you'll have an overall loss of body energy stores (eg:body fat) to compensate.
The energy required for these functions determines your metabolic rate, which can be split into three sections: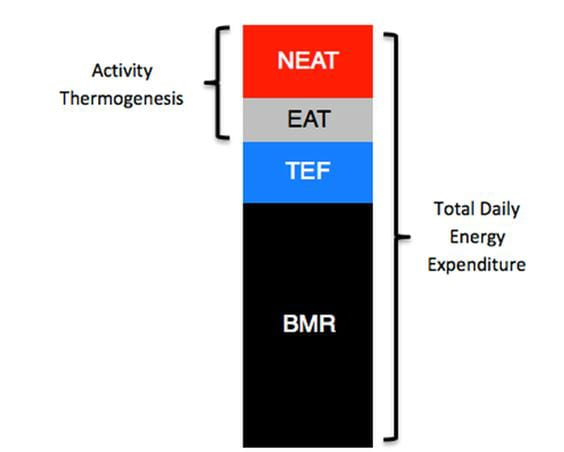 1) Basal metabolic rate
The energy used at complete rest e.g. lay in bed all day not moving, eating or drinking.
2) Thermic effect of food (TEF)
Energy expended after eating due to digestion, absorption and fuel storage.
3) Activity thermogenesis
Further divided into exercise activity thermogenesis, which is energy used during purposeful exercise like playing sport or lifting weights and non-exercise activity thermogenesis, which accounts for all other activities like walking, fidgeting and maintaining posture.
---
Is lack of fat loss caused by a slow metabolism?
As I've explained before, at the most fundamental level, fat loss is primarily achieved when you eat fewer calories than your body expends.
What we're dealing with in this article is the expenditure side of the equation and understandably a lower expenditure/metabolic rate will make fat loss more difficult as you'll have to eat less (in terms of energy) to create a calorie deficit.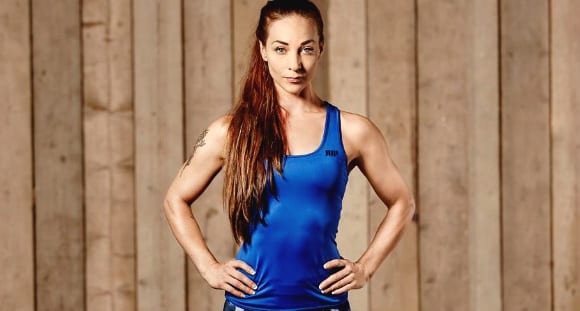 Basal Metabolic Rate
The thing is, when people say they have a slow metabolism, they're often referring to a lower baseline metabolism (ie: basal metabolic rate/BMR). BMR doesn't vary massively between people when body weight is controlled for though (ie: two people weighing 80kg will most likely have relatively similar BMRs) and unless you have certain health issues it's unlikely that yours is abnormally low.
That leaves the Thermic effect of food (TEF) and activity thermogenesis.
Thermic Effect of Food (TEF)
TEF is generally quite low (5-10ish% of overall metabolism) and although it obviously varies depending on how much and what you eat (eg: protein burns more energy to be processed than carbs and fat), it generally doesn't cause much variation in total metabolic rate.
Activity Thermogenesis
Activity thermogenesis, on the other hand, can vary massively between individuals depending on their job, leisure time activities and potentially genetics (to name a few).
As I said above, activity thermogenesis is split into exercise activity thermogenesis (EAT) and non-exercise activity thermogenesis (NEAT).
Obviously going to the gym and doing exercise will increase metabolism/the overall amount of energy you expend. So if you don't exercise, your metabolism will be 'slower'. Therefore it's no surprise that you should exercise; it will increase your metabolism/energy expenditure, which may ultimately help you achieve an energy deficit!
Just as a side note, unlike pro athletes who train in abundance and expend huge amounts of energy as a result of exercise, most of us train for around 1-hour each session 3-5 times per week. This doesn't actually equate to a much greater expenditure (maybe 100-500kcal per session depending on what you're doing). Therefore, although exercise is important to keep your metabolism high, be wary that it may not influence expenditure massively and it doesn't mean you can disregard how much you eat and still shed fat.
---
None-Exercise Activity Thermogenesis (NEAT)
The other chunk of activity thermogenesis, NEAT, is often disregarded when it comes to fat loss.
It can, however, cause huge variation in overall metabolic rate and might be the main reason you're struggling to shed fat.
Ultimately, it accounts for the energy we all expend for activities that aren't exercise. This includes anything from the energy our muscles use to keep us sat upright to the energy used for walking around the shops.
Here's a graph that demonstrates how different forms of NEAT influence our metabolism.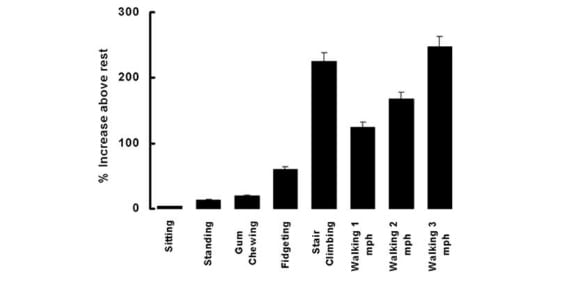 As you can see, by fidgeting, walking and climbing stairs you'll expend considerably more energy than sitting down for the entire day (which may seem an obvious point.) Unfortunately, many jobs mean lots of us spend most of the day sat down. If this is combined with driving to and from work followed by collapsing on the sofa – NEAT is going to be pretty low.
How to increase NEAT?
? Spend time away from work – walking about e.g. walking to/from work or around a park
? Complete house work (e.g standing to do the dishes rather than using a machine) followed by some down time in front of the tv.
Following the examples above, NEAT could increase substantially. To demonstrate this, a research review by Levine stated that the difference between sitting in front of the tv for 6 hours and doing activity at an average of 1-2 mph for the same period of time is 750-1125kcal.
Although walking for 6 hours is pretty unrealistic for many people, this shows just how dramatically NEAT can influence metabolism/energy expenditure. In fact, NEAT may vary by up to 2000kcal between people.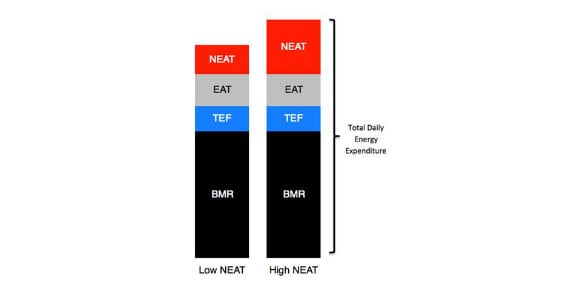 Think about that guy you know who seems to be able to eat anything and everything they want without putting on weight. It's probably just because he/she fidgets about a lot and generally spends more time on their feet and being active!
---
Take Home Message
A 'slow metabolism' can sure make fat loss difficult. It's probably not because of lower baseline metabolism though and is much more likely to be due to lower general levels of activity and/or less exercise.
Fortunately these things can easily be worked on by purposefully spending extra time on your feet and moving about more by making small changes into your lifestyle every day!