Make your favourite vegan curry recipe in just 15 minutes. This recipe uses Rice Protein Peanut Butter in Curry flavour to amp up the flavour and the protein content and then some!
Quickly blend up a spice paste, then pop it all into the pan and sit back and relax until it's done.
Don't forget to check out more healthy recipes and vegan recipes.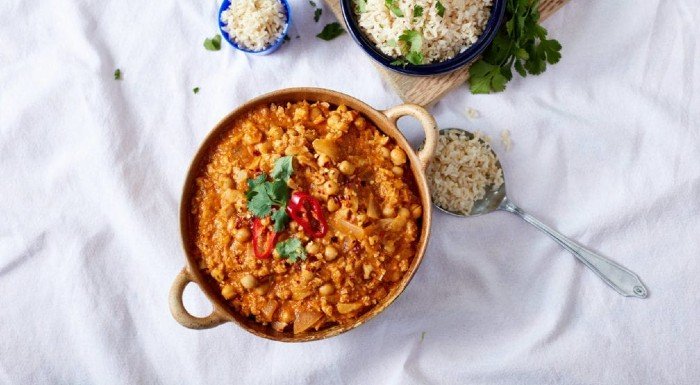 Serves: 4
Ingredients
For the paste:
400g chopped tomatoes
6 tbsp. Peanut Butter
2 cloves garlic
1 thumb ginger
Handful coriander
1 tsp. garam masala
1 red chilli
½ tsp. salt
4 spring onions
1 tbsp. cumin seeds (toasted)
For the rest:
1 tsp. Coconut Oil
1 head cauliflower (chopped into small pieces)
400g tinned coconut milk
400g tin chickpeas (drained)
4 tbsp. dairy-free plain yoghurt
½ lime (juice)
300g wholemeal rice
Method
1. First, make the curry paste. Place chopped tomatoes, Rice Protein Peanut Butter in Curry flavour, garlic, ginger, coriander, garam masala, chilli, salt, spring onions and cumin seeds into a blender and process until smooth.
2. Add the coconut oil to a pan on a high heat. Once hot, add the cauliflower and pan fry for 2 minutes. Pour in the paste and fry for a further 2 minutes.
3. Next, add the coconut milk and chickpeas, pop a lid over the pan and fry for 8-10 minutes.
4. Serve with wholemeal rice, a dollop of dairy-free yoghurt and a squeeze of lime juice.