Written by Jack Boardman
---
Artichoke Protein
---
To be at your healthy best, it is advised that you consume somewhere in the region of over 50g protein today, or 0.8g per kg of bodyweight.
In a nutshell – which, incidentally is another great source of protein – just about every part of your anatomy benefits from a healthy, regimented intake of protein. It produces enzymes, hormones and other important chemicals. It builds and repairs muscle tissue, is good for your skin, nails and hair, and is integral in any and all gains that you work for with exercise. Essentially, protein is your body's building blocks. It rebuilds muscle, and so is one of the main ingredients in developing muscle, along with strength training, but also helps in other aspects of your health, such as your bones, cartilage and blood.
---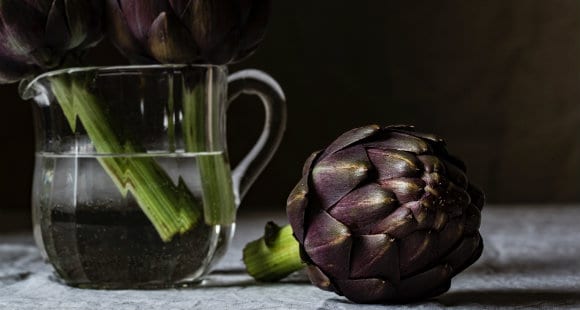 ---
Now that we've already broached the use of the F-word (fitness), you'll know from your fitness routine that it's important to get all the protein you can before and after a workout. That estimated 50g a day may keep the average person ticking over, but it doesn't account for the rigorous extra physical activity you put yourself through in the name of fitness. As you know, it's about balance: the more energy you expend, the more protein and fuel your engine needs. With calories and diets so often mentioned in light of weight loss, sometimes it can be hard to find the info on where to find the protein when you need it.
Of course, we're talking about healthy ways of consuming protein without all the added junk and empty carbs that you don't need. Second, to that, the issue may be getting your protein on the go, or in small doses when you don't have the time or appetite for an entire meal. A good solution is artichokes.
---
---
What are the values? On average, there is more than 5g protein in an artichoke, which is approximately 10 percent of your recommended daily protein intake. They are low in calories and fat and considered a fine source of fibre and antioxidants.
As an antioxidant, it ranks among the highest per cupful against cranberries, pecans and blueberries. As a digestive aid, its high fibre content and cynarine compounds, which increases your body's production of pile.
If that wasn't enough, artichokes are also a top source of folic acid, which acts as a factor in the synthesis of DNA. Their high potassium levels put them up there with bananas and sweet potatoes and they also contribute to tackling high blood pressure. Artichokes are available in the winter and work well in a meal when prepared in just about any which way, including steamed, grilled, roasted or sautéed. It is a delicious and nutritious (and protein-rich) replacement for bread and pasta.
---
Our articles should be used for informational and educational purposes only and are not intended to be taken as medical advice. If you're concerned, consult a health professional before taking dietary supplements or introducing any major changes to your diet.