Skipping a meal can be the worst – tummy rumbling for the rest of the day, mouth watering at the first scent of food. Can you imagine a complete nutrition shake featuring fats, fibre and high protein? That sounds like a dream. Well, BeNu our complete nutrition shake is here to make your dreams come true.  
Whilst a simple drink may not feel as substantial as a sandwich in your favourite meal deal, it actually is. In fact, it can be even better. The promise is to ensure your tummy is left feeling full, and that you're satisfied, all whilst getting enough vitamins and nutrients. 
We've broken down the macros so you can see that swapping out your meal deal for our meal replacement shake might actually make a positive change to your diet. It could even be tastier, but you'll have to be the judge of that.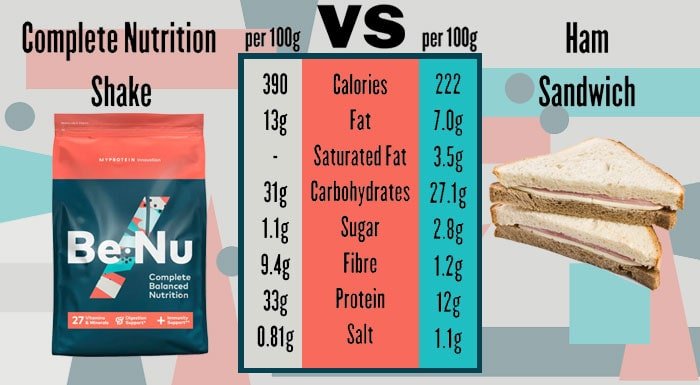 BeNu isn't a weight loss shake, but it does help you to keep track of your macros and your calories. Each shake has a solid calorie count of 400 calories, with a balanced macronutrient split. It also contains a third of your daily need of all 27 essential vitamins and minerals – your body can thank us later. Not to mention the added benefits of digestion and immunity support, helping to ensure you stay well so you can keep hitting the gym!
Take Home Message
Whilst I am sure that we can all agree that nothing quite compares to devouring one of our favourite meals, for the days when you don't quite have time, BeNu provides the perfect alternative. Ensuring you still get your macros and leaving you with a full tummy. Scoop, shake and serve. Doesn't that sound easy.