Viddal Riley is one of the hottest prospects on the UK boxing scene, and that's without having even fought professionally in the UK.
You may know him from his fight career, his presence in the corner of KSI as the YouTuber fighter defeated Logan Paul, from his social channels, or his time cooking up chaos in the Myprotein Kitchen with Chunkz. His is a name you are going to hear a lot more in the years to come after signing up with Sky Sports and Boxxer. We caught up with Viddal to get the inside scoop on his latest career moves.
'I tried to resist and fight against it''
Viddal loves boxing but this wasn't always the case. In fact, Viddal was reluctant to commit to the sport for a very long time, despite his dad's encouragement.
'I tried to resist and fight against it a few times in my life, wanting to do other things. But then I tried to embrace the sport and it really does reward me. So now I'm in a place of embracing it and really going from strength to strength.'
'I can become a world champion'
Self-belief is huge for an athlete. And Viddal definitely backs himself.
'My future career goals are definitely to be a world champion, because if I fulfil my potential, I should be able to achieve that, not necessarily easy, but I could make it look fairly easy. With my ability, my team, my focus, I believe, looking around at the competition, I can become a world champion.'
Viddal strives for the best. And with talent like that, why wouldn't you? While combat sports can offer elite fighters fame and fortune there is of course a physical toll, a toll Viddal is only too aware of. .
'I don't want to box forever. I don't know anyone who's got half a brain that wants to be punched in the face forever. I just want to make what I can from the sport, put it into other places where I no longer have to get hit anymore, every single day. I do enjoy it, but I understand that this is a period in my life and not something I want to do forever.'
'Why would I want to get punched in the face for the rest of my life when I could be going to a culinary arts class every day and becoming Gordon Ramsay?'
After starring in Cheats with Chunkz it's no surprise Viddal Riley is keen to have his own cooking show (that burrito lasagne looked unreal). Although rather than cooking, he'd like to just judge the food. And who can blame him?
'I want a cooking show first, that's what I want. I don't want to have to cook, but I'd love to judge other people's food because I'm greedy so it would work out perfectly.'
'I've only been in this thing for like 3 years social media wise and I'm already getting the opportunity on the tv.'
When asked the most exciting thing about signing his promotional agreement, Viddal revealed his  eagerness to have fights featured by traditional media.
'I can get a million views and not make it into the newspaper. I can get a million views and you still won't see me on the TV, but if I'm on Sky, now you can see me fight in the traditional market. Now we can collide the internet presence that I've been building and the traditional media world to get a big fusion of the following and that's what I'm excited about.'
Having started his social media channels in 2018, Viddal has grown massively over the last three years.
'Even the likes of KSI and Logan Paul and Jake Paul and people like that, they've got big internet presence and only now are starting to establish TV presence. They've been in the game like 10 or 11 years, and I've only been in this thing for like 3 years social media wise and I'm already getting the opportunity on the tv.'
'There's no one on my hit list'
Viddal is excited at the prospect of a fight more than being excited to fight a particular person.
If you've followed Viddal for a while, you've probably heard rumours floating around the internet of a potential Jake Paul vs. Viddal Riley fight. But despite the whisperings on the internet, Viddal isn't out to get one person in particular, he's simply out for a good fight.
'If there was a ring behind the back of my house I'd fight there if I could. I just want to get in the ring.'
'There's no one on my hit list, I don't really think about it like "I need to get you". I don't really care.'
'Just have respect for each other.'
YouTube fighting is great for boxing in Viddal's opinion, but he acknowledges there's a lack of respect. He believes YouTubers need to understand they're in the industry because of their following and respect other boxers who've got to where they are on the back of talent and hard work.
'Just have respect for each other. If you know someone has been boxing for 13 years, or however many years and you've just come into it, just be honest with yourself and know that you're in that position because of the followers, not because you're an elite boxer. Don't speak on those people, don't let your ego and confidence get ahead of yourself to feel like you can start to call these fights, because that's when it gets disrespectful.'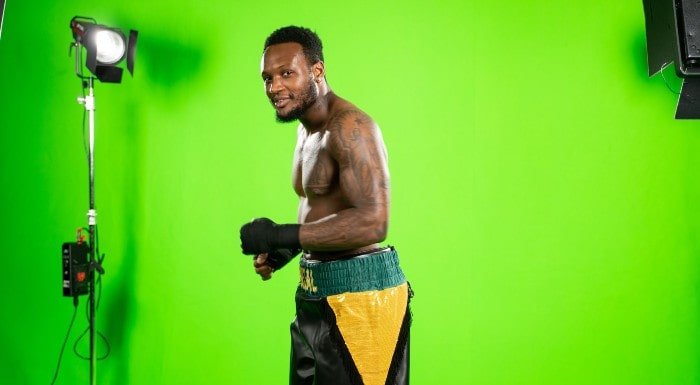 'I'm not scared of fighting Jake Paul'
As much as we'd be interested in seeing Paul vs. Riley, and we'd be backing Viddal all the way, it looks unlikely to happen.
'I'm not scared of fighting Jake Paul. I don't want to fight Jake Paul. I don't want to be a part of that community. Being a part of that fighting community, people now think it's something that you'll do again. And it's also going to be hard to not do it again, because you get paid a certain amount.'
Although, never say never…
'I've got no interest in fighting Jake Paul, but if an official offer came to any member of my team and it made sense, then I've never won the lottery and that's as close as I'd get to it.'
Take Home Message
We've learnt a lot about Viddal Riley through this interview. He's really full of surprises and is a man of many talents. He did also assure us that we'd be seeing him on our screens soon, should all of his paper work go through in time. So, fingers crossed.