2021 has been a year to remember for everyone connected with Catalans Dragons. A first League Leaders' Shield, and a first Super League Grand Final appearance in the bank may see 2021 surpass the Challenge Cup glory of 2018.
On Saturday night, Tom Davies and his teammates will represent the Southern French side at the Theatre of Dreams, hoping to turn their own into a reality. To do so they'll have to get through the reigning champions St Helens.
Tom has given his insight on what's clicked for both himself and the club this season.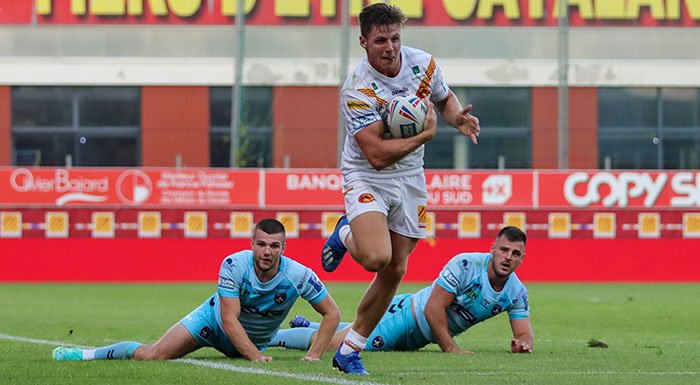 Not Done Yet
Ambition is what often sets the professional athlete apart, and Tom is no different. Despite a year that will go down in Catalans Dragons' history, the Wigan-born winger and his teammates know it can be even better.
"It has been a successful year in terms of the club's history. Prior to this year we've been notorious for our inconsistency… Predictably unpredictable, as the saying goes.  
 
"To win League Leaders' [shield], especially in the circumstances we've been in as well with flying over, Covid, so many games in England.  It's been a massive success and a big step in the right direction for the club and we have been the most consistent team throughout the year. But we can't think like that. We're proud of what we've got but we're hungry for me. 
 
"The Grand Final is the biggest of the big. To get League Leaders' is great, but it's the team who wins the Grand Final that get to call themselves champions, and that's for a reason"
Avoiding stage fright
Tom is no stranger to the main event of the Super League season. He's been to Old Trafford previously with Wigan Warriors in 2018. What has made a marked difference in preparation this time round, is that he's answering the questions of others.
"In 2018, when I played in my last one [Grand Final] with Wigan, I remember speaking to a few of the older boys then and asking 'what's it like when you're playing in it, when you walk out?' It's gone full circle, now the boys are asking me 'you've played in it before, what's it like, the game, the ground, the crowd?' It's weird being the other end of the conversation. 
 
"We've got some class acts in the squad…A great bunch of lads who have experience in big situations. When you've been there and done it before you know what to expect. There's less chance you'll freeze on the big stage."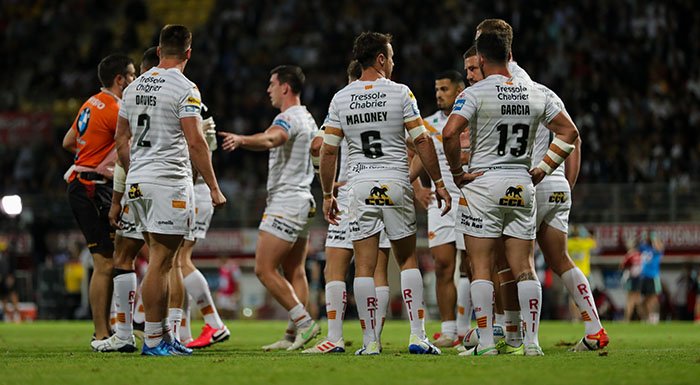 Add to that fans will be present, unlike last year, and there's even more reason to be excited.
"It doesn't change the mindset. It changes the experience. A Grand Final is a Grand Final regardless. You want to win the game and play your best. But nothing compares to that feeling when you walk out in front of 50-60,000. Everyone's chanting. I'll remember that day in 2018 from the rest of my life. It's unreal. You walk out and the hairs stand up on the back of your neck – it's class. 
 
"There's no need to big it up, it is that big. But knowing [we've got] the fans, and they'll make the spectacle of it that they do, it's going to bring memories for a lifetime."
Maximising performance
Tom's past has been littered with challenges, and he's always overcome. He nearly gave the game up in his youth, and spent 18 months sidelined by an ankle injury before a move to Catalans.
The gym has played a major role in injury rehabilitation, and ensuring the wide man delivers on the field. Tom revealed it's where he's been able to push his game to new heights — the reward for the league's top metre-maker has come in the form of a new three-year Dragons contract.
"When I first started at Wigan academy my mate Ryan Rigby, who I went to college with, he was obsessed with training and the gym. Until that point I'd never been that into it. I was more focused on my rugby training than the gym. If I could get a bit stronger, great. When I was 18 I started training with him and he told me, 'look, you can get so much stronger, and the stronger you get the faster you'll get, the faster you get the more agile you can get. Athleticism can be the foundation of your game.'

"We started training together and within the first six months I put on about five kilograms of muscle. It made everything so much easier for me. He showed me how to shock my body a bit. Not just doing 4×6 in every session, every set. You change and evolve constantly. It resonated with me. If you train hard in the gym, everything on the field becomes easier.
"It sounds odd, but I was lucky to get the injury when I did really. It gave me a full 16-18 months , a full year and a half to focus on getting bigger and stronger."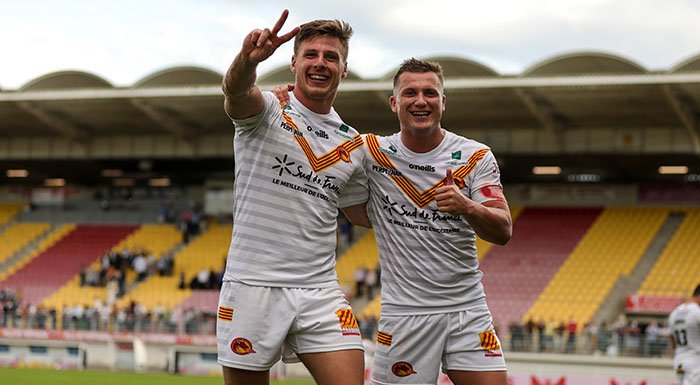 Wigan for taste, Perpignan for performance…
Nutrition is key to performance, and the move to France has certainly changed Tom's routine – meal prep is super necessary.
"I'll be honest. At home in Wigan my Mum cooked every meal for me. I was spoiled. Wake up in the morning, come down to eggs, bacon and beans. Dinner, chicken, rice and salad. Tea, maybe some salmon. When I moved out here I was 22.  I didn't have a clue how to boil an egg. I was in deep sh*t. 
 
"I realised I've got to come up with something here that suits me because I hate cooking, with a passion. I absolutely despise it. It's boring and I'm bad at it. I came up with a solution. I put 12 chicken breasts in the oven, heavily seasoned. I get four massive bags of frozen veg and I do all my cooking for the week in one night. It takes me about three hours in total and I get 12 good meals out of it. Freeze them and pull them out the freezer one by one for what I'm eating the next day.
So my tastebuds preferred it in Wigan, but for my body it's worked out better for me. At home I'd finish tea and my Mum would be ready – 'here you are son, here's chocolate, raisin, or fudge cake'. I'm not having that now. I'll have my chicken and veg and get to bed." 
Take Home Message
Good luck to the Tom and his teammates on Saturday night. Let's hope that chicken and veg does the trick to fuel you to victory. And we're always here with a protein shake to help.