January is often slated as the worst month of the year. It's cold, probably wet, the gyms are busier than ever and you're waiting for pay day. If that sounds familiar, you could do with a reboot. Something to guide you in the right direction so that you're set up for a brilliant 2022.
Luckily the latest instalment of The Supplement – Myprotein's digital magazine – is here and it's packed with recipes, workouts and the latest nutritionist advice broken down into bitesize chunks of info so you know where you stand.
What to expect from this issue…
Our cover guy this time around is the incredible World's Strongest Man Tom Stoltman. We got the inside scoop on his training, nutrition and strategy for conquering World's Strongest Man in 2022.
We also got the chance to talk to 3x England's Strongest Woman Farah Fonseca on how she's empowering women across the country to lift heavy and building a women's fitness empire.
Unfortunately, your social media feed might be flooded with diet culture in January and you'll probably get a few people sliding into your DMs trying to flog "diet teas" or some other weight loss concoction. We want to counteract that by flooding your screen with PT- and nutritionist-approved advice on supplements, nutrition and workouts to help you reach your goals for 2022 healthily.
Expect brand-new Meal Prep Like A Pro recipes from Alex Tilinca, mouth-watering Fakeaway recipes to satisfy any cravings, and advice to get your protein in on a vegan diet for anyone taking on Veganuary.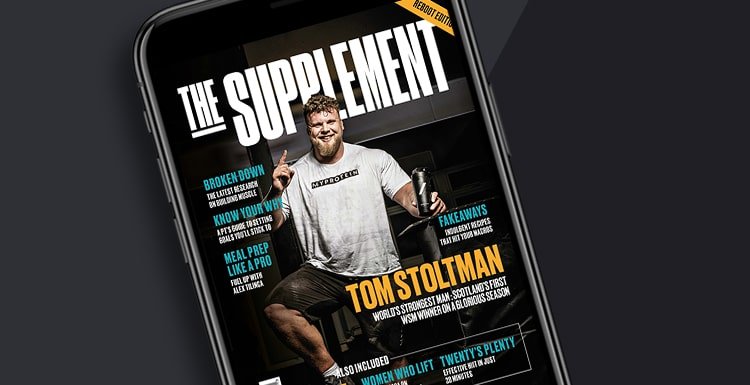 But wait, there's more…
Get a sweat on quick with the workouts from Twenty's Plenty, or go for gold by trying Tom Stoltman's World's Strongest Workout…if you dare.
Or maybe you're looking for a new way of working out this year, why not get some advice from a seasoned hiker on how to prepare for a great hike and reap the benefits.
And if you just need some advice for creating a positive mindset to turn your new year goals into a lifestyle, Myprotein PT Nerissa Shea has practical tips in her article This Year Will Be Different.
As well as loads, loads more.
Take home message
Set yourself up for an incredible 2022 with The Reboot. Get your mind in the right place, learn workouts from the best to reach your goals, and get valuable advice from our nutritionists on how to feed your body right.
There's a lot of BS that comes out in January, The Reboot gives you information you can trust to reach your goals.