We held an exclusive event to celebrate the relaunch of Power, one of our bestselling women's collections yet — but the day didn't just feature powerful clothing. We were lucky enough to be in the presence of sixteen fierce female ambassadors, including Manchester born and bred Samantha Dewhurst.
Sam is a super-successful personal trainer and blogger (check her out @samdewhurstofficial). In February 2018, she also appeared in ITV2's Survival of the Fittest — a show that's been dubbed as the 'ultimate battle of the sexes'.
Check out the interview below to find out how this winner got to where she is today.
Do you think of yourself as a strong person?
I think I am yeah; I've been through a lot of hard things in my life. I've been in a very low place mentally, but I feel like everything happens for a reason and I believe in karma. I meditate daily and so mentally I think I am quite strong, which then goes towards my strength in the gym.
You were on ITV2's Survival of the Fittest — and won it — what was the best part of that?
The best part was being able to show everyone that girls can empower girls. There's this stigma around girls being bitchy, but that's such a small minority — girls are stronger together and they're more powerful together. We showed that on the programme.
How did you get into weight training?
It took a while, I was training for years and my ex-partner actually got me into weight lifting. Before that I was actually quite addicted to cardio and the idea of being dead skinny. Then I realised that being strong and being healthy was much more important than being skinny.
The minute I had this change of mindset about going to the gym, that's when I started to really enjoy going and feel the benefits of it.
Do you have any confidence tips for other girls?
I would just say don't compare yourself, ever, to anyone.
What would you say to girls that are worried about becoming "too bulky" if they train with weights?
I think you just need to follow the right accounts on Instagram for a start. The only way that a girl is ever going to get "bulky" is if they're eating far too much, if you learn the balance between energy in and energy out, then you are never going to get bulky.
Who are your top female role models?
I'd say Brittany Perille, she's had a baby and her body has gone back to absolutely amazing. Then Steph Fit from London too, love her training. She balances her life so well — between her training, her boyfriend… If you can have a job, a boyfriend and a social life as well as the gym, then you're definitely winning.
Do you feel like you keep balance in your own life?
I go to the gym probably 4-5 times a week, and I've recently got a new partner so I'm balancing it with that too. He wasn't really into the gym when we first met, so I feel like I've been quite a positive influence on him in that respect.
Are you always working towards a goal?
It depends really. Sometimes it might be like a mental goal I've set myself, for example the other week I decided I wanted to be more positive about things and tried to write down daily affirmations that I wanted to achieve.
But then some weeks it'll be a physical goal, maybe if I feel like my arms are getting less toned I'll try to work on them more. Life is always up and down, you can't expect things to always stay on one road, so for me it just depends on how I feel at that point in time.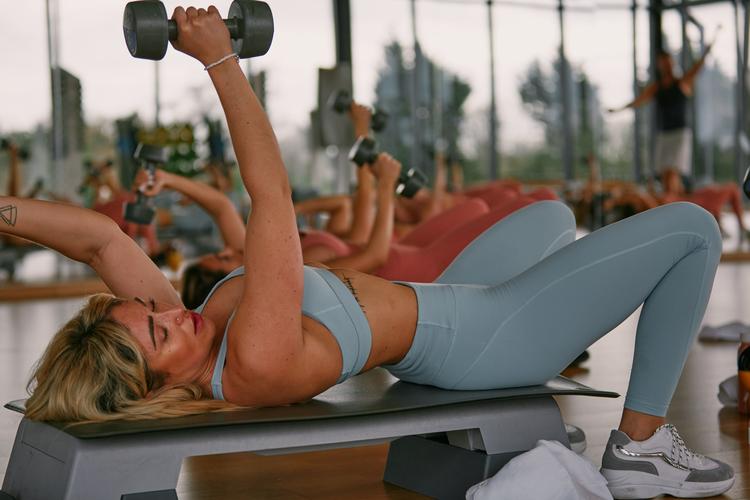 ---
Sam is pictured above absolutely working it in our Power collection — check out the set for yourself.