This May it's our 15th birthday and we're celebrating 15 years of fuelling your ambition.
As part of this celebration, we wanted to champion progress — and not just our own, but the progress of all the people who have been a part of our journey; the people we're proud to support.
One of these people is Joyce Mvula.
Originally from Malawi, Joyce is a 24-year-old netballer who moved halfway across the world to play in the Superleague for Manchester Thunder. The move wasn't just a big decision in terms of her sporting career, but for her personal life too, as she had to leave behind her fiancé and young son.
We think it's a rare and wonderful thing for an individual to show that kind of ambition and sacrifice for their goals, which is why we wanted to know exactly what drives Joyce on her unique journey.
This is what we found out.
15 years ago, the UK wasn't even on her radar
"Fifteen years ago, I was in Malawi. I was 10 years old and in primary school. I didn't know then that I could be here now… I didn't even think of coming here, because I didn't even have the dream to — I didn't have a dream of here."
She was playing internationally at just 15 years' old
"I started playing netball when I was 12, and by the time I was 15 I was playing for 'The Queens', which is the Malawi national netball team.
They spotted me when I was playing at other tournaments like the Commonwealth and World Cup."
She wouldn't have been able to afford an education without netball
"To say the truth, netball has changed my life. Because where I come from, my parents couldn't even have managed to pay my school fees.
But, because of netball, I had scholarships to go to school for free which made everything easier for me and my family — I even got groceries from school! I had something for myself and was doing something myself, because of netball.
I see netball as a job. It's something for me, something big."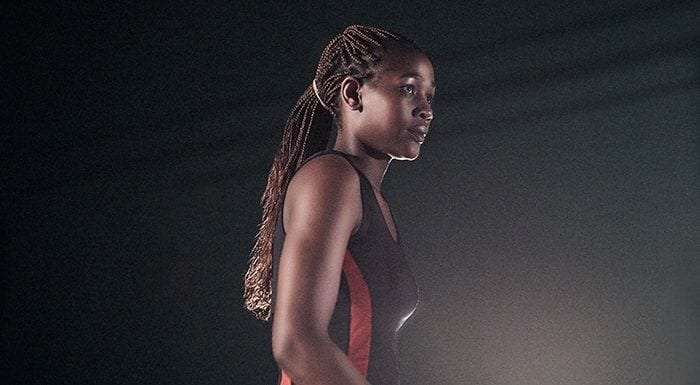 She's the first netball player from Malawi to come to England
"In Malawi they see me as someone because of coming here. When I came here, you know, I was the first one playing in England. Another player from Malawi, Mwayi Kumwenda plays in Australia, but I'm the first one who came here. That's something.
I enjoy it here, it's really good and I've learnt a lot from the netball here — when I look back to when I first came here, I feel like I didn't know anything.
Now I have confidence in anything I'm doing.
Of course I miss home. Especially because I have a little kid, but yeah, I just have to make something for him."
She won't stop until she's the best in the world
"My ambition is netball — I just want to train hard, to know more, and to be the best netballer in the world.
It means a lot for me, you know. It's something else to represent so many people — because there are so many in my country, but to be chosen as one of 15 of them is something that I'm always grateful for.
So yeah, I just have to go out there and do my work, support my nation. I'm carrying the flag, so I just have to do it."
15 years from now, she wants her own netball academy
"In fifteen years' time, I want to be a Malawi coach. I want to open a Joyce Mvula Netball Academy in my country so that I can give little kids the opportunity to play netball and be where I am now.
While I'm here, kids in Malawi are looking up to me as an inspiration, so I just want to help others to do more. I know that we have people with lots of talent — I just have to teach them more."
Want more on Joyce? Follow her @joycemvula