FITTEST – the YouTube series that sees members of the Myprotein staff undertake the workout of some of our G.O.A.T ambassadors. -this week, the World's Strongest Man workout.
This week, Rosie, Ross, Matty and Inbar attempted a routine from the reigning, defending, World's and Britain's Strongest Man Tom Stoltman. Scotland's first WSM winner even shared a bit of inspiration and motivation for those having a go.
Tom didn't hold back when providing the World's Strongest Man workout for the staff to try.
The World's Strongest Man Workout
Luckily for the staff, personal trainer Calvin Crooks was on hand to lead them through the treacherous World's Strongest Man workout and make sure there were no injuries. Although he can't do anything about a certain contestant having two left feet…
It became clear pretty quickly which of the guys were going to be leading the pack when it came to the workouts and we quickly identified the class clown.
Exercise Two – Medicine Ball Toss
Next the team braved the cold to complete the next exercise. Instead of performing medicine ball slams, they threw the medicine ball over their shoulders. Think it's safe to say that the medicine balls looked to have a mind of their own.
Exercise Three – Farmer's Walk
The next exercise, a Strongman favourite, the farmer's walk. The staff quickly learnt that just picking up the equipment wasn't the only issue and walking as quickly as possible wasn't the aim. Their walking had to be calm and controlled. Easier for some than others.
Exercise Four – Sand bag walk
Walk to the other side of the gym with a sand bag on your shoulder. It's really that simple. All but one member of the team nailed this task. The important thing is they tried.
This one needed a little bit more explaining so the team got their form right. This could definitely have led to a few injuries otherwise. There also looked to be a lot of concentration going on according to the looks on the team's faces.
Having appeared to be the simplest of the exercises, it turned out to be quite the opposite. The staff went head-to-head to burn the most calories in a given time.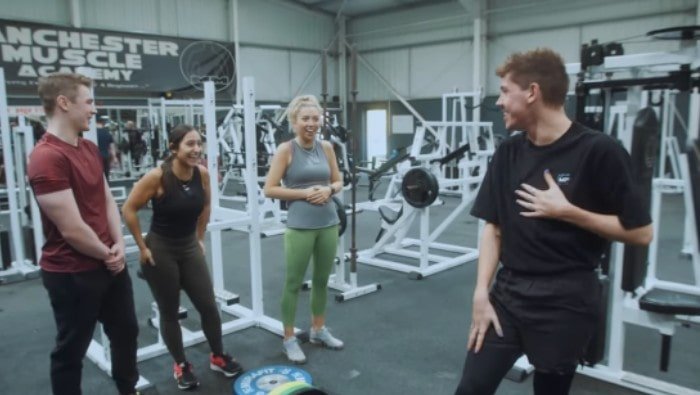 Take Home Message
As the first episode drew to a close the staff reflected on their day and surprisingly it was mostly positive. It's also important to note that apart from some DOMS and a grazed knee, no members of the Myprotein team were harmed in the filming of this World's Strongest Man workout.