Without wanting to make sweeping statements, there are a lot of students that are happy to live the stereotypical uni lifestyle — and by that we mean skipping lectures to lie-in, being on first name terms with the Deliveroo guy, and spending at least half of the week hungover.
Then there are people like Lubomba.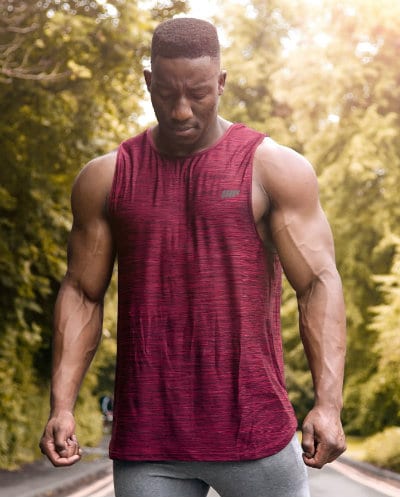 This 22-year-old stands out for many qualities (seriously, check out those biceps), but arguably it's his sheer dedication that shines through the brightest.
Lubomba Munkuli juggles studying for an architecture degree at Oxford Brookes University with natural bodybuilding, and running his own digital design business.
And, as you can see, he doesn't do anything by half.
"I live a dedicated lifestyle — fitness, business and education.
I'm a big advocate for self-development, learning, and challenging yourself to live a more fulfilling life."
We're lucky enough to have such a driven, hardworking individual as part of our #MyproteinFam, so we seized the opportunity to get some answers from the man himself to find out how he fits so much into his week.
Need help getting out of bed and into your gym kit? Convinced yourself you have to choose between hitting deadlines or hitting the weights? We think this interview could be just what you need to get yourself into gear…
What got you into fitness?
I got into fitness through playing basketball at the time, I wanted to progress as an athlete and the gym provided the tools for me to do that and thrive.
When did you begin taking it seriously?
I saw rapid progression in the gym within the first month or so which got me hooked instantly, and eventually led me to leave my basketball ambition behind. This all happened at around 15/16 years old — I took it very seriously from day one when I got my gym membership.
How long did it take you to see a change in your body?
My body transformed within the first one or two months, and after the first year the progress was so drastic to the point where some people couldn't recognise the little kid I was.
Three years passed and I was competing with other fellow students to be the fittest student in the country.
Did you start with a clear goal or certain body image in mind?
Once I started training I had a clear vision of where I was heading with a defined idea of my ideal physique. Every year I've been executing my goals and getting a step closer to the bigger picture.
How often do you train a week?
I train 7 days a week.
Monday: Chest
Tuesday: Shoulders
Wednesday: Legs
Thursday: Back
Friday: Arms
Saturday: Abs/Calves and lagging muscle groups
Sunday: Lagging muscle groups
How do you balance training with your degree at university?
It's all to do with time management. It really helps to execute the small tasks, and then set personal deadlines to achieve both uni work and personal goals.
You have to be mentally focused because it demands so much from you — it takes a lot of commitment to study architecture as a profession.
How do you keep yourself motivated after a long day of lectures?
I always stay focused on the bigger picture of completing the course — long-term goals over short-term ones, that ideal helps me stay focused day-to-day.
As long as I go through it with a keen interest to actually learn, it's not a problem. I am passionate about the whole process and lifestyle of being a student.
How do you balance it with the social side of uni? Do you drink/go out?
It's all about moderation, I don't go out on student nights often but I do enjoy the vibe. I prefer more intimate moments hanging out with close friends, food, occasionally drinks and BBQs.
Are you part of any societies/sports teams at uni?
I'm part of a student fitness society which brings me closer to like-minded people. It's great, most of my friends have come from that atmosphere.
Are you strict with what you eat?
I'm very strict with my diet, I've been very strict with it since I started. I count my macros and weigh my food to ensure I'm consuming what my body requires to stay healthy and see progress.
What are your top five supplements?
THEWHEY™: it's a premium, high-quality source of protein which is ideal for my needs. It's convenient for pre- and post-workout, it's light, and provides more protein per serving than so many other alternatives.
---
Bedtime Extreme: Bedtime Extreme is one of the most effective supplements, built up of slow-digesting enzymes that prolong the breakdown of protein for a continuous supply while you're asleep. That's genius! It's incredible, it aids full recovery while you're sleeping, so for me, it's a win.
---
Creatine: I've used creatine for years, it's one of the supplements I really vouch for — it helps me when it comes to my intense and heavy training routines, giving that extra push at the most crucial point of maximum exertion.
---
BCAA: this contributes to full recovery, and so for someone that trains intensely for long periods, it's vital for me to have BCAAs to reduce muscle soreness and aid protein synthesis in my diet.
---
Daily Vitamins: vitamins are vital to my daily diet. I use a range of Myprotein vitamins as they help me sustain a levelled and healthy balance for my body to stay functioning at its best.
---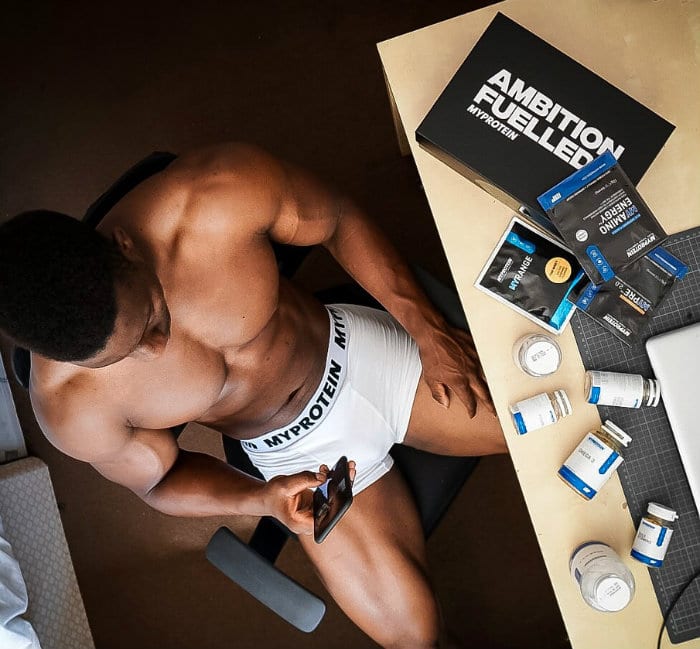 Could you give us an example of your arm workout?
My best exercises for arms:
Barbell curls
Triceps cable pulldowns
Hammer curls
Triceps dips
Preacher curls
Close grip bench press
What's your ONE fitness tip to others?
Stick to the fundamentals! They'll benefit you more than you realise.
If that transformation isn't inspiration to get you off the sofa and signed up to a gym, we don't know what is.
It's pretty clear that Lubomba is a truly exceptional guy with crazy amounts of passion and commitment to his goals — but it's fair to say that his success comes down to pure hard graft, which is something that everyone is capable of… right?