Need a protein boost when you're out and about? Well, there's no need to bulk up your bag with a hefty shaker — simply pop into your local BOOST Juice shop for great deals on a Myprotein-packed shake.
We've teamed up with BOOST to bring great tasting shakes to your local high-street, as well as a few other perks. Take a look below at the delicious flavours on offer, how to get your hands on free shakes and a brand new shaker.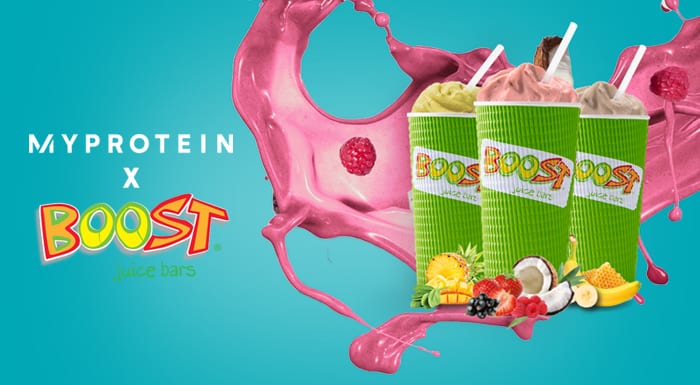 What's Your Name?
Starting from the 7th March you could be in with a chance of winning a Myprotein BOOST shake every day for the next two weeks. All you have to do is follow @myprotein and @BoostJuiceUK and check out their Instagram stories to see the two new names picked daily. If your name is picked, take some identification to your nearest BOOST Juice shop and claim your free smoothie!
Shopping in Sheffield's Meadowhall?
On the 16th March, we'll be at Meadowhall shopping centre in Sheffield to celebrate and share our delicious new shakes with shoppers. Come and meet the Myprotein team, sample our delicious smoothies, and take a selfie with the giant smoothie cup. Keep an eye on @myprotein for updates from the event, as well as details on the three delicious flavours.
1500 Free Shakers Until April
It's as simple as this — buy a Myprotein x BOOST Smoothie, nab a free shaker. If you're anything like us, your shaker's seen one too many shakes, so keep an eye on BOOST's social channels (@BoostJuiceUK) to grab yourself one for free — and enjoy a BOOST x Myprotein smoothie all at the same time!
Myprotein Purchase = Free Protein Smoothie
If you need to stock up on supplements, you might find more in your basket than you bargained for. During January, February and March, we'll be giving away 500 free smoothies each month to customers when you purchase your favourite protein and supplements (minimum spend applies).
3 New Smoothie Flavours
Packed with our Impact Whey Protein, you won't be able to resist trying one of BOOST's new flavours. Do you go nuts for an indulgent shake?
Try the Peanut Choc-a-nana flavour for an all-out thick and creamy shake that's going to gear you up for serious gains. It's got Chocolate Impact Whey Protein and peanut butter for that extra protein punch.
Prefer something fresh and fruity? The Very Berry Super Smoothie is bursting with Blueberry Impact Whey Protein and antioxidants to keep you fighting fit. Made with juicy strawberries, blackcurrants, raspberries and a big splash of coconut water for the ultimate protein-packed health kick.
It's time for the ultimate super-fruit protein pick-me-up. The Tropical Power Smoothie will have you ready to take on the world, or just a really tough workout. The ingredients include Vanilla Impact Whey, spinach, coconut water, and pineapple juice to make a vibrant and exotic drink that'll have you exploding with energy.
Desperate to get your hands on a new, protein-packed, taste sensation? Find your local BOOST Juice store here.
Get the ingredients in your new favourite high-street smoothie right here and whip up your own super smoothies.