Skip to:
About Alex Tilinca
Alex Tilincais a coach and bodybuilder from Long Island, New York, and a transgender man. He began his transition at 12, having never felt right with his body. His journey started with hormone blockers, and he went on testosterone and had top surgery when he turned 16. After this, Alex began his fitness journey. 
Alex entered his first bodybuilding competition aged 18, winning Teen Classic Physique and placing second in both junior and novice categories. He has been a competitive bodybuilder ever since.
Alex runs SELF MADE, an eight-week bodybuilding course for transgender men, teaching them everything they need to know about the sport. When Alex started training and competing as a bodybuilder, he realised there were no educational resources available to trans men in the sport, so he started his own programme to fill the gap. 
Profile
| | |
| --- | --- |
| Forename | Alex |
| Surname | Tilinca |
| Pronouns | He/Him |
| Date of Birth | 21st December 2000 |
| Age | 21 |
| Height | 5'5" (165cm) |
| Weight | 81.64kg (180lb) |
Training and nutrition
Alex had to find his own feet as a professional bodybuilder as he could not find a trainer who would work with a trans competitor. It's fair to say he has succeeded in creating an incredible physique. Here's how he does it:
Training/workout split
Monday: rest (coaching client day).
Tuesday: back/shoulders/hamstring touch-ups— eg dumbbell shoulder shrugs, shoulder press, Arnold press, lateral raise and front raise.
Wednesday: chest/arms — eg chest press, press-ups, incline dumbbell pullovers, chest dips, dumbbell fly, biceps curl, overhead dumbbell triceps extension and triceps pushdowns.
Thursday: rest (coaching client day).
Friday: Alternating legs with either quad or hamstring focus — hack squat, stiff leg deadlift, Smith barbell squat and lunges.
Saturday: delts/back touch-ups — rear delt fly, lying prone incline row, unilateral rear delt raise, bent over row, dumbbell row and cable row.
Sunday: arms/chest touch-ups — eg chest press, press-ups, incline dumbbell pullovers, chest dips, dumbbell fly, biceps curl, overhead dumbbell triceps extension and triceps pushdowns.
Supplement routine
Alex is a keen user of supplements and takes a varied range to make sure he has a full nutrition profile. Here are some of the supplements he uses to support his training:
Pre fasted cardio:
(He uses these two in conjunction to help burn more fat during cardio.)
Meal one supplements:
Daily probiotic: gut health
Daily greens drink
Daily multivitamin and minerals
Betaine HCL + pepsin
Glucose disposal agent (GDA)
Supplements with meals 2-5:
Pre-workout:
Intra-workout Supplements:
Meal six supplements:
Alex supplements with fish oil to lower muscle inflammation post-workout, support brain function and reduce cortisol levels before sleep.
Product/supplement he couldn't live without
EAA

:

(pre-digested protein in the form of amino acids) rapidly absorbed into the muscle for instant recovery and growth as well as muscle hydration.

Glucose disposal agent:

Proper absorption and disposal of carbs (glucose).
Creatine

:

For a stronger and faster ATP release during training, which basically means a stronger energy release.
Glutamine

:

Helps ensure the EAAs and cluster dextrin are absorbed properly and helps any stomach discomfort/bloating intra-workout.
Alex's favorite product
Myprotein EAA or glucose disposal agent
Alex's Story
Alex began his fitness journey at 16 after undergoing top surgery and starting testosterone treatment. He realised there was a gap in the market for trans PTs, so he started SELF MADE, a bodybuilding programme for trans men.
"I am a coach and I had a lot of my clients telling me 'I'm so grateful for this'. There's really not a lot of coaches that are trans themselves and know how to coach a transman. Even my own personal experience, I was turned down by a lot of coaches because I was trans, whether it be on a personal level or they just didn't feel comfortable working with me, didn't have the knowledge base to work on me. It's just one of those things that I want to provide as much resource as I possibly can for the trans community, knowing that they're probably going to have to go through the same thing that I did."
Career highlights
Victor Martinez 2018 Teen Classic Physique Champion, 2nd in Junior Open
First trans man to be sponsored by a major fitness supplement company
First trans man to be sponsored by a major fitness clothing company
Featured on the New York Post, Long Island News 12, Newsday, Fox
Youngest bodybuilder to be featured on Muscular Development
First trans bodybuilder to be featured on Muscular Development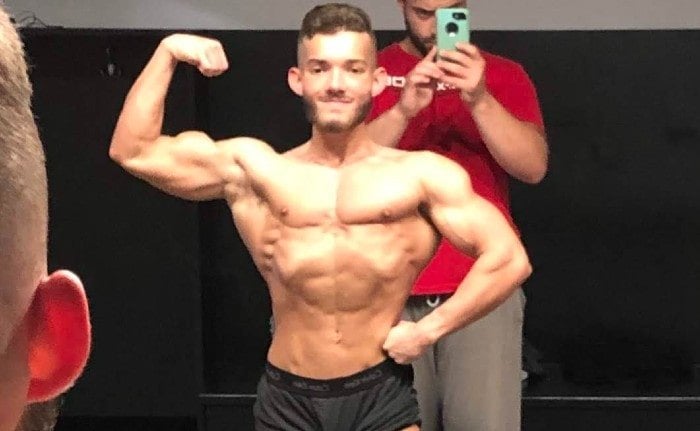 Personal Records
Dumbbell incline chest press: 130lb each hand for 10 reps
Hack squat: 720lb squat for 8 reps
Smith barbell squat: 405lb for 10 reps
Seated plate shoulder press: 260lb for 12 reps
Dumbbell shoulder press: 110lb each hand for 12 reps
Stiff leg deadlifts: 360lb for 10 reps
Rack pulls: 405lb for 6 reps
Go-to cheat meal
Any of the below:
Burger with pretzel bun, mozzarella, gravy and mushrooms with a side of fries
Steak with mash potatoes and creamed spinach
Greek gyro with fries
Song he couldn't work out without
Defying Gravity — The Veer Union
https://open.spotify.com/track/7CNmeffd7k0yDPBDHvRcKP?si=5352d2d4c10046ab
Young Alex Tilinca
Alex started his transition process with hormone blockers at the age of 12. He then started using testosterone and had top surgery at the age of 16.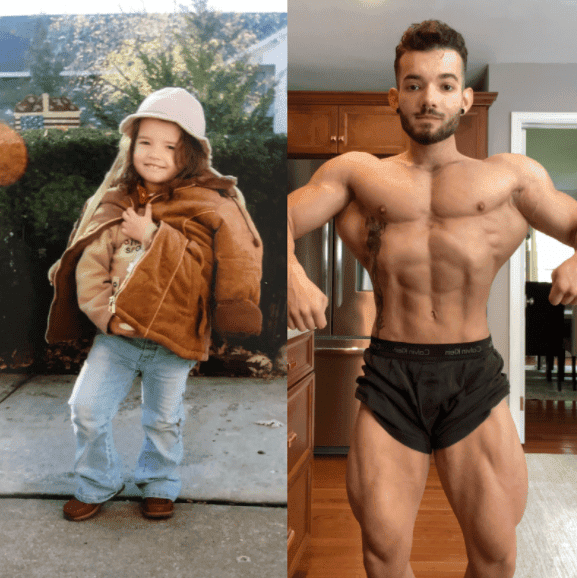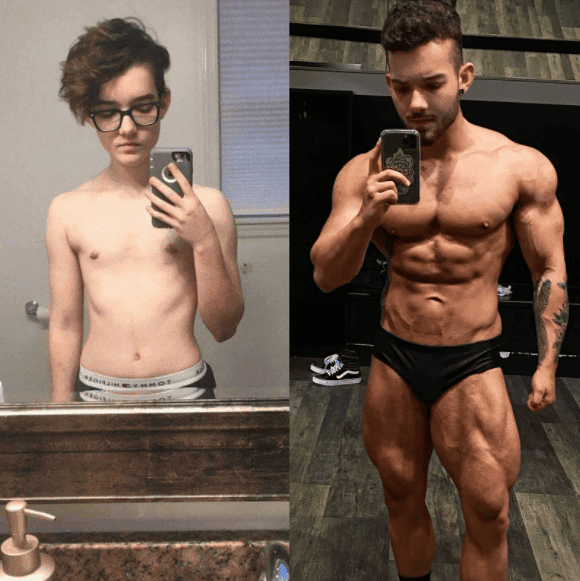 Enjoy this article?
READ MORE HERE: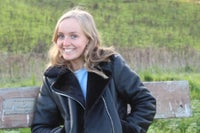 Emily is studying Business Management & Marketing at the University of Birmingham and is currently on her intern year. She has a keen interest in both writing and fitness, so is happy she can now combine the two. She likes to spend time with her friends, both in & out of the gym.