She might be the other half of the UK's fittest man, Zack George, but Samantha Brown is much more than that. In fact, she's quite the athlete herself.
From humble beginnings taking part in primary school sports days to competing in multiple British Championships, Sam has the right to talked about as one of the best athletes in the country in her chosen discipline.  She even set a new record at her local athletics club that was held by her mother for 28 years! Who has bragging rights at family gatherings, I wonder?
Yet it's not all been plain sailing for this hugely-talented athlete. A tough battle with injury left her struggling to compete in hurdling again, but a new passion was just around the corner for Sam.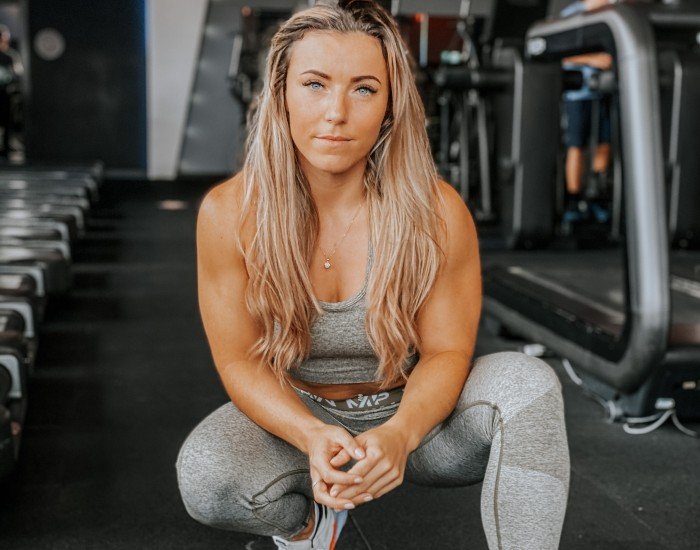 The Beginning
We all remember those classic primary school sports days. The egg and spoon race, the sack race, and the always hilarious three-legged race — easily one of the highlights of the school year.
However, a young competitive Sam Brown found herself racing against, and beating, the boys — she was clearly very talented (and fast).  
"I absolutely, always loved running from the start." 
She was eventually encouraged by her mother to go down the local running track at the age of 8.  It was clear to see that Sam was talented.  When she started running in 60-metre sprints for the club, to her surprise, she was always at the front. Just like she was hooked on running and eventually progressed through to hurdling by the time she was 12. 
"My mum bought me some spikes and she took me down there and said don't worry too much just enjoy it." 
She shared this passion with her mother who had also been a runner for the club and even held the club record for over 28 years. I guess it shows that those fast genes run in the family, right?.
"In a way, I didn't have an idol, I had an aim which was to beat my mum's club record. She held the club record there for 28 years and no one had ever beaten it. So, in a way she was probably my idol because I always had little goals." 
Sam's Hurdling Career
Sam was very good at hurdling and definitely has the CV to back it up. Not only does she hold the 400m hurdling record at her old club, but she has also competed at an elite level. Sam is 4-time British championship hurdler and she even recalls the first experience of the prestigious event. 
"I remember the first year I got my letter through the post from the British athletics saying you've made it. Then you get there and the tv cameras are all set up, it's so proper. It feels so good when you get there and it makes you realise 'well yeah I am half decent at this then'." 
Amazed by this experience Sam continued running and was loving every second of it. She started at the age of 12 and went on to compete until she was 24 years of age. Sadly, Sam suffered a series of unfortunate injuries that ended her time as a hurdler.  
The Injuries
Every athlete ever can testify that injuries are the worst and usually have a pretty dramatic impact on your career one way or the other. For Sam it meant leaving her first love behind but what actually happened? 
"I had 2 years where I had a problem with my foot and couldn't quite figure out what it was. I had MRI scans and was seeing everyone to find out what was wrong. It just wasn't getting better." 
Naturally, like any sensible person, she took 6 months off to get it sorted and recover from the injury. This all occurred about a year before she inevitably left the sport but none the less, she returned and started to get back to fitness training religiously 5 times a week 3 days at the track and 2 in the gym. 
She was preparing for the British championships again and was competing in the south of England championships, doing her usual routine coming out he blocks a few times and noticed a tight calf. However, she powered through and rolled it out and a week before the British championships' disaster struck. 
"I came out the blocks and did the first 2 hurdles and it just felt like someone had just shot me in the calf. At first thought, it was bad cramp but I literally couldn't move my foot. That's when I thought 'omg I'm going to be out. There's no way I'll be able to compete.' That was it." 
That was it. Sam was left really struggling but her luck did change and it was only the beginning of something. 
The T
ransition
About a month prior to these events Sam met Zack and during this time Zack was trying to climb his way to the top of the functional fitness community here in the UK. 
This meeting however would be more significant than led to believe. During Sam's rehab, she started off not evening be able to walk let alone run so going back to hurdling wasn't looking like an option for Sam. She didn't want to sit around though, she still wanted to get fit again. Luckily, Zack knows a thing or two about getting in shape and being fit. 
"I started to hobble along and get back in the gym. Then Zack would set me functional fitness workouts to do in my commercial gym, things like 30-minute EMOMs and I used to love it." 
Sam started off small and have the temperament of an athlete she has always loved pushing herself through the pain of a workout to better herself. 
"By the time I was able to jog and run again I found love for this new sport and by that point in my life, I was just sort of waiting for something else to come along. It was the right time." 
It was the best of both for Sam, she could get fit and enjoy testing her limits again without having to go back to hurdling for the sake of it. 
Sam's Take Home Message
Sam left some advice for anyone going through a similar pain or anyone who is trying to compete at a high level. 
"If you are really serious about the sport. Take care of your body, roll out your muscles, stretch. Have sports massages. Just take care of your body." 
Sam's story also shows why sometimes everything will work out and that your first sports passion doesn't have to be the only one.