Myprotein creations just keep getting BETTER!
Our team proudly introduce…
My Bar Zero – A delicious tasting, high protein snack bar with ZERO grams of added sugar!
And guess what…our mouth-watering, muscle-enhancing product is available in 7 indulgent flavours!
---
What are My Bar Zero's?
My Bar Zero's are a great tasting snack with a whopping 20g of protein per bar!
The Myprotein team have anxiously waited the all-new 2015 release of our taste-bud tingling, stomach-satisfying and impressively healthy go-to snack!
Perfect for anybody wanting a guilt-free healthy snack whilst providing an alternative source of protein!
---
My Bar Zero Flavours
Individual preferences matter the most to the Myprotein team as we know exactly how much of a lifesaver delicious high protein snacks can be on the strictest of diets – whether you're bodybuilding, competing as an athlete or fitness competitor or using every ounce of willpower to better yourself as a gym-goer…
We understand you!
We have patiently tried, tested and created a range of indulgent flavours to suit everyones needs… and we are pretty excited about it!
Choose your favourite My Zero bar from the following 7 fantastic flavours;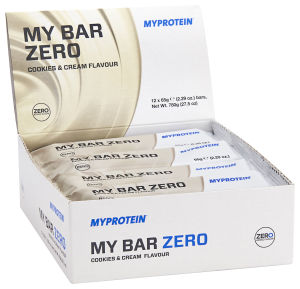 – Cookies & Cream
– Apple Cinnamon
– Caramel Peanut
– Strawberry Vanilla
– Chocolate
– Lemon Cheesecake
– Almond Vanilla
… More than one favourite flavour? There's nothing stopping you having a range of these high protein snacks!
TIP:
Bake them in the oven for a few minutes or place them in the microwave for approximately 20 seconds – It turns them into a soft, melty bar with a delicious gooey consistency… just perfect for a high protein dessert or an evening snack (sometimes cottage cheese just doesn't cut it!)
---
My Bar Zero Nutrients
My Bar Zero have absolutely NO added sugar as all occuring sugars are naturally sourced to benefit your fitness goals!
No additional sugar will help to eliminate any cravings that may otherwise jeopardise your training results!
We still can't believe we managed to create our very own delicious treat with these incredible nutrient numbers…
The following nutrient information is valid for My Bar Zero CHOCOLATE:
---
Benefits of My Bar Zero's?
– High Protein snack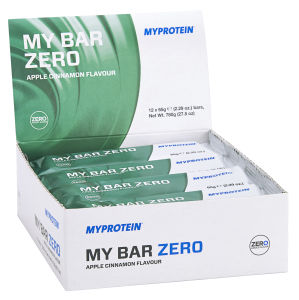 – Zero added sugars
– Delicious flavours
– Extremely convenient
– Great substitute to high sugar, high fat, high calorie chocolate bars!
Each bar provides 20g of protein per serving which will contribute to the growth and maintenance of muscle mass.
In addition, the high protein content in these bars is sourced from milk protein which contributes to the exceptional amino acid profile.
Faster muscle recovery = Better training =  Bigger gains!
---
When can My Bar Zero's be consumed?
The My Bar Zeros are fantastic as a convenient snack throughout the day or to consume around your training sessions to increase your protein intake.
Warning: Not suitable for diabetics. This bar contains natural raw materials. Although extra care has been taken to remove all stones, nut shells or stems from the raw materials, some may still remain.
---
Take Home message
Everyone at Myprotein HQ are extremely excited and proud to present our new delicious, high protein, low sugar product that may just convince you to like healthy eating that little bit more!