Written by Charlotte Campbell
Coconut Oil
Coconut oil is one of the hottest household staples to emerge in recent years. Bloggers, celebrities and experts all seem to agree you should get yourself a tub, but why?
Coconut oil is often specifically mentioned in healthy recipes. This is down to the makeup of coconut oil and in particular, the medium chain triglycerides (MCTs) that are high in coconuts. These MCTs are digested quickly by the body and turned into energy sources.
Studies have found that this quick energy allows the body to expend more calories. In a separate study, consumption of MCTs was found to keep participants full for longer, leading to a reduction in overall daily calorie consumption. This means coconut oil is a great choice for those on weight loss programmes or shredding phases.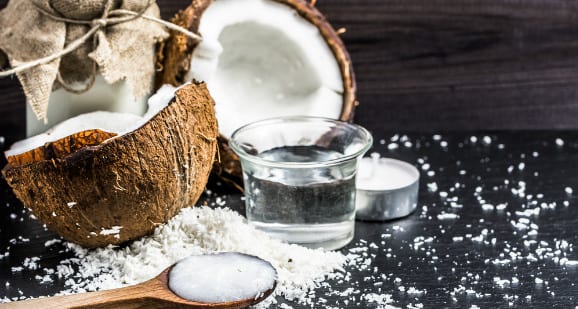 How Should I Use Coconut Oil?
We've put together a quick guide to the ways you can use coconut oil in the kitchen to see how versatile and economical it really is.
Simple Subs
Simply substitute your normal cooking oils and butter. At room temperature, coconut oil is solid. This means it can be used for flaky baked products or no-bake recipes.
Coconut oil has a similar consistency to other oils when heated. So simply melt it down when you are substituting in this way. Conveniently, coconut oil has a high smoke point so you don't have to worry when using it to fry food.
You can find coconut oil cooking sprays, however, you should generally avoid these as they contain lots of preservatives and non-coconut oil, so have little nutritional benefit.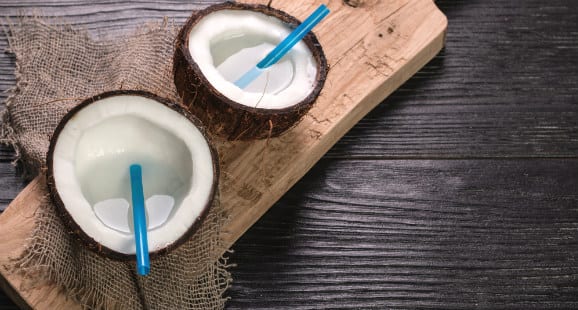 Shake it Up
You can also add coconut oil to your shakes and smoothies to get the most out of their satiating effect. Soften up and mix in a small teaspoon to start with, and build up to your ideal level.
Easy Energy
Mix a tablespoon of coconut oil with a teaspoon of dried coconut and a tablespoon of chia seeds. Roll into a ball of instant energy for a pre-workout boost.
Dressing for Success
Melted coconut oil makes an excellent base for dressings. Add them to your salads, grilled veggies or drizzle over meat or fish.
An easy and versatile dressing to try is a basic lemon vinaigrette. Whisk together ½ cup of melted coconut oil, the juice of 1 lemon, ¼ cup red wine vinegar and 1 chopped garlic clove. Add some salt and pepper to taste, and you're good to go.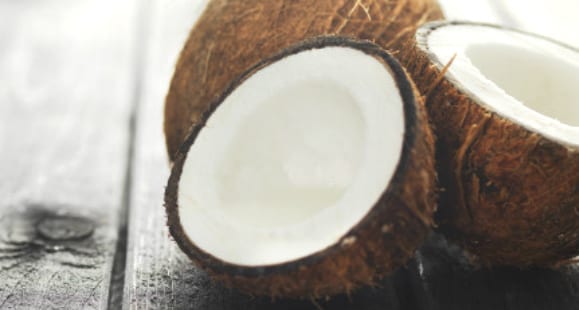 Paleo Chocolate
Melt ½ a cup of coconut oil, and thoroughly mix in ½ cup of organic cacao powder 3 tablespoons of honey and ½ teaspoon of vanilla Flavdrops. Then pour into a dish and chill. Healthy treats have never been easier. Add in dried coconut for extra MCTs or any other dried fruits for extra flavour.
Beauty Bonus
Coconut oil is also a favourite among fan of natural skincare. You can rub it into your face and skin as a natural moisturiser, as it is easily absorbed into the body.
It also has excellent conditioning and softening effects on dry hair. Rub a few teaspoons into the bottom half of your hair before you have a shower, and see how silky it becomes!
Our articles should be used for informational and educational purposes only and are not intended to be taken as medical advice. If you're concerned, consult a health professional before taking dietary supplements or introducing any major changes to your diet.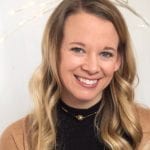 Claire is a Registered Dietitian through the Academy of Nutrition and Dietetics and a board-certified Health and Wellness Coach through the International Consortium for Health and Wellness Coaching. She has a Bachelor of Science in Biology and a Master's degree in Clinical Dietetics and Nutrition from the University of Pittsburgh.
Talking and writing about food and fitness is at the heart of Claire's ethos as she loves to use her experience to help others meet their health and wellness goals.
Claire is also a certified indoor cycling instructor and loves the mental and physical boost she gets from regular runs and yoga classes. When she's not keeping fit herself, she's cheering on her hometown's sports teams in Pittsburgh, or cooking for her family in the kitchen.
Find out more about Claire's experience here.