Dawid Lyszczek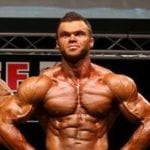 Dawid Lyszczek is an expert new product developer, food technologist, nutritionist and personal trainer. He holds a bachelor's degree in Human Nutrition, master's degree in Food Innovation and Level 3 Certificate in Personal Training. Dawid specialises in evidence-based body-composition nutrition and training for both amateurs and physique athletes, and has been involved in sports nutrition and weight training for over 15 years. Dawid is also a former competitive bodybuilder, UKBFF British finalist in "Intermediates Over 90kgs" Class of 2013, as featured in Flex magazine.
Dawid's academic area of interest has involved both the role of meal frequency on body composition, and also functional food development, which you can find out more about here.
In his current role, Dawid bridges the gap between sports nutrition and food technology, bringing in academic experience backed by real life practice that produces results.
You can find out more about Dawid's experience here.