With more and more people getting active and in shape, and on the lookout for the best ways to boost their performance in the gym, on the running track, or wherever else they choose to keep fit… we've developed the premium Myrange collection.
Specially developed and scientifically proven to boost your performance, we've created a winning formula to fuel superior results. Developed with pioneering formulations and best-in-class production, it delivers the highest-quality nutritional content – from explosive pre-workouts to the highest-grade whey, Myrange is here to refuel your muscles anytime of day.
Looking to improve your results? Let's take a closer look at the range and see how each supplement can take your training to the next level.
Thewhey™: Setting A New Standard In Sports Nutrition
Our highest-quality whey, created using a unique tri-blend of protein. Super-fast absorbing hydrolysed whey has been included to get your muscles the protein they need even quicker – refuelling your body so you're ready for your next gruelling workout. It doesn't get much better than this.
Not only does Thewhey™ include purified and refined whey, it's got a load of other great ingredients such as the hugely popular glutamine and BCAAs (branch-chain amino acids), which form the building blocks of protein and make up the structure of new muscle. Plus, these must come from your diet – which can be expensive and time-consuming when it comes to preparing, cooking, and eating the food required outside of your everyday meals.
Leucine: a super-special BCAA, with research suggesting that it can stimulate muscle growth and modulate insulin sensitivity
Isoleucine: can enhance protein synthesis and optimise glucose usage during exercise
Valine: assists muscle repair and growth, regulates blood glucose levels, and stimulates the central nervous system
L-glutamine: highly regarded among athletes, from bodybuilders to endurance competitors, glutamine is a super-popular amino acid
MyZyme®: an expertly developed blend of enzymes, with more protease than anything else around, helping to break proteins into their amino acids
Put simply, Thewhey™ is packed with a whole load of awesome ingredients that make it the ultimate whey formula to help you build lean muscle. It's been scientifically developed to help you achieve your goals – giving you the drive to power through strength sessions like never before!
Mypre™ 2.0: Explosive Pre-Workout Formula
Our most explosive pre-workout formula…upgraded. Featuring a refined and improved formulation, Mypre™ 2.0 has been engineered to help you smash your targets in each and every workout. With a big dose of caffeine – proven to increase endurance performance and capacity, improve concentration, and boost your focus – it's perfectly primed to pump you up.
Plus, it's fully-loaded with creatine, which is proven to increase physical performance and help build mass. But it isn't just caffeine and creatine that gives you a boost when you need it most…Mypre™ 2.0 has a ton of other ingredients that make it one of the most popular supplements around. These are:
AstraGin®: 100% natural, and sourced from plants, AstraGin® is known to support amino acid, vitamin, and mineral absorption
BioPerine®: Popular in Chinese traditional therapies, BioPerine® is included to enhance nutrient absorption
Capsimax®:  A red hot chilli extract that's known to support your body's energy production by helping to improve your metabolism. Fire up your body, without feeling the burn in your mouth!
TeaCrine®: derived from theacrine, and similar to caffeine, which increases alertness, concentration, and endurance performance – great for busting out an extra set or breaking a personal record.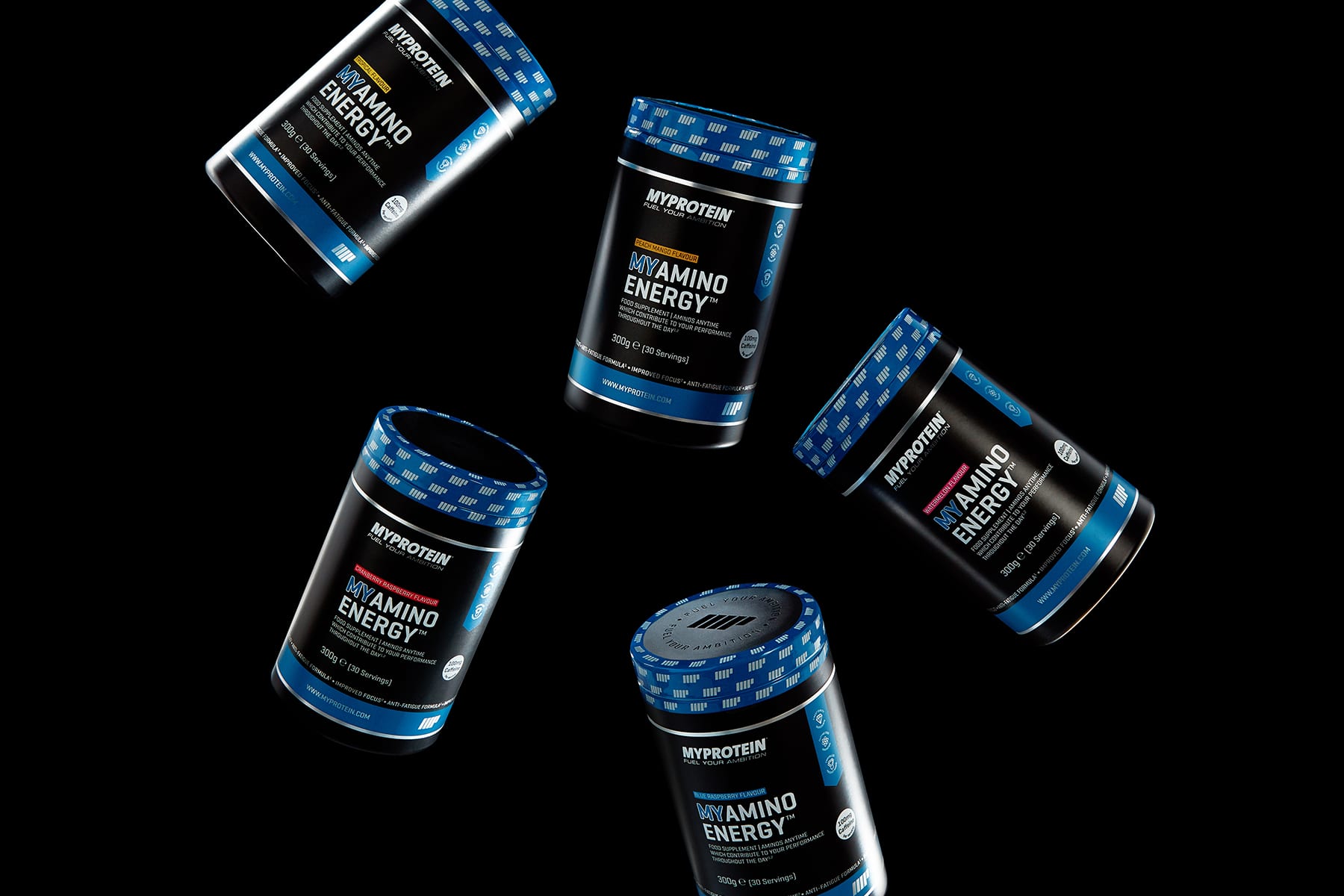 Myamino Energy™: Powerful Energy Boost

Fuel your body and mind with Myamino Energy™, packed with amino acids, vitamin C, and natural caffeine, to provide a super-energising boost, anytime you need it.
Every serving of Myamino Energy contains 100mg of natural caffeine to ensure you're always pumped up and ready to achieve your goals, be it in the gym, during your sport, or even whilst studying. And, there's a choice of refreshing fruity flavours too!
Myamino Energy delivers a unique blend of ingredients including:
L-glutamine: an amino acid that's crucial for muscle recovery
L-citrulline: known to increase nitric oxide levels in muscles to improve blood flow
Leucine: a unique BCAA that scientific research suggests can stimulate muscle growth and modulate insulin sensitivity
Isoleucine: can enhance protein synthesis and optimise glucose usage during exercise
Valine: assists muscle repair and growth, regulates blood glucose levels, and stimulates the central nervous system
Green coffee and tea extract: natural caffeine to reduce fatigue
Vitamin C: helps to maintain the normal function of your immune system, keeping you strong and fit
Mydiet™: Premium Fuel For Weight Loss
Developed in our state-of-the-art facility, Mydiet™ is the ultimate formula to help you achieve your weight-loss goals. It's really important to have a high protein intake when you're trying to lose fat, so our Micelle X™, D-Celle™, and native whey isolate blend provides 27g of premium fuel in each and every serving.
We've also included DigeZyme® – a specially formulated enzyme blend that helps to break protein into amino acids, which then form the building blocks of new, lean muscle. Perfect for people who want to strip fat and get shredded. Plus, it's packed full of other ingredients such as:
Green tea: considered an effective fat burner due to its polyphenol and caffeine content
Vitamin B5: shown to contribute to an energy-yielding metabolism, mental performance, and the reduction of tiredness and fatigue
Conjugated linoleic acid (CLA): research has shown a direct correlation between the consumption of CLA and an increase in your basal metabolic rate, which in turn can decrease your body fat percentage
Choline: encourages the body to keep your metabolism active, and helps to delay fatigue
Glucomannan: a popular form of fibre, which has been proven to support weight loss
What are you waiting for? With the arrival of Mydiet™, there's no better time to get in shape.
Mygainer™: Formulated For Serious Mass
Having a tough time adding size? If so, Mygainer™ might be the supplement you've been missing. Packed with glutamine, BCAAs and a superior enzyme blend, it's everything you're looking for in a weight gainer…and more. Not only is it protein packed, it's also full to the brim with essential vitamins and minerals including zinc, magnesium, and vitamin B6.
Let's look a little closer…
D-Celle Whey®: Added alongside whey isolate and milk proteins, this superior protein formula is scientifically proven to help build muscle
Carb10™ and Karbolyn®: fuel for your workout and optimal recovery, these specially created carbs replenish your muscle's glycogen stores after exercise
DigeZyme®: a scientifically engineered blend of enzymes that break proteins into their amino acids while being digested
Mythermo X-Treme™: Pushing You To The Next Level
A dual pre-workout and fat-burner supplement, Mythermo X-Treme™ is fully loaded with specially chosen ingredients to give you that all-important boost – whether you're trying to beat a lap time, or push out that final rep. Incredibly potent, it gives you the focus and concentration you need to see superior results.
But why is it so powerful? It's because it's got:
A higher stimulant content than our other fat burners, with a high concentration of caffeine and TeaCrine® – keeping you alert and boosting endurance performance
Kola nut: added to support weight-loss by increasing the body's metabolic rate, helping you to burn off calories more quickly
A unique blend of vitamins, minerals, trace elements, and plant extracts: these play a key role in things like reducing fatigue and maintaining blood glucose concentration.
Put simply, it's a great addition to have in your locker, supporting your training goals every day.
Delayed-Release Caffeine: For Ultimate Fitness Focus
We also offer Delayed-Release Caffeine tablets. Expertly created to gradually release caffeine using specially designed beadlets. Our innovative phase-release technology delivers a sustained caffeine boost to help increase your alertness, performance endurance, and improve concentration – helping you power through the toughest of workouts.
The Perfect Training Partner
Whether you're looking for something to supercharge leg-day, or looking for the highest quality whey available, Myrange has something for you and your post-workout burns.
From bodybuilders to cycling enthusiasts, boxing lovers to yoga queens, Myrange offers the highest quality nutritionals to fuel all fitness ambitions.