There have been some pretty incredible innovations here at Myprotein for Black Friday, and even more throughout 2021. From Cereal Milk flavoured protein to the Ruby Layered Bar, to a whole host of new Clear Whey flavours. But don't worry if you've not been able to try them all yet, we've put some of our most-loved new products into one big Black Friday Box.
What's even better is that you could get your Black Friday Box totally free.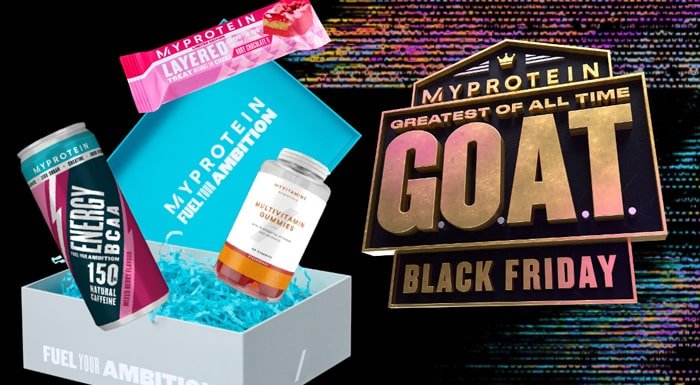 What's in the box?
From vitamins, to protein, to snacks, the Black Friday Box has got it all. 
Cereal Milk Flavour Impact Whey Protein Sample
You know the drill with this one. A customer-favourite, Impact Whey Protein delivers 21g of protein per serving, 4.5g of naturally occurring BCAAs and low sugar. And you can feel childhood nostalgia as you slurp your Cereal Milk protein.
Lemon Iced Tea Clear Whey Sample
Temperatures might no longer be in double figures and it might be getting dark at 4pm but there's always time for Clear Whey. With 20g of protein per serving, 4g of BCAAs and now an exclusive Lemon Iced Tea flavour, this is the perfect way to kick-start recovery after a workout. 
Multivitamin Gummies
You'll never forget to take your vitamins with these in the cupboard. The Multivitamin Gummies provide a powerful blend of 11 vitamins and minerals wrapped up in delicious Strawberry flavoured gummies. 
Ruby Chocolate Layered Bar
Creamy, smooth ruby chocolate draped over six layers of texture and taste. It'll boost your macros too, with 20g of protein and 13g of fibre in every bar. The Ruby Chocolate Layered Bar is an unbeatable snack. 
Ruby Chocolate Impact Whey Protein Sample
Not such a snacker? No problem, Ruby Chocolate's irresistible flavour also comes in Impact Whey Protein too. With 19g of protein per serving and just 93 calories, this shake combines the macros of Impact Whey you know and love with the creamy flavour of Ruby Chocolate. 
Impact EAA Stick — Tropical Flavour
All nine essential amino acids, including a 4:1:1 ratio of BCAAs, a fast absorption rate than whey and zero calories, the Impact EAA Stick is the ideal way to get some added aminos in. 
And with the Tropical flavour you'll forget that it's even November. 
Vegan Protein Wafer
Crispy, covered in chocolate and with 11g of protein. The Coated Crispy Wafer is a snack for meat-eaters, flexitarians and veggies alike. This totally plant-based snack is deliciously crispy and coated in luxurious dark chocolate — making it the perfect afternoon pick-me-up. And did we mention they're zero sugar too? 
BCAA Energy Drink
Finalist for the Best Sports Nutrition Product at the European Specialist Sports Nutrition Awards 2021, the BCAA Energy Drink provides the perfect boost to your day. 
Packed with amino acids, essential vitamins, and caffeine, it has everything you need to re-energise when you need it. And with zero fat, zero sugar and zero calories this drink will keep you on track with any macro goals too.
How do I get my free box?
It's pretty simple really. If you spend over £100 on site during any Black Friday shopping sprees, you'll bag yourself a Black Friday Box totally free. 
Take home message
Set your alarms. Black Friday at Myprotein is very nearly here and we've made sure this is our greatest ever. So if you're taking advantage of all our deals this Friday, you might be in for a Black Friday Box on us. Or just add it to your basket. You won't want to miss out on these products.