Irresistibly gooey & sweet, these fruity crumble bars are the perfect easy bake.
---
Craving something to satisfy your cravings for dessert after dinner but don't want to splurge on a super unhealthy shop-bought treat? Niall Kirkland has you covered with this simple & delicious crumble bar recipe — made with natural ingredients and no added sugar, it's just the thing to hit the spot.
The best part? He's boosted the flavour and protein content in one easy hit by adding a scoop of our brand new white peach flavoured Clear Whey Isolate. If you were looking to freshen up your summer supplement stash, this definitely needs to be on your list. Coming in at just 86 calories, each serving provides 20g of protein, ideal to support your fitness progress in the juiciest way.
Perfect for a healthy dessert, quick breakfast, or indulgent mid-afternoon coffee break, we'll be keeping our kitchens stocked up with a batch of these bars, that's for sure.
Makes 12 slices
Ingredients
For the crumble base:
120g almond flour
120g oat flour (we just use blended oats)
60g rolled oats
50ml maple syrup
100g coconut oil (melted)
A pinch of salt
For the fruit filling: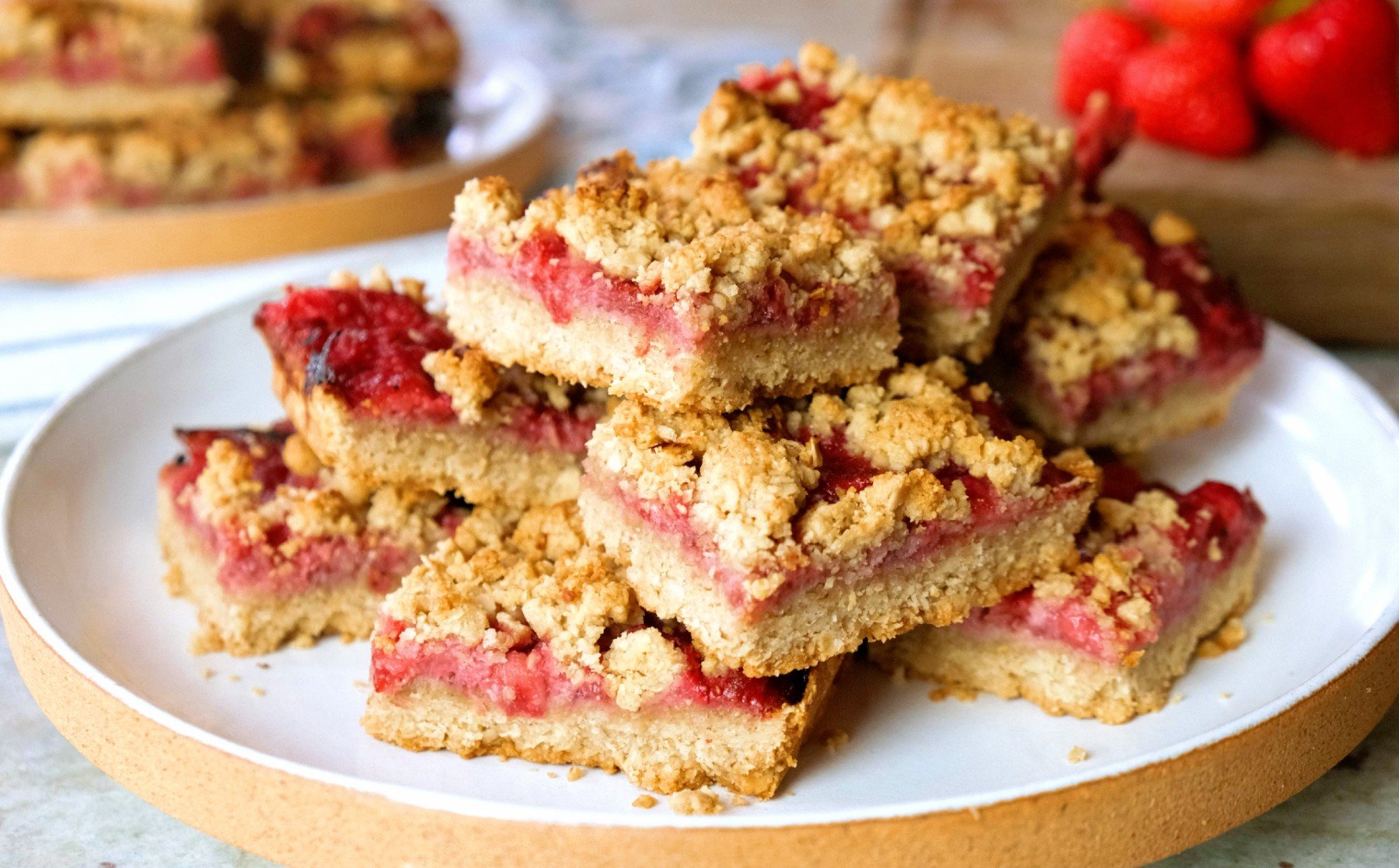 Method
Preheat oven to 175°C/350°F.
In a large bowl, mix together the almond flour, oat flour, oats, maple syrup, coconut oil, and salt until fully combined and the mixture becomes a crumbly dough.
Reserve 3 large tablespoons of the mixture for later and transfer the rest to a lined 8×8" baking tray. Bake for 10 minutes.
Meanwhile, add the strawberries, maple syrup, and lemon juice to a pan and cook on medium-low heat for 2 minutes.
In a shaker, mix up the Clear Whey Isolate and water, then add to the pan with the fruit. Bring everything to a low simmer and cook for 5 minutes until soft and the majority of liquid has evaporated, leaving a thick strawberry sauce.
Add the strawberry sauce to the crumble base, spreading evenly, then top with the reserved crumble mixture. Bake for 30-35 minutes, until the crumbs on top begin to turn golden.
Once baked, remove from the oven and allow to cool completely or your bars will be too crumbly to cut into slices (you may want to place in the fridge to speed up this process). Once completely cooled, slice into 12 slices and enjoy!