---
 Chicken fajitas… and pizza? Two of our favourite dishes have been married into one for this tasty high-protein, low-fat healthy pizza recipe!
And the bonus? It's super easy to make.
---
---
Ingredients
---
2 tbsp. Coconut Oil
500g chicken breast (cut into strips)
2 tsp. garlic (finely chopped)
2 tsp. paprika
2 tsp. cayenne pepper
50ml hot pepper sauce
½ white onion (sliced)
½ red pepper (sliced)
½ green pepper (sliced)
200g Smoked Cheese (grated)
1 ball wholemeal pizza dough
1 egg (beaten)
Low fat soured cream
---
Method
---
Preheat oven to 200°C or 180°C for fan-assisted
Melt the coconut oil in a large pan on a medium heat, then add the chicken, onion and peppers and fry for 8-10 minutes until cooked through
Add the garlic and paprika to the pan and cook for a further 3 minutes, stirring occasionally, then transfer the mixture to a bowl. Stir through the hot pepper sauce and set aside
Roll the pizza dough out on greaseproof paper to around half a centimetre thickness then cut 4 lines in a star shape in the centre of the circle
Add the chicken, onion and pepper mixture to the space between the star shape and the outside of the pizza dough, then generously sprinkle Smoked Cheese on top
Next, pull each corner of the star shape and fold it over the outer edge of the crust, pulling the outer edge inwards a little to secure it, then brush the beaten egg over the top
Bake for approximately 20 minutes, then remove from oven and serve with a bowl of fresh soured cream in the centre. Divide and demolish!
---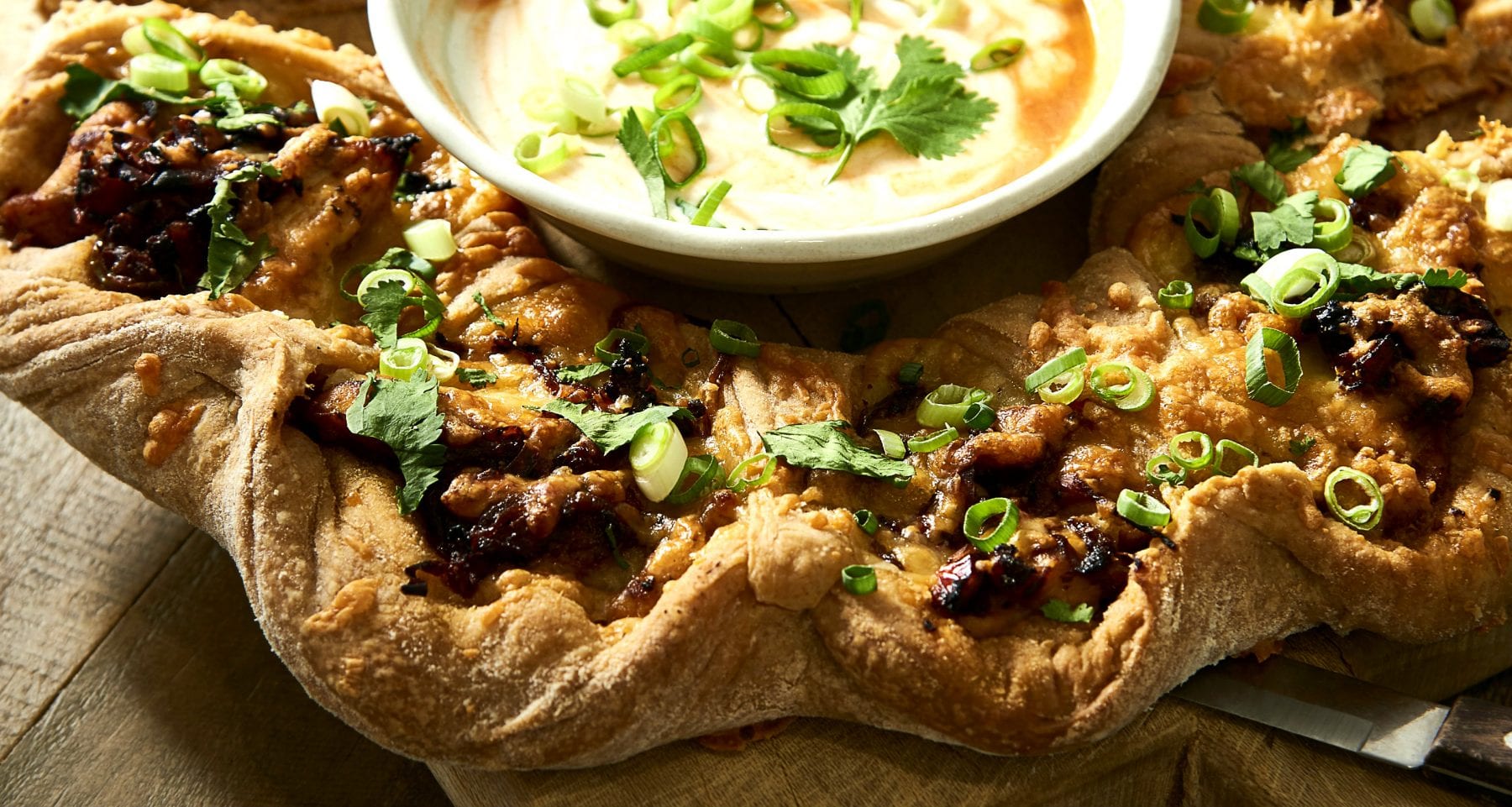 ---
MACROS PER PIECE
Calories: 219       Protein: 25g        Fat: 5g        Carbs: 17g
---
Show me more healthy recipes!